Two years ago, crowds gathered along Clayton Street to get a peek at Justin Timberlake during filming of the Hollywood production Trouble with the Curve. The town was abuzz with stories of locals filling in as extras and the money spent by the crew as they made Athens home for a month.
And, like many who get a taste of Hollywood's glamor, suddenly Athens realized it wanted more. We just may get our wish.
Thanks to a generous state tax credit—20 percent, plus an additional 10 percent if a production includes the Georgia logo and a link to the state's film office—the state is seeing an explosion of film production. This tax credit is cited not only by economic development professionals, but also by local filmmakers who have seen more work come to the state in general.
Last year alone saw 142 feature film and television projects take place in Georgia, contributing $940 million in direct spending, according to Emily Murray of the Georgia Film, Music and Digital Entertainment Office. Compared with 2007, when Georgia-based productions were worth $133 million, last year's productions were valued at $934 million. Georgia is third among states in film, television and video game production and "may very well be first one day," Gov. Nathan Deal said at a University of Georgia economic development conference last week. Atlanta movie mogul Tyler Perry told him, "You know, we're going to dry up Los Angeles," Deal said.
Granted, this doesn't translate into a feature film in Athens every year, but it does mean that there is more work to go around. And more work for locals means they gain more experience, which in turn attracts more projects to the area.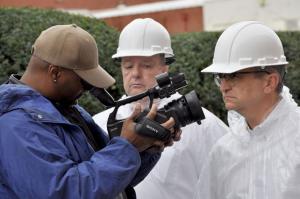 Photo Credit: Keith Plummer
Local filmmaker Keith Plummer, who is working on a documentary of the Morton Theatre, along with projects for regular corporate clients, says it's a change he's noticed in the three-and-a-half years he's been in Athens. "I think, because the movie industry is moving to Georgia, because of tax breaks, a lot of stuff is happening here, and I think Athens is going to be used a lot more. The surrounding areas are going to be used a lot more," he says. "There's enough professional people here—doing it at least seven years—that either work in Atlanta or travel around. But if you amass the amount of equipment we all have, it's the equivalent of any studio. The one thing we're missing here is a studio facility; one large warehouse. We have warehouses, but one large warehouse where we could house sets and do a lot of stuff."
Even so, the area got an extra boost of work recently, as the CMT reality TV show "Party Down South" settled into a home outside of town to film its next season, which airs starting June 5. Crew members are mum about the production details, but the basic premise centers around a group of Southern friends who like to, um, party. The show, from the producers of "Jersey Shore," has drawn derision for the cast's behavior and how the host city is portrayed, but the production, no matter its content, is a boost to the local film community.
"They are feeding the crew from all local restaurants, renting multiple cars, buying tons of supplies and food from area stores and paying location fees," says Film Athens President Danielle Robarge Rusk, who is working on the production. "They have hired a bunch of locals [both student and full-time residents] to work as production assistants. In addition to getting a paycheck, the folks they hire will be able use the experience to get their foot in the door for other opportunities in the booming Georgia film industry."
More Than Entertainment
From an economic development perspective, the film industry has benefitted the state across the board, while local incentives focus on individual industrial-based jobs. Michael Hahn, managing director at Jacoby Group in Atlanta, a real estate development company planning a 400,000-square-foot production facility in Norcross, says the state tax incentives have enticed productions in all corners of the state, making it easy to get broad political support. "If everything was just in Atlanta, then people from other parts of the state wouldn't be as supportive of the tax credit," he says. "But you've got Savannah, Rabun County—right now, Robert Redford is filming up there. There are only 15 counties that aren't camera ready. Everybody's getting a piece of the action, and therefore the political support is widespread."
While Hahn wouldn't go into details about plans for the facility—they are working out financing and plan to partner with a company that has more than 10 years in the movie industry—he says it could be another boost to Athens, which could benefit from being just down the road. It would be the second soundstage in the area; another, Starland Studios, located off Atlanta Highway, has more than 40,000 square feet of space dedicated to filming areas. The site has hosted several music videos and some smaller projects since kicking off as a production space last fall.
When it comes to TV and film production, location matters. Depending on where the production office is located, the crew may be required to stay overnight in a hotel, rather than commute back and forth, according to union rules, and because many productions have offices in Atlanta, Athens is just far enough away to require hotel stays for the crew. That can be good for local hotels but bad for a production on a tight budget.
Education is also a key component to attracting more filmmaking to Athens, which is why Film Athens has partnered with Athens Tech and the Clarke County School District. The idea, once formalities are worked out with the state film unions, is to give students a base of knowledge that would allow them to work on a production—ideally, one here in Athens. "If we had a trained crew here, then we'd have more movies here," Rusk says. "Education is one way to get it."
Companies looking to do business in a particular area never expect to get everything they ask for, says Ryan Moore, director of Athens-Clarke County's Economic Development Department. "There are very few industries that come into town and find exactly 100 percent what they're looking for," he says. "So you have to be producing the talent they need, but also help them find that talent. Some industries, the No. 1 cost driver is labor, so they're going to take more time finding the exact work force they need. Other companies, it's transportation infrastructure or energy. You actively have to be producing the type of talent that companies need, and then you need to work with them to figure out what their cost-drivers are."
Another aspect that comes into play when bringing movie productions into town is the quality of life. Rusk says that when the crew arrived for The Spectacular Now, a film by Athens native James Ponsoldt, they lived in the town just like any resident. "One of the reasons the Spectacular Now crew loved it was because they lived here. They loved the community," she says. "I think that to a certain degree, we can use that as an asset."
If You Build It…
Along with education of a future film workforce comes the marketing of Athens as a film destination. That's where Jeff Montgomery, Athens-Clarke County's public information officer, comes in. Montgomery holds that title of camera-ready liaison, which means he's the main point of contact for anyone scouting locations in the area. His office also keeps a list of types of locations, updated through a state database, to make it easy for location scouts to find what they need. But location is only part of the battle.
"It used to be location-based: 'Here's what I want, and we're going to find that place.' Then it became more financially based: 'We're going to go and make a movie that makes the most financial sense,'" Montgomery says. "Nowadays, it's what state are they going to. That's why Georgia has had such a boom in filmmaking, is with their tax credits. It has really just blossomed here. And you're starting to see not only films coming here, but also Panavision coming here to make cameras, and Screen Gems—movie studios popping up. So the film decides, 'We're going to Georgia because we'll save a lot of money,' and then they say, 'Where in Georgia do they have locations we need?'"
Montgomery's office also is working on a video series promoting filming in Athens, as well as cataloging all the requests they've had from various production companies for future reference. On his to-do list is a booklet that would serve as a guide to filmmaking in Athens and include information like costs to hire police, contacts at UGA (which has its own filming requirements) and a crew database. Also, Montgomery notes, Athens does not require a film license; any production on private property, only requires the owner's consent. "For the most part, we treat filming like any other event," he says. "If you want to close a road down, you don't have to get a film permit; you treat it as if you were a construction company, and that generally makes it a lot easier. Everyone who films here says, 'Man, it was so easy to film in Athens.'"
Plummer also is working behind the scenes, beyond his own productions. His goal is to create a collective of independent filmmakers and crew, one that could share storage space or even split the cost of an indoor production facility. The idea, he says, is to show larger production companies that Athens has the talent to pull off a big-budget production with the talent already here. "So when someone says, 'We need to come to town, and we need a gaffer who is really good,' or 'We need someone to do a second unit,' there's someone they can trust who can do that," Plummer says.
"The idea, ultimately, is to keep people in Athens and employed and not forcing them to drive to Atlanta for consistent work. and the other way around, too," he says, "People should be able to come into town and not drag people out of Atlanta," he adds. "(We) should be able to say, 'Hey, we have these people here. If you need a second unit, we have one.'"
Like what you just read? Support Flagpole by making a donation today. Every dollar you give helps fund our ongoing mission to provide Athens with quality, independent journalism.