For 25 years, Athens-Clarke County had a pretty sweet deal.
In exchange for paying to rent the county's tennis courts, independent contractor Tennis for Life provided tennis lessons, camps and other tennis activities at courts across the county. The amount of rent paid wasn't massive—Tennis for Life director Stacey Venker estimates payments probably averaged $8,000 a year—but her business supported herself and a small staff, all of whom worked directly with their students. And ACC had a bustling tennis program, with maintaining the courts being its part of the bargain.
Like most things that taste sweet, sometimes you want a bigger bite. For Athens-Clarke County, that meant formulating a plan to run its own tennis program and turn a profit. But thanks to construction delays at its new $2.3 million tennis center and poor maintenance of existing facilities, 2013 has been a rough year for the county's new in-house tennis program.
By Venker's calculations, her program brought in $200,000 to ACC—enough to more than resurface the nine courts at Bishop Park in need of repair.
"For 25 years, ACC Leisure Services hasn't paid for tennis staff or tennis programming while co-sponsoring a vibrant, high-quality tennis program by an independent contractor," Venker says. "By bringing tennis operations in-house, they lost guaranteed revenue and are incurring costs exceeding $90,000 per year while having to rebuild a tennis program and create a new client base."
Instead, ACC is spending almost $240,000 to run a new tennis program that isn't fully functional yet.
Parting Ways
Plans for the new SPLOST-funded tennis center came on the heels of a contentious debate over where it should be located. Officials' original suggestion, Bishop Park, caused a stir among neighbors who were concerned with its scale and keeping the diversity of activities at Bishop. Commissioners eventually decided to build the tennis center at Southeast Clarke Park, with its abundant open acreage.
That's when Leisure Services began building a business plan along with new courts. Kent Kilpatrick, internal services division administrator for Leisure Services, says he was tasked with coming up with a budget for the new center as early as fall 2011. The initial plan, he tells Flagpole, was to open the tennis center in May or June of 2013. As it turns out, the tennis center wouldn't even come close to opening during the last budget year.
The budget included salary and benefits for a tennis professional, along with "contract labor" services, or adjunct instructors because, Kilpatrick says, "the decision was made at that time to bring the tennis program in-house." Kilpatrick assembled a budget request of $70,450 for the July 2012-June 2013 fiscal year for operating the tennis center.
Kilpatrick and other ACC staffers looked into tennis programs in Rome, Columbus, Bainbridge and Augusta, along with out-of-state programs, he says. Plus, Venker, who had signed her most recent contract with Leisure Services through December of 2012, provided regular reports of tennis activities to Leisure Services, including her own financials.
"I asked her if she could share with me what her expenses were to operate her program," he says. "And part of the research going to other cities was trying to get their operational budgets. So what was important, for a smooth transition from Tennis for Life, was I wanted to know what her current expenses were and all her current revenues. Because I didn't want to—if there was an opportunity—I didn't want them to be shorthanded with resources."
In emails among Venker, Kilpatrick and Leisure Services director Pam Reidy, obtained by Flagpole through an open records request, Venker was told about the new tennis position and encouraged to apply. But she could not even get a job description from Leisure Services staff.
In September of 2011, according to emails, Kilpatrick arranged for a meeting with Venker and Reidy at Reidy's home.
"Would it be possible for ACC Leisure to have a preliminary job description or an outline of job responsibilities for this new position?" Venker asked in the email. Kilpatrick replied, confirming that "your comments are in line with the things we want to discuss when we meet," but gave no further details. After Venker replied that she had asked her business consultant to join the discussion at Reidy's home, Reidy replied that she and Kilpatrick needed time to "regroup."
Reidy tells Flagpole her home isn't a typical meeting place. "I will sometimes," she says, when asked if she holds meetings at her house. "Ninety-nine-and-a-half percent of my meetings either take place in my office or someone else's office."
One month later, Kilpatrick asked Venker for more insight on tennis center operations. Venker replied that she's already given Leisure Services the data they requested. "If you feel a need for more information, I encourage ACC Leisure Services to speak to other municipalities of similar size with similar tennis facilities for additional insight," she wrote.
A Slow Start
In June, the Mayor and Commission approved a fiscal 2014 budget that included $167,131 for the new tennis center. The budget lists anticipated revenue of $48,400, which would only partially offset the expense, leaving a net cost to taxpayers of $88,600. More recent figures Kilpatrick provided project $78,441 in revenue for court and ball machine rentals, tournaments, accessory sales, lessons, camps and corporate events.
The new tennis coordinator, Ann Flint, was hired in March, even though the center was nowhere near completion. (Reidy cites the wet spring and summer as the reason for the delays and now expects the courts to be up and running by October). In the meantime, Flint has been managing the county's new tennis program at Bishop Park, where the courts show their age with weeds in the cracks and an occasional sinkhole.
The plan, according to Leisure Services officials, was to use the 12 courts at the tennis center to attract large, regional tennis tournaments. In addition to revenue coming in from lessons and tennis league play, tournament players pay entry fees and spend nights in local hotels and eat at local restaurants. Without the new facility, Flint says, it's been difficult, but not impossible.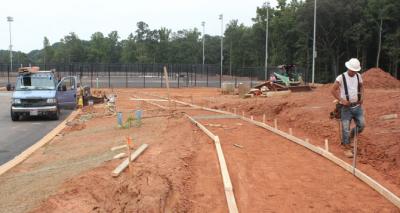 "We did a summer program at Bishop. I've been offering tennis lessons—we're using the upper courts at Southeast (Clarke Park)," she says. "The classes, they're not full-full, but they're doing really well." Flint says she's also in the process of applying to host a state tournament and is keeping her fingers crossed for a bid to host the state league championship for players 40 and older. "I know they've spent a lot of money on this facility. I'd really like to see a lot of activity, a lot of tournaments."
One thing to keep in mind when drawing tournaments, says David Araiza, tennis pro for the Rome-Floyd Parks & Recreation Authority, is the number of courts available for play. Araiza says, for example, that he teaches at a public facility with 16 courts. With other nearby public courts and Berry College, he has 35 courts within a five-mile radius. "This is why we're able to bring tournaments to Rome," he says.
"When you want to host a big tournament, you have to apply through the USTA," says Araiza, who started working in Rome in January, replacing a tennis pro who had been building up the tennis program for 10 years. "If you want to bid on a big tournament, they ask for a minimum amount of courts, hotel rooms, restaurants, an airport. I know, for example, to host a tournament for 700 kids, you have to have at least 50 courts."
He added that his facility's courts are booked every night of the week but one—Wednesdays are make-up night for league play. He estimates at least 250 players take advantage of their programs. "Other than Atlanta, I think we have the busiest adult league in the state," he says
In addition to lessons, many of Clarke County's courts see regular league play as well. Organized by COTA (the Clarke-Oconee Tennis Association), members pay to be part of specific tennis leagues and also pay the county for their time on the court. The nonprofit organization also secured a grant over the summer for beginner lessons, which paid for participants in Flint's program at Bishop Park and in Venker's Tennis for Life at its new home at Oconee Veterans Park.
Robin Stevens, president of COTA and also community outreach coordinator for Leisure Services, notes that the USTA-funded grant was aimed at getting new players into tennis and did not represent a move by the organization to get into tennis lessons. "We provide the league play," she says. "It's sort of a cooperative effort. People need to learn to play, and when they need to learn to play, they typically play in a structured format. That's where we step in."
She added that COTA also secured, through the USTA and awarded this summer, a $35,000 grant for construction at the new tennis center.
Moving On
As a result of the delays with the new tennis center, coupled with the change in programming, the local tennis scene has scattered.
Many Tennis for Life students now continue their lessons at Oconee Veterans Park, where Venker has a contract with Oconee County similar to what what she once had with ACC. But not everyone can make the drive, and Venker's coaches are now forced to find work in other places, since there's only so much coaching that can be done at one facility.
Venker tells Flagpole she was sad that her relationship with Clarke County ended and, according to emails, even entertained the idea of a contract extension when ACC officials realized there would be a gap between the end of Venker's contract in December 2012 and when Flint started work in March. But, again, ACC officials refused to put a proposal in writing.
"Assuming a Jan. 1 start date, a minimum six-month term is required," Venker wrote to Kilpatrick in August of 2012. Two days later, Reidy told Kilpatrick she had assigned Myla Neal, recreation program division administrator, to be in charge of managing tennis center programming, and Kilpatrick was no longer to discuss the tennis center with Venker.
While she's had to downsize her staff and schedule, Venker says she still feels lucky to be able to do what she loves, and to share that love of a sport with others. The Oconee facility is well-maintained, she says, and Oconee County staff have been supportive and want her to succeed.
Like what you just read? Support Flagpole by making a donation today. Every dollar you give helps fund our ongoing mission to provide Athens with quality, independent journalism.