You may know Blake Aued as Flagpole's resident political junkie and Gabe Vodicka as our insufferable hipster music editor. But in their spare time, they're also football fans. They suspect there are a lot of folks in Athens like them, who wouldn't be caught dead on North Campus in khakis and red polo shirts, but still follow the Dawgs. (Or, in Blake's case, the Ole Miss Land Sharks Black Bears Rebels.
To that end, Flagpole is going to be experimenting with a little football coverage this fall. (Before you pen that strongly worded Letter to the Editor, take a couple deep breaths and ask yourself: is it worth it?) Dig in below, where Blake and Gabe answer your (imaginary) questions about the upcoming Georgia season, which kicks off this Saturday in a hotly contested matchup with Clemson.
Is Georgia any good this year?
Yeah, dawg. They're ranked fifth in the country by the Associated Press and in the USA Today coaches' poll, behind Alabama, Ohio State, Oregon and Stanford. (Sports Illustrated, however, in what is clearly a bullshit contrarian move, has Georgia 12th on its preseason Top 25. Meanwhile, Florida and South Carolina are in the top 10. Eat it, SI.) Most sportswriters are picking us to win the SEC East and—in a repeat of last year's heartbreaker—lose to Alabama in the conference championship and, thus forfeit the right to steamroll whichever patsy the Pac-12 or Big Ten spits up as its national championship "contender."
Who's this Gurshall guy I keep hearing about?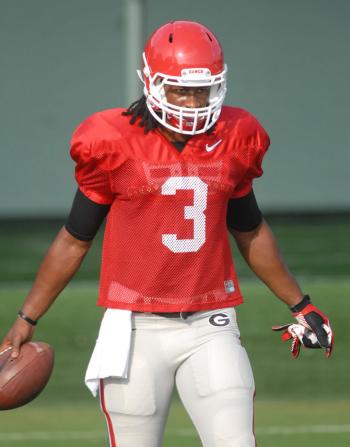 Photo Credit: Steven Colquitt / UGA Athletic Association
Actually, that's two guys: tailbacks Todd Gurley and Keith Marshall, who combined for 2,144 rushing yards as freshmen. Gurley ran for the second-most yards of any UGA freshman since Herschel Walker in 1980. (Yes, kids, Hershel played football before he started hawking hot wings.) Both figure to have another impressive season. But don't call them Gurshall to their faces—Gurley weighs in at 232 pounds, Marshall 219, and they reportedly hate the nickname. As they should. It's an awful nickname.
Anybody else should I know?
Well, there's Malcolm Mitchell, the flanker who caught a team-high 40 passes last year. Receiver Chris Conley (look for his Athens Diet column next week) hopes to build on a breakout 2012 season. Defensive end Garrison Smith, guard Chris Burnette, linebacker Jordan Jenkins and cornerback Damian Swann were also preseason all-conference picks.
But maybe the best story belongs to offensive lineman Kolton Houston, who is back after sitting out three years due to a bogus suspension. He failed a drug test in 2010 because he got a steroid injection after shoulder surgery. He tried massages, sweat therapy and even had the tissue around the injection site removed, but for some reason the steroids stayed in his system for three years, even though doctors documented that he wasn't using them. The NCAA wouldn't budge, because the NCAA is a festering cesspool of moral ignobility.
What about Jarvis Jones? Is he gone?
Yes, sadly. The Pittsburgh Steelers took him in the first round of the NFL draft. Now who's going to push Gabe's car when it runs out of gas? (True story. Buy him a beer sometime and he'll bend your ear about it.) Jenkins will attempt to fill Jones' formidable pass-rushing shoes. Meanwhile, another star linebacker, Alec Ogletree, went to the St. Louis Rams in the first round, and six other Bulldogs were also drafted.
Georgia's largely inexperienced defense is the team's biggest question mark in 2013, but the consensus was that last year's ballyhooed squad underperformed—and UGA still almost made it to the BCS championship game. So, that's something.
But Aaron Murray's back, right?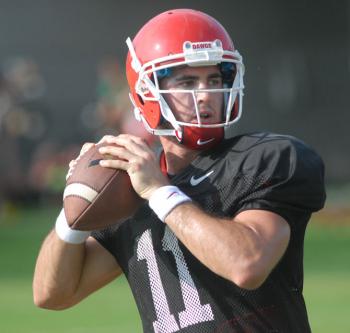 Photo Credit: Steven Colquitt / UGA Athletic Association
He is, and he's a dark-horse Heisman Trophy candidate, too. The perennial senior/grad student/who knows what recently told Flagpole that he cut his favorite snacks, Sour Patch Kids and Reese's Pieces, out of his diet in an effort to get leaner and make plays with his feet. "I'm definitely feeling more agile than I was last year, more flexible," he said, noting smugly that his body fat is now down to a ridiculously Herculean 9 percent, which just makes us feel terrible about ourselves.
What about Uga, the mascot?
English bulldog Russ, the incredibly adorable interim-mascot-turned-Uga-IX, is still hanging in there, despite those poor, inbred creatures' median lifespan being like, two months or something. But Russ, who was officially coronated just prior to last season, is only a half-blood prince, which means he's 50 percent less weird, genetically speaking. His career winning percentage is the highest of any Uga, at .846, so here's hoping the little muffin sticks around for a while.
What's the deal with Butts-Mehre Hall? I mean, what the hell kind of name is that?
The public demands answers on the whole buttsmear deal. See WTH? Athens in next week's paper and online for a long-overdue explanation.
Who does Georgia play this year?
Funny you should ask! We just so happened to have put together previews of the games. As has been the case for many of the past few seasons, the Dawgs have kind of a powder-puff schedule (as easy as an SEC team can have, anyway). They play just four teams in the preseason Top 25: Clemson, South Carolina, Florida and LSUX—excuse me, LSU. No Alabama, and no Texas A&M. That's a catch-22; it means they probably won't lose many games, if any, but it also means the BCS computers that pick the top teams will downgrade them in favor of teams that beat better opponents.
Aug. 31 @ Clemson (8 p.m., ABC)
Facing the No. 8 team in the country, which boasts one of the college game's most talented quarterbacks in senior Tajh Boyd, and on the road to boot, this is a game that could trip up Georgia, and Coach Mark Richt knows it. "Any year, everything's on the line that first month," he says. "If you lose that (first) game, you have to run the table, basically." Georgia has been known to crap the proverbial bed in high-profile opening games; fans recall UGA's 2011 loss to Boise State at the Georgia Dome with horror.
What to drink: Thomas Creek River Falls Red Ale, brewed just down the road in Greenville, SC.
Sept. 7 vs. South Carolina (4:30 p.m., ESPN)
OH SNAP. The Gamecocks' monster defensive end Jadeveon Clowney gave the Bulldogs some bulletin board material when he said Murray is "scared" of him.
And really, who could blame Murray:
"I'm definitely not scared," the Georgia QB responded. "But [I] definitely respect greatly what he's able to do on the field." So does Richt, who called Clowney "the best football player in the world." Which is like a passive-aggressive dad commenting on how that neighbor kid is really making something of himself and SHUT UP DAD. UGA hopes to rebound after being bested two years in a row by longtime nemesis/shirtless wizard Steve Spurrier.
What to drink: Chicken Cock Whiskey, which is, apparently, a thing that exists.
Sept. 21 vs. North Texas (TBD)
This new Conference USA member's mascot is the Mean Green, which is one of those sad-but-kinda-cute team names that inspires a mixture of pity and admiration. North Texas, fueled by a desire to show they belong, will undoubtedly put up a fight. Still, this one's gonna be a rout. Depending on the outcome of the first two games, however, it'll either be a celebratory rout or a half-hearted, obligatory rout, like some depressed king swatting away a fly that keeps landing on his shoulder, only to squash it accidentally and be rewarded with gross fly blood all over his tunic. Great, now he's gotta have that thing dry-cleaned.
What to drink: Nothing. You'll probably quit watching after the first quarter.
Sept. 28 vs. LSU (TBD)
The squad from the swamp will come into town with Cajun confidence. It's the first time LSU has traveled to Athens since 2009, when the Tigers beat the Dawgs, and the first time the two teams have met since LSU's SEC Championship game rout in 2011. Here's an idea for the grounds crew: sprinkle some sort of household cleaner over all the grass on the LSU sideline. Not toxic enough to kill the grass, just enough to induce a really bad tummy ache in anyone who ingests it. Head coach Les Miles will be decapacitated by the second quarter. (But for God's sake, keep Russ away. The Uga lineage is like one long canine installment of Final Destination.)
What to drink: Abita Turbodog.
Oct. 5 @ Tennessee (TBD)
Derek Dooley, son of Vince, is out at as head coach after his third straight losing season, so we guess Barbara can put away the orange and go back to wearing red and black. The Volunteers don't figure to show much improvement this year; they lost most of their offense, and Peyton Manning is not walking through that door any time soon. Meanwhile, the defense that allowed an eye-popping 471 yards per game in 2012 returns a majority of its players.
Oh, and "Rocky Top" is still the most annoying fight song ever.
What to drink: Jack Daniel's.
Oct. 12 vs. Missouri (TBD)
Welcome to the SEC, beeyotch. After leaving the Big 12, geography-bucking Missouri went 5-7 against a brutal slate of opponents in the team's first season in its new conference. Still, there's hope for the Tigers: Running back Henry Josey, who racked up 8.1 yards per carry in 2011, missed last season after his knee basically exploded, but he's back. If they can stay healthy, the Tigers will be better this year—but still not good enough to beat Georgia.
What to drink: Forget Anheuser-Busch. Perennial, also out of St. Louis, is a happening upstart in the craft beer world. Unfortunately, it's not distributed in Georgia yet. Boulevard, from Kansas City, is more widely available. Try the Double-Wide IPA.
Oct. 19 @ Vanderbilt (TBD)
Vandy has never really belonged in the SEC, and not just because it's a private school for rich kids who weren't smart enough to get into Duke. (Yeah, we said it.) As befits such a prestigious institution, its football teams are generally lily-white, molasses-slow and woefully undersized. But the Commodores (that's a naval officer as well as a defunct brand of computers, for all you land-grant graduates) were decent for once last year, going 9-4, and 17 starters are returning, including star receiver Jordan Matthews. They won't be a pushover.
What to drink: Something hoity-toity, like a martini, maybe.
Nov. 2 vs. Florida (3:30 p.m., CBS)
The World's Largest Outdoor Cocktail Party (as if Florida fans were classy enough to drink cocktails) is, as usual, one of the most important games of the year for Georgia, and could determine who represents the East in the SEC Championship game. Unlike the Spurrier/Urban Meyer-era Gators, former UGA assistant Will Muschamp's current squad is built around its defense. Quarterback Jeff Driskel is even worse at throwing a football than Tim Tebow, can't run and doesn't have Jesus talking into his earpiece. If the Dawgs can put up points early, they will win this game.
What to drink: Cocktails. Duh. Make sure you get drunk enough to puke on your front lawn before the game starts. It'll be just like you're in Jacksonville!
Nov. 9 vs. Appalachian State (TBD)
The Mountaineers of Boone, NC, play in what is known as the Football Championship Subdivision—as opposed to the big boys in the Bowl Championship Subdivision. They won three straight FCS national titles in 2005, 2006 and 2007, but that's like being a snazzy dresser… for a Florida fan. App State has a terrific dual-threat quarterback in Jamal Londry-Jackson, but will be seriously overmatched against Georgia.
What to drink: Moonshine.
Nov. 16 @ Auburn (TBD)
What is it with tigers? This is the third such-named team UGA plays this season. Although, Auburn's mascot is actually an eagle—they're kind of schizo like that. Anyway, the WarTigerEagles plummeted sharply after their BCS win over Oregon in 2011, and have basically been terrible ever since quarterback phenom Cam "Scam" Newton bolted for the NFL amidst a recruiting scandal shortly thereafter. New head coach Gus Malzahn hopes to right the ship, but Auburn fans won't have an excuse to vandalize their own campus too often this year.
What to drink: There are no Auburn-based breweries to speak of, but the university did just establish a graduate program in brewing science. If you make the trek to Toomer's Corner, track down one of those nerds and ask for a sample.
Nov. 23 vs. Kentucky (TBD)
The Wildcats, to put it nicely, are not as good at football as they are at basketball. Still, they've given Georgia fits in the past, coming out on top as recently as 2009 (a season that was admittedly a wash for UGA). Former coach Joker Phillips, who boasts the best name in college football, is gone, having taken a job as wide receivers coach down at Florida. In his place is Mark Stoops, brother of Oklahoma coach Bob Stoops, who has already made drastic improvements in UK's recruitment program. Still, like Auburn, if there is to be a turnaround in Lexington, it will likely be a gradual one.
What to drink: Bourbon. All of it. And then some.
Nov. 30 @ Georgia Tech (TBD)
It seems like the last time Georgia lost to those dweebs at the North Avenue trade school was a million years ago (actually, it was 2008). Last year, head coach Paul Johnson's triple option looked at times like the glorified high-school offense it is, as the Yellow Jackets went 7-7. Quarterback Tevin Washington is gone in 2013, but his sophomore replacement, Vad Lee, could be a star in the making. All yuks aside: rivalry games are never a sure thing, and the Bulldogs can't overlook the Ramblin' Wreck.
What to drink: Anything, as long as you don't drink your whiskey clear.
Bookmark Culture Briefs for game-day liveblogs, individual game previews and other half-assed football coverage. Don't say we didn't warn you.
Like what you just read? Support Flagpole by making a donation today. Every dollar you give helps fund our ongoing mission to provide Athens with quality, independent journalism.