On Tuesday, July 2 the Athens-Clarke County Commission will be voting on a development request by Selig Enterprises that will change the commercial landscape of downtown, and from the discussion at last Thursday's agenda-setting meeting, it is a done deal. It shouldn't be.
Selig is spending $90 million to develop the Armstrong & Dobbs and other properties between Oconee and East Broad streets, including streets, signalized intersections and other goodies exactly the way we like it. Selig will even provide a binding site plan in return for ACC bending the rules slightly to allow 15 street-level apartments where the zoning ordinance requires commercial space. The planning director assures commissioners that all other aspects of the project meet the requirements of our zoning code. And everyone asserts that without this small exception, Selig would be otherwise free to build it their way instead of ours.
Sure, small details have yet to be worked out via opaque negotiations with trusted planners. But worry not, because in August, Selig will be requesting an easement for using ACC's adjoining rail-trail property to solve many of the worrisome layout problems overlooked by commissioners when the binding plan was (presumably) approved in July. How's that for being business-friendly?
The binding site plan only involves the Selig properties. Nonetheless, Selig's architectural renderings, showing modified berms and disappearing trestles, have caused considerable heartburn for trail advocates. Then came the announcement that those impacts may be real, but the commissioners and public may not know for sure until after the binding site plan has been approved. Very slick!
But not so fast. Zoning code requires that Selig's project must be compatible with ACC's Transportation Corridor Concept Map (TCCM). That map protects future corridors from wanton development, and even though the Selig project includes two such protected corridors, the TCCM was not even referenced in the 28-page planning report.
One of those TCCM corridors is a Hickory Street extension from the Multimodal Center, across East Broad Street and through the Selig site to Oconee Street and potentially Thomas Street. Much scrutinized, Hickory Street is the backbone of the Selig project, and its design appears to be acceptable in concept and consistent with ACC's newly adopted Complete Streets template. So far, so good.
But the other TCCM corridor is an existing rail bed linking East Broad and Oconee streets, part of an historic rail spur known as the Belt Line connecting the former Georgia Railroad with the Central Railroad of Georgia (now Norfolk Southern) near Mitchell Street. That protected corridor is intended to accommodate the long-anticipated rail-trail, commonly named "Firefly," from East Broad through the Selig site to Oconee Street and eventually to UGA's North Campus, thereby avoiding the dreaded steep climb up East Broad to downtown.
The pathway would be 12 feet wide, off-road, comfortably safe, level and convenient. Indeed, rail-trails are very different from roadside bike lanes or sidewalks, and their unique virtues should be appreciated and protected whenever feasible.
Nowhere in the Selig documents, however, is the TCCM document mentioned, or its protected rail-trail link, or its exceptional concept elements. Likewise, nowhere is compatibility conformance evaluated as required by zoning procedures. Not surprisingly, therefore, this rail-trail link went unnoticed.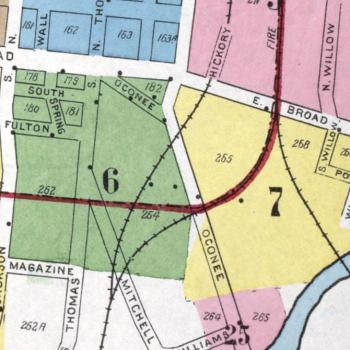 Instead, planners and commissioners expressed a desire, somehow, to connect the Firefly Trail to the Selig project, without recognizing their duty to assess the TCCM corridors. Yes, they were concerned by the design's steep, five-foot-wide, ramped connection to the Selig plaza, and they worried about the safety of bikers on Hickory Street. Unfortunately, they failed to understand Selig's obligation to include a pathway that functions equivalently to the TCCM at-grade, off-road, 12-foot concept linking East Broad and Oconee streets.
I believe the Selig project demands public scrutiny far beyond the question of ground floor residential use, particularly with respect to its compatibility with the TCCM's rail-trail link. Also, that piecemeal consideration could be disastrous, and therefore the zoning vote should await disclosure of Selig's encroachment intentions on the adjacent ACC rail-trail property. Even better, I urge commissioners to ask Selig to withdraw its conditional-use request, pending additional design effort and zoning compliance.
Of course, commissioners may decide that the benefits of the Selig project far exceed the cost of abandoning trail connectivity to North Campus. But the process should be to amend the map, and not ignore it or trivialize its corridor attributes.
Community commitment to the rail-trail project is substantial and longstanding, including two federal earmarks, two SPLOST approvals, and a commission-approved concept plan. Any contemplated changes warrant consultation with longstanding interest groups and should not be decided under cover of a zoning vote.
ACC officials and Selig should consult soon with the SPLOST project manager, who is responsible for spending nearly $12 million in federal and local money on rail-trail properties and trestles; also with the Rail-Trail Committee, Greenway Commission, BikeAthens, Firefly advocates and others. They all care, but to date are left clueless.
The potential rail-trail connection to North Campus has always been a critical transportation objective, and its exclusion would be regrettable. Fortunately, however, alternative design options exist consistent with trail inclusion, and we should quickly begin the public brainstorming whereby Selig could move forward with permitting and construction.
Like what you just read? Support Flagpole by making a donation today. Every dollar you give helps fund our ongoing mission to provide Athens with quality, independent journalism.