Less than a mile from downtown Athens, Marion Taylor has a piece of waterfront property.
Taylor doesn't live along the North Oconee River, which winds through downtown. His home is a stone's throw from grocery stores, a hospital, multiple schools and the University of Georgia campus, in a neighborhood defined by its narrow, windy streets and small, older homes.
"I love this neighborhood," says Taylor, who has lived on Benning Street since 1995. The creek that runs along his property and dead-end street used to flood, he says, but city improvements put a stop to that years ago. Today, "it's nice and quiet," he says. "Everyone minds their own business."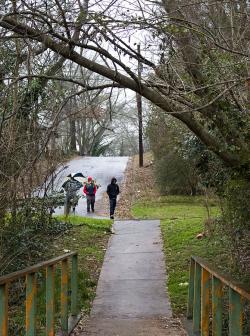 But to ensure this neighborhood—bounded by South Rocksprings, Magnolia, West Broad and Baxter streets—remains a quiet enclave in the midst of downtown's sprawl, the Athens Land Trust recently launched an effort to create a master plan for the area. Thanks to a $25,000 grant from the Atlanta-based Enterprise Community Partners Inc., the plan would reflect residents' desires as the land trust, Habitat for Humanity and Athens Area Housing Authority continue to build affordable infill housing.
The first public meeting took place Feb. 2, with about 75 residents and nonprofit workers brainstorming ways to envision the future of the neighborhood. "One of the things we wondered about it, when you're doing infill and redevelopment, you think, 'Should there be sidewalks? Should these streets be made one way?'" says Heather Benham, Athens Land Trust's director of operations. "So, we decided we needed to just ask the neighborhood what they need."
At the meeting, discussions ranged from clearing out partly burned houses to better access to public transportation. On the positive side, residents noted the proximity to the library, schools, St. Mary's Hospital, grocery stores and a new pool at Rocksprings Park.
The master plan could be a positive step for the neighborhood, says Alvin Sheats, executive director of the Hancock Community Development Corporation. "It's very fine for the neighborhood, as long as the projects that come away from it benefit the community that's here," he says. "The main thing is we don't want to create situations and challenges for our citizens to live in the community… Anything that's going to cause taxes to go up on a person's property—those are some of the things we have to keep in mind as we improve our community."
The neighborhood itself evokes a starkly different feel from the commercial corridors that surround it. Streets not much wider than one lane twist and turn and dead-end against the creek that runs through it. The homes are mainly one-story cottages decorated with found objects and small gardens.
But the neighborhood does have its share of blight, and while crime has decreased since the Athens-Clarke Police substation moved in on Baxter Street, the neighborhood has its share of squatters in burned-out houses.
Sheats also notes a lack of streetlights, pointing out the new, ornamental streetlights installed on Baxter Street near the older ones. Those older streetlights could be repurposed in the nearby neighborhood, he says.
Another resident, Sean Wessling, agrees there could be more streetlights, although his house benefitted from the lights installed at the nearby H.T. Edwards school complex on Dearing Extension. In the 10 years he's lived in the neighborhood, Wessling says it's improved and gotten safer, but there is still work to be done. Drivers will drop trash out their car windows and onto the streets, he says. After years of participating in a cleanup of the creek that runs through the neighborhood, he eventually got frustrated.
"We'd pull out three TVs one year, and come back the next year and pull out three more," he says.
But, recent construction by Habitat for Humanity and the Athens Land Trust is a welcome addition. "They're doing a good job and building good houses," Wessling says. "So, part of me thinks it's really good, but it's hard living in a poor community."
Benham says all the residents' ideas gathered at the recent public input session will be part of a charrette involving UGA students Feb. 22–24. The final product may be ready not long after another public meeting in March to go over the charrette's findings. The final master plan will serve as a guidebook for the nonprofits working in the neighborhood. "One of my concerns is that it could be under threat at some point," she says. "We just want to get it to a stable, healthy place."
Like what you just read? Support Flagpole by making a donation today. Every dollar you give helps fund our ongoing mission to provide Athens with quality, independent journalism.