As for my hurricane experience, I spent it alone in my apartment while the winds whipped the trees below my third-story window; at my most nerve-wracked, a telephone pole teetered ominously, but it didn't fall. And so today, after a peaceful drunken slumber, I waited for Dylan at the foot of the Williamsburg Bridge's pedestrian walkway. The grey firmament above looked, if sky can be described as such, tired. I leaned my bike against an electronic traffic sign, the blank darkness of which informed the oncoming drivers of absolutely nothing. After 10 minutes in the on-and-off mist, Dylan pulled up on his bike.
"Want to walk it?" he asked. "You've got people walking in the bike lane. Society's breaking down."
We strolled up the rusty-pink walkway and traded predictions for how the storm of the century might affect the direction of environmental policy. Coming down off the bridge's highest point, we could see FDR Drive, the parkway running along the eastern border of Manhattan. Among the frantic media reportage—cobbled together via a great deal of ever-reliable crowd-sourcing—it seemed that the FDR had been the frontline of Manhattan's flooding, the first area to be breached by the rising tides. Indeed, trees much larger than the ones I'd seen in Brooklyn were waterlogged in parts of this roadway, and some cars appeared to have suffered a similar fate.
We reached the Manhattan side of the bridge, hopped back on our bikes and made a left turn towards the southern area of the city. As we moved along the water, slowly cruising under the Manhattan and then Brooklyn bridges, we encountered cause to pause and utter some exclamation of disbelief at a fairly regular clip. Planks of wood had been stripped from the dock at South Street Seaport. Potted trees had been knocked clean out of their plots. Park benches, nailed to concrete, were overturned. A few errant cobblestones were dislodged. Rats had drowned.
We stood on Van Brunt Street in the Red Hook neighborhood of Brooklyn. Were one predisposed to continue driving down this dead-end street, one would quickly find herself in the New York Harbor. But she wouldn't need to have done that this past week; the New York Harbor could have come to her.
While its rustic waterside ambiance renders it unique to Brooklyn, in many ways Red Hook is a locale typical to the borough in 2012: desirable property, housing well-heeled local businesspersons, abutting nearby housing projects. Up until fairly recently, the Red Hook Houses, Brooklyn's largest public housing development, was the landmark the neighborhood was known for. But if it was once a neighborhood "up and coming," it had come up a ways.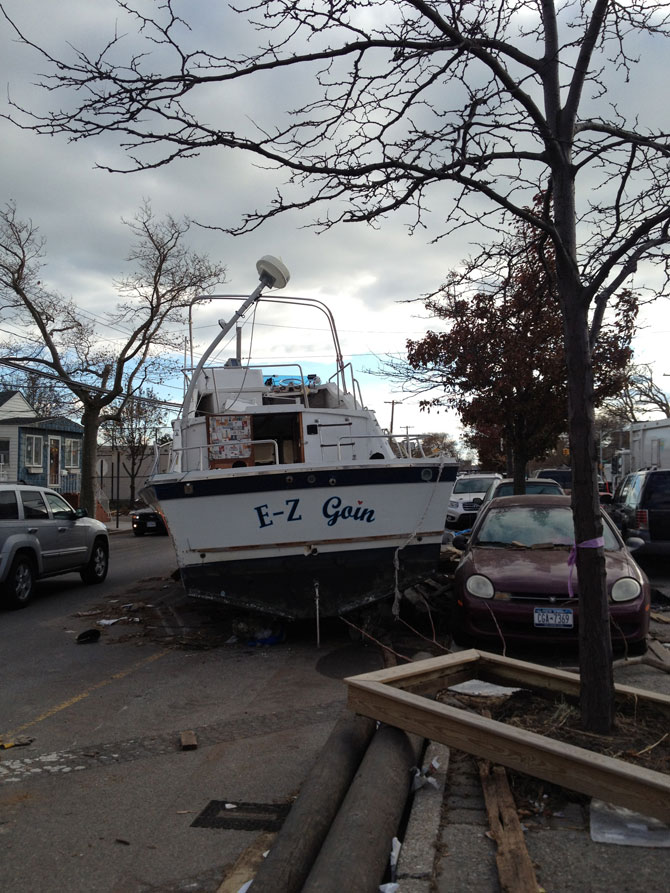 Our task was to help clean out the flooded artists' studios associated with the Brooklyn Waterfront Artists Coalition. ("Sandy Visits Our Gallery," their website noted dryly.) The warehouse was a home not only to visual artists but plenty of artisans and scrappy DIY-ers, many of them carving out careers in their modest studios. Moments after my friend and feral trumpet player Dylan Angell and I helped take stock of what was left of a printing company's wares, the room's spatial qualities shifted. About five feet from the ground, a dismal gray watermark had shown where the water's surface once stood. Volunteers with hammers began to hack away at the soggy drywall. The room was no longer a room.
Back to the pile: we were not going to move the entire pile—there really is no "good place" for a giant heap of wet shit—but the decision was made among the volunteers to instead clear a path. Garbage bags were dragged; everything else was tossed with cathartic vigor. When the path to the fire hydrant had been cleared, Dylan found some red spray paint and marked the spot.
"My spray paint handwriting isn't that different from my regular handwriting," he noted.
The scene was remarkably gung-ho. Supplies were pooled and put to good use. Earnest newcomers always seemed to be showing up, bashfully looking for some temporary purpose. Tools were being cleaned with WD-40. We tried our best to liberate some floor mats of the oily grime that had traveled in with the storm waters. One couple went from volunteer to volunteer offering slices of pizza.
The residents of the space knew best what to save and what to toss, what went where and how people could help, and so were made to be the executors of their living wills before their time, doing inventories on past lives. They worked with attitudes ranging from grim automation to forward-march determination. It was, it seems, what it was, and there sooner they ripped into the future, the closer they'd be to returning to normal life.
The 15-mile ride went like this: we started going east on Metropolitan Avenue through Ridgewood, then made a right turn on Woodhaven and followed that south forever. The mood was a convivial take on the I'm-serious vibe of hardcore bicyclists. At red lights, folks at the front yelled, "Clear!" and barreled through the intersection; we did the same as we followed. When we came across heavily trafficked multi-lane roads, the call came up: "Take the lane!" A Revenge of the Nerds-style nerd had rigged up some speakers to his bike (he had a battery in his water bottle holster), and we pedaled to OutKast, Biggie Smalls and Michael Jackson.
Once we crossed Liberty Avenue, Hurricane Sandy presented her calling card. Goodbye, traffic lights; hello, traffic cops. As we approached the Joseph P. Addabbo Memorial Bridge, we were flanked on either side by metal fences strewn high with scraps of trash. We started over the bridge and soon arrived in the neighborhood of Broad Channel. As we rode into the neighborhood, relief workers recognized our large group as having come to help and immediately started offering up food. This bodes well for the area's recovery: relief food has been abundant enough to offer food to relief workers. ("Juicys?" asked one Red Cross worker, offering us juice boxes.)
At this point I don't know how to talk about this and be cute anymore, because it really just looked very ugly. There were boats in the middle of the road. Small- to medium-sized boats that had been washed into the streets. Every house, it seems, had all of its former contents in a pile on the sidewalk. The department of sanitation was working to clear debris with the aid of some kind of construction vehicle.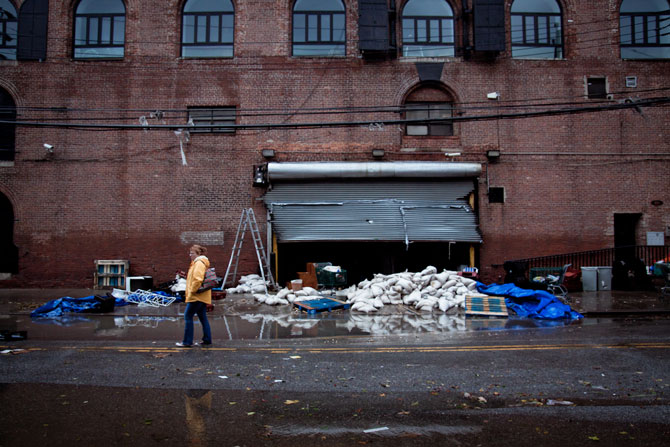 One sign: "FEMA Please Help Us."
Another: "Looters Will Be Crucified."
A kid, possibly middle school-aged, wore an oversized Obama mask and waved a flimsy sign that seemed to cast aspersions in one direction or another.
It was at this point that we came to another bridge. I'll be totally honest: even though I grew up on nearby Long Island, I'd never come to the Rockaways. I never had to, with Jones Beach nearby. (Later, my family became partial to Long Beach, another area that is having a very hard time of things.) When we reached Broad Channel, I thought we'd reached the end of the road. But there it was—another bridge to cross to get to even more destruction, to Rockaway Beach proper.
So we crossed it, passing an utterly demolished bayside seafood restaurant as we went. We navigated the narrow streets, moving single file past houses heavily specked with wet sand, to get to the Rockaway Surf Club, the relief center for the community. There, people were lined up to get what they needed: batteries, flashlights, clothes, diapers, blankets. Two larger men stood guard. Inside, an older man sported a t-shirt that spoke of echoes from Katrina: "Defend Rockaway,†it said.
Like what you just read? Support Flagpole by making a donation today. Every dollar you give helps fund our ongoing mission to provide Athens with quality, independent journalism.