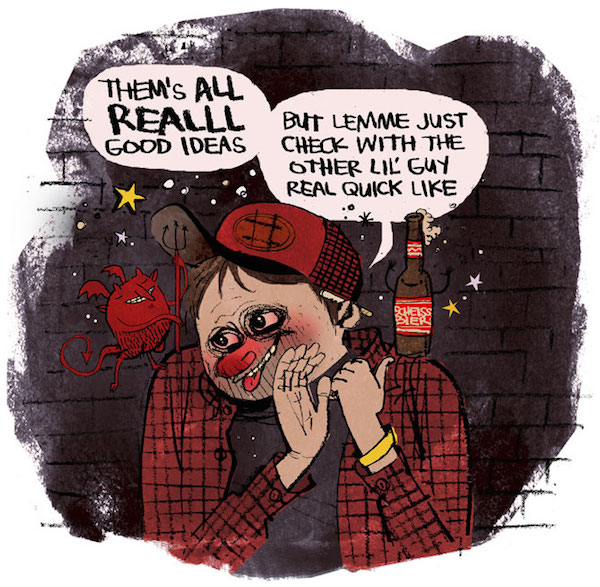 Photo Credit: Lee Gatlin
After every UGA home football game, Flagpole checks the police blotter to find the weekend's strangest drunken antics. All information is taken from Athens-Clarke County police reports.
• Saturday morning at 1:58 a.m., an officer responded to Transmetropolitan in reference to a possible impaired driver.
The officer arrived on the scene and was advised that someone was attempting to back out of a parking spot to drive westbound on Clayton Street, which is eastbound traffic only.
Contact with made with the 22-year-old Watkinsville man, who smelled very strongly of alcohol and had glassy, bloodshot eyes. The man volunteered for a field sobriety test. The man could not walk and turn around or stand on one leg and stated that he was drunk and could not walk. The man was placed under arrest for DUI and improper backing.
• An officer on patrol on Saturday around 1:44 p.m. in the downtown area near Flanagan's bar noticed a male subject come out the back door of one of the bars, walk behind a near by air conditioning unit and position himself as though he was planning to urinate. The officer then activated his body camera, and the subject began urinating in the alley.
The officer approached the subject and asked for an ID. The subject said someone inside the bar was holding his ID and wallet. The officer looked at his front pocket and saw what appeared to be a wallet protruding out.
The officer directed him to hand over the wallet, and he did so. The 18-year-old Roswell man was issued two citations for underage consumption and urinating in public, then released.
• Friday at 12:54 a.m., an officer was traveling on Williams Street when a black Chevy truck pulled out of the apartments at 440 Baldwin St. right in front of the officer, causing him to hit his brakes.
As the officer proceeded behind the truck west on Baldwin Street, he observed the truck failing to maintain lane, the right side of the vehicle riding the curb as well as running through the bushes along the sidewalk. The truck attempted to make a right turn onto south Jackson Street and hopped the curb, and the officer initiated a traffic stop.
The officer could immediately smell the odor of alcohol and saw an open Budweiser can in the center-console cup holder.
The officer asked the driver if he had anything to drink that night; at first he said, "No," then he admitted to having a couple of beers an hour ago.
The 22-year-old Athens man's speech was slurred as he agreed to take a sobriety test. He appeared to have a hard time balancing. He was placed under arrest for DUI.
Like what you just read? Support Flagpole by making a donation today. Every dollar you give helps fund our ongoing mission to provide Athens with quality, independent journalism.