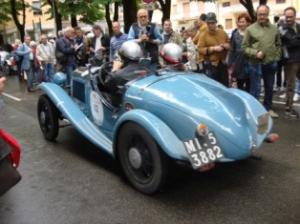 The Ol' Bloviator regrets the deafening silence in these parts here of late–even if no one else does. After crawling out from under a veritable overturned eighteen wheeler crammed with dissertations, theses, and ill-advised speaking obligations, he and Ms. O.B. headed off first for England, where he delivered a most learned bloviation to the dons and dons-under-construction at Cambridge. From there we hopped on over to Bella Italia, where the O.B. managed to put another check on his bucket list by witnessing one of the great automotive and cultural spectacles on the planet, the vaunted "Mille Miglia," a combination race/rally/touring event that covers 1,000 miles of Italian countryside in the span of roughly three days.
The Mille Miglia began in 1927 as an annual open-road endurance race and remained so until 1957 when a horrific crash took the lives of both a driver and his navigator and nine spectators, five of them children. This brought the total of lives lost to the Mille Miglia at that point to fifty-six. The causes of such carnage were not far to seek. The winner of the first race in 1927 had averaged 48 miles per hour. Four years later, the victor clocked an average of 63 mph, and with the highly competitive automotive performance-technology sector registering astonishing advances in the 1950s, the British driving legend Sterling Moss covered the thousand-mile circuit in 1955 in just over ten hours at a scorching 98 mph pace. This probably doesn't impress you contemporary NASCAR junkies much, but keep in mind these chaps weren't just flooring it and turning left. They were bouncing and skidding along on ill-kept thoroughfares cutting through some humongously hilly terrain and, worse yet, keeping pedal to the metal even when blowing through tiny towns with tiny streets lined with moms, pops, and bambinos, not to mention the same kind of irrationally exuberant crazies you see chasing the hopped-up cyclists in the Tour de France. Such safety barriers as there were consisted of bales of straw, which were always handy for igniting a raging inferno after a skidding car splashed petrol on its white-hot tailpipe. The combination of a route ill-suited for high speeds and several hundred lead-footed drivers seemingly oblivious to their own mortality (or anyone else's) amounted to a recipe for the inevitable carnage that, in 1957, finally ended the Mille Miglia's run as one of the world's most exciting and dangerous road races.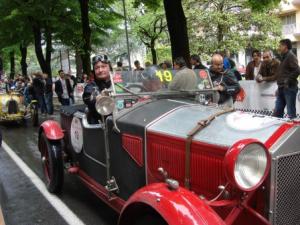 When it was resurrected in 1977 on the 50th anniversary of its first race, in official terms at least, the MM was no longer a competitive race but something of a timed rally and grand tour with participation limited to cars that would have been eligible to participate in its last run for speed in 1957. What this meant, in effect, was that the Mille Miglia quickly became the vintage-car enthusiast's ultimate moveable feast and, surely, as one participant told me, arguably the world's greatest antique-auto show. This year's roster, for example, featured a Bentley and several Bugattis dating to 1924 and BMWs and Aston Martins from the 1930s, not to mention Alfas, Jaguars, Ferraris, and Porsches spread across several decades.
Although some of these venerable chariots are closing in on 90, they all appear to be in immaculate condition, and several of them are valued at sums well into the millions. Still, old is old, and 1,000 miles is a long way. When the group pulled into Sansepolcro on May 17, they were mobbed, not just by wildly enthusiastic spectators but by teams of mechanics bearing huge cans of Castrol, coolant, brake fluid, etc., and they all worked feverishly to resuscitate these buggies and get them a few more miles on the long and grueling drive leading first to Rome and then all the way back up north to Brescia, where this rollicking adventure began.
If the Italians are among the world's greatest admirers of fancy and exotic automobiles, they are hardly less enamored of people who fall into the same categories. Hence, the Mille Miglia is every bit as big a deal for people watchers as car crazies. The town square was awash in strikingly attired men and women decked out in every color imaginable (and a few that actually weren't), from the rims of their designer sunglasses to the toes of their ultra-chic shoes, most of which, in addition to an outrageous price tag, were surely tempering the joys of sartorial triumph with the unbearable agony of the feet.
As it turned out, we missed out on the single most glamorous event of the day, the arrival of a small flock of "special-guest" contemporary supercars, headlined by a 728-hp Pagani valued at some 1 million Euro (give or take a cup holder or two) and piloted by the car's manufacturer, Horacio Pagani himself.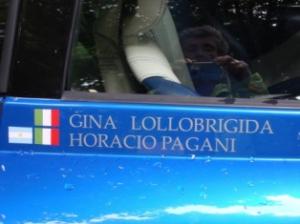 In Italy, certainly, no man of Pagani's stature and persona could settle for just any little ol' non-entity riding shotgun. That assignment called for both style and celebrity, and who better to fill the bill than actress Gina Lollobrigidia, who at 85 still has the glam to get the job done.
Although it was raining to beat hell on and off throughout, there was no dampening the Italian passion for pageantry on this day, and nothing would do but to have the Mille Miglians and the Ferrari "tribute" drivers who preceded them welcomed to town with appropriate ceremony by a local drum corps decked out in medieval garb and accompanied by a comparably attired troop of maidens and squires, as well as a couple of knights sporting suits of mail and offering sword salutes to each and every one of the more than four hundred exotic cars driven through the tiny arch leading to the narrow central passageway through the ancient town center
From Sansepolcro, tired and wet but still on a Mille Miglia high, the O.B.s headed to the gorgeous Tuscan hill town of Cortona, where both of them snapped dozens of redundant photos of the miles and miles of majestic countryside visible on the trek up to the very highest elevations of the city. Near the top, they had the privilege of visiting the University of Georgia's incredible John D. Kehoe Cortona Center, operated by the UGA School of Art.
The ascent to his alma mammy and employer's international campus in the sky was well worth the exertion and risk of nosebleed, but the O.B. was no less pleased by the experience awaiting him down below in Cortona's storied Piazza Republica. In their various trans-Atlantic excursions O.B. and the Ms. have seen more than a few incredibly old churches and famous and not-so-famous museums. Enriching as those experiences have been, the O.B. has to say that he finds it more satisfying and culturally instructive these days simply to find a good table, bench, or set of steps and just take in what happens in a town square on a given day. Basking in the warmth of the Tuscan sun, savoring a straight-from-Havana Cohiba, an indulgence denied him at home, the O.B. fought off the temptation to ascend to the top steps of the church and issue a blistering denunciation of the utter stupidity of U.S. policy toward Cuba. Instead, he just sprawled back, dispatching a puff just frequently enough to keep fellow American tourists at bay, while the cultural panorama unfolding before his eyes carried him back to his earliest childhood memories of the bucolic ritual of "going to town" each and every Saturday.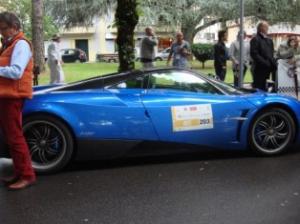 As seemed the case in Cortona, the purchases of the necessities that served to justify his family's long ago excursions to the county seat, always seemed to take a backseat to personal exchanges with kin and friends. This was an era, of course, when a typical rural Georgia family might live miles from the nearest phone and nobody had ever heard tell of a tweet or a text or a twitter, and yet, somehow, miraculously enough, folks managed to stay sufficiently in touch simply by communicating face to face for a few minutes every week or so. Though the good people of today's Cortona are by no means bereft of modern communication technology, I don't think you could have told discerned that from the encounters I witnessed in the piazza. As in my hometown, it was easy to pick out the town characters, the biggest flirts, the best storytellers, and the folks who consistently conveyed the same timeworn tale of woe to everyone they encountered. In Cortona, to be sure, there were tweeters and texters aplenty among the young folk, but somehow, the town square was still the place for them to be, a place to connect with the world while remaining connected to home.
The biggest excitement of the afternoon was a wedding, and the café tables ringing the piazza suddenly filled with eager spectators as the requisite photo session forced the O.B. to stir himself from the church steps and join the throng of onlookers amused by the altered gait of the groomsmen who had obviously taken full advantage of an open bar at the reception and the only slightly less tipsy bridesmaids trying to negotiate the cobblestones in spiked heels. Despite their inhibited mobility, the wedding crew tottered back and forth from square to bar in an almost cyclical rhythm to the accompaniment of much chuckling and winking from the amused spectators perched at tables and in doorways along this parade route.
Although the scenes he witnessed on this single Saturday in the long, long life of a tiny Italian town seemed in some ways reminiscent of things he could recall from his "country" childhood in the South of the 1950s, analogies in the O.B.'s more recent experience largely eluded him. What he saw in Italy gave evidence of a genuine zest for life, whether it is experienced in the grandeur and spectacle of the Mille Miglia or the commonplace spontaneous encounters of the town square. It would be foolish to think that all Italians, perhaps city slickers especially, exhibit the same endearing social traits that the O.B. observed in Cortona, but they certainly are not hard to spot elsewhere in rural, small-town Italy. There was a time that such traits were readily observable in comparable locales in this vicinity, but although we might still occasionally get a fleeting vestigial glimpse of them today, nothing saddens the O.B. more than his abiding sense of the rural South's loss of innocence during his lifetime. By "'innocence" he does not mean moral purity, for any claim to such was surely countered by the racial realities still prevalent in the final decade of the Jim Crow era. Rather, the O.B. refers to a society so lacking in worldliness as to be unaware of its deficiency in this regard, one where "getting along" had not yet been thoroughly trounced by "getting ahead," and finally, one where, absent even the thinnest veneer of sophistication, people communicated directly and straightforwardly with the people who mattered to them about the things that mattered to them. Given the reek of alienation, bitterness and paranoia emanating from the rural South these days, its seems John Egerton was not referring solely to hard-charging, desperate-to-be Yankee-ized southern cities like Atlanta when he observed some forty years ago that what he called "the Americanization of Dixie," simply meant the South and the nation were " not exchanging strengths as much as they are exchanging sins . . . sharing and spreading the worst in each other, while the best languishes and withers."
P.S. If you are so desperately out of anything better to do, you can mash here and catch a little video of the Mille Miglia, and beginning about 0:29, you will see the beautiful Ms. O.B. in bright green and her rickety old companion in drab everything.
Like what you just read? Support Flagpole by making a donation today. Every dollar you give helps fund our ongoing mission to provide Athens with quality, independent journalism.