Hey everyone. Welcome back to another week of news staight from the heart of the Classic City. Where's the heart? Right between the lungs, my friend, so breathe deep and love it. And forgive me, scientists, if I'm incorrect. But it sounded good, right? At any rate, on we go…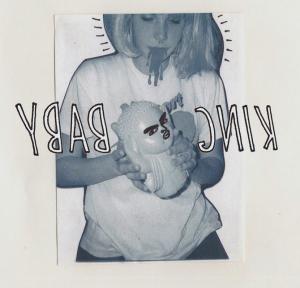 One Went West: The first artist from the now-defunct Birdhouse Collection to have officially moved his work away from the collective's Bandcamp page is Green Gerry. The erstwhile Gerry Green's new album, King Baby, can be found at greengerry0.bandcamp.com. The 12-track release is a headphone-land trip full of gauzy pop, soft psychedelia and vocals that sound like echoes of half-remembered dreams. So, you know, fully recommended. Green splits his time between Athens and Los Angeles these days, and has a new L.A.-based project named Dally that's much more synth-y with a dash of goth for good measure. Check it at dally.bandcamp.com. If you really wanna stab yourself in the face, I suppose you could read the entries at welcometogreengerry.tumblr.com and gather the background info about King Baby. I did. But, boy, do my eyes hurt now. In other, I suppose related, news, the most recent album by Collection stalwart Cottonmouth (aka Jacob Deel) was released on July 25, coincidentally the same day Flagpole reported the collective's demise, and is titled Jay-Cub. It's like hip hop for a club with no floor and no DJ. Imagine dancing in the gaping maw of a sinkhole and having Prince occasionally singing a few lines at you. Man, I dunno. Just dig it at thebirdhouse.bandcamp.com.
Come On, Get Heavy: It seems like it's been forever, but probably only half that long, since the hardcore noisemakers in Chrissakes played a show. But they're gonna make amends for all that, Saturday, Aug. 24 at the Caledonia Lounge. They'll be splitting the bill with Atlanta band Hawks and cool new Athens heavies For The Vulture. For the uninitiated, Chrissakes is like a much younger and better looking Jesus Lizard, strained through 1990s screamo records. The group's last recorded work was released in 2009 and can be found at chrissakes.bandcamp.com.
Better In Due Time: Sam Sniper is finishing up its second full-length album, and the band debuted some songs form the upcoming release during a show last week. Members have been recording at their home studio and plan to release the record in late fall or early winter. Sam Sniper's debut album, We're Not Coming Back This Way, was released in 2011. The one track I've been able to preview from the upcoming album is a low-slung, Southwestern-flavored affair that doesn't seem to deviate very much from the band's already well honed lowercase-"c" cowboy sensibility. Stream the debut at samsniper.bandcamp.com, and keep up to date via facebook.com/samsnipermusic.
Pluckin' 'N' Jivin': Matt Hudgins (of the Shit-Hot Country Band) has gathered his spurs to produce a songwriters' night most Wednesdays for the time being at the Caledonia Lounge. The event, American Music Wednesdays, begins at 7 p.m., and it's a slightly different look each time. Sometimes you'll find songwriters in the round; other times it's a sign-up open mic. But the next time it happens, on Aug. 28, it's a a picking circle for folks who bring their instruments, led by Justin Manglitz. It's billed cheekily as Barrel Sniffer's Olde Time Biscuit Pickin' Hour, which I suspect is a joke, but I'm not about to inquire as to its origins. These events are free, but if you're under 21, you gotta cough up two bucks to get in.
Down By The River: Former Athenian and award-winning filmmaker Matthew Buzzell is now an assistant professor of Television & Cinema at Georgia Regents University and is heavily involved with the Westobou Festival. The festival spotlights extraordinary participants in the area of dance, film, music, spoken word and visual art and takes place throughout a variety of spaces in Augusta, GA. This year, Athens' own T. Hardy Morris will perform at Old Arc. The festival takes place October 2–6, and honestly, I'd be remiss in my duties if I also didn't inform you that Kim Gordon (Sonic Youth) will appear with her new duo, Body/Head, to perform a live score for Carl Theodor Dreyer's 1928 film The Passion of Joan of Arc at the Sacred Heart Cultural Center. The whole series of events is really quite impressive, and all the Augusta scene folks have always been really nice to us Athenians, so let's return the favor. For more information, see westoboufestival.com.
A Whole Lot Of Oh Yeah: A good handful of older townsfolk are are already hip to former Athens sound man and scenester Patton Biddle's website Pat the Wiz, but I want to take this opportunity to tip those who aren't. Although it could use a good dose of reorganization, and drop the music that plays automatically on each page, the site is a cool resource and time capsule of the Athens music scene in the late '70s and early/mid-'80s. It has photos, music archives, remembrances and a weekly contest wherein Biddle posts an unnamed archival track—usually a live recording—and awards points to those who can identify the band. At the end of the year, he adds up the points and awards trophies. Seriously, this is such an Athens thing to do. Fun just for the sake of fun. To Biddle: hats off to you, sir. To the rest of you, head over to patthewiz.com and enjoy yourself.
Like what you just read? Support Flagpole by making a donation today. Every dollar you give helps fund our ongoing mission to provide Athens with quality, independent journalism.