Locals and outsiders alike are familiar with Athens' rich musical history. The Classic City has been fortunate to serve as a breeding ground for pop creativity for nearly 40 years, fostering boundary-pushing talent and allowing them a life of growth and prosperity. But with Athens' past serving as its primary tourist draw, some residents are asking whether there are enough resources currently available to provide the tools and opportunities artists need in order to learn, produce and make a real living at their craft.
As with many big, head-scratchingly complex problems, the solutions usually come in piecemeal, and sometimes without the intention of addressing the problem in the first place.
"I would be lying if I didn't say the start of it didn't just come from being freaked out by down time," says Drew Vandenberg, the founder of the new local organization Athens Resonates. "As a freelance recording engineer, I'm really lucky most of the time [that] I'm crazy busy. But it's either on or off. It's either you've got 30 days in a row of work, or there's a month and a half where you work one day."
It was during one of these slower stints at the beginning of 2018 that Vandenberg began to conceptualize how he would pay it forward. "It'd been in my head for a long time," Vandenberg says. "I was wanting to get to a place where I could give back to the community in some way. And so I was like, 'OK, this is going to be the down-time period where you stop throwing yourself a pity party and be constructive.'"
Vandenberg believed he could make the biggest impact by focusing on what he knew best. "I zoomed in: OK, well you're not a billionaire, and you can't build a ship to clean all the plastic out of the ocean," he says with a laugh. "That's not you. Think about your scope and your skill set."
The excitement and immutability of live recording appealed to Vandenberg, as did shining a light on local creative businesses, so he decided that the basis of his fundraising efforts would involve recording two singles for local musicians live to half-inch, two-track tape and pressing the songs to vinyl to sell to the general public.
Vandenberg had pinpointed how he would raise money, but for whom would he raise it?
"Obviously, the first thing that comes to mind for me—always, since I was a kid who grew up here—is Nuçi's Space," he says. "That place has always been near and dear to my heart, and it's an amazing cause that goes beyond music. The mental and physical well-being of people is humongous."
In addition to Nuçi's, Vandenberg wanted to prop up another organization just as integral to the health and well-being of Athens' musically inclined youth. Years ago, Vandenberg had approached the Boys and Girls Clubs of Athens to see how he could help start a learning studio at their Fourth Street facility, but his schedule didn't line up at the time. Now, he had his chance.
"There's people doing a great thing over here. There's people doing a great thing over here. They don't really talk," says Vandenberg. "On paper, they're not saying we serve two different communities, but they do, intended or unintended. I felt like, what could I do in my little corner to try to help with that, also? Servicing these two great causes, but also getting those two people to talk to each other."
Vandenberg began talking with friends and colleagues about his plans in hopes of bringing additional talent and angles to the project. One of his first recruits was Kindercore's director of sales, Micki Windham, who assisted Vandenberg with looking at costs and feasibility.
"There are so many parts of vinyl that come from outside sources," says Windham. "Getting the metal stampers made and the artwork and all of that. So, it was trying to figure out how we could keep costs as low as possible."
The plant already saves excess vinyl trimmed from each record during the pressing process, so Windham suggested they utilize and re-use that material, making each Athens Resonates release a unique blend of colors.
Even with Kindercore's involvement, Vandenberg and Windham had to brainstorm how they would get the additional funding necessary to get things off the ground. Lisa Love, director of music marketing and development at the Georgia Department of Economic Development, suggested approaching the Georgia Music Foundation. According to Love, the grant arm of GMF has donated nearly $400,000 to school music programs and nonprofit organizations since 2015.
With funding acquired and all systems go, Vandenberg began recording his first band for the project, Futurebirds, at the beginning of 2019. He also roped in DT Productions CEO Cartter Fontaine to have a two-camera crew on hand to film the session, incorporating an interview with the band in the video's final cut.
Athens Resonates made its first public presentation at this year's SXSW music conference in Austin, TX, where Vandenberg tabled and sold the 7-inch records, along with screen-printed posters of its album art, courtesy of Ruby Sue Graphics. A second 7-inch, from Linqua Franqa, aka Athens-Clarke County Commissioner Mariah Parker, has since been completed and will be released this Friday on the Georgia Theatre Rooftop.
With the gears now turning smoothly, Vandenberg aims to record and release a total of six singles, including contributions from twangy, Athens-born rock quintet Neighbor Lady and Cracker frontman David Lowery.
In addition to raising money, Vandenberg fleshed out a music curriculum for the local Boys and Girls Clubs' MusicMakers program, written alongside Partials singer and percussionist Adriana Thomas, where kids can learn more about music production and recording. The program started this spring, and a six-week camp is planned for summer.
Parker explains the significance of bringing these resources to her East Athens district: "[M]y constituents are deeply concerned about the young people in our neighborhoods," she says. "…We need more programs like this that give kids a safe, productive community to find identity, kinship and build the creative and critical thinking skills that will help them express themselves in healthy ways and become healthy adults."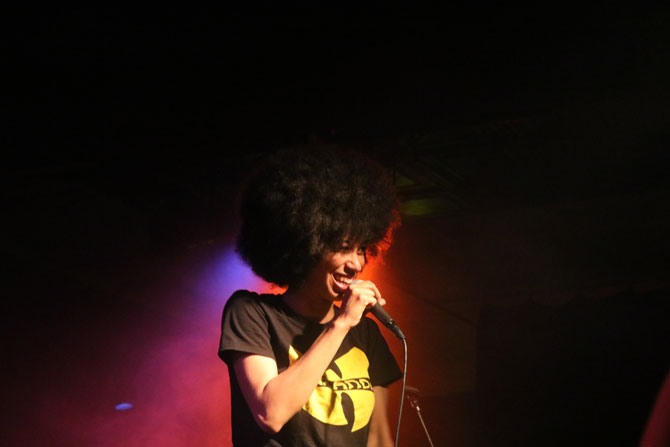 Photo Credit: Jessica Silverman
Athens Resonates is also working towards ensuring that its fundraising efforts can continue for years to come. After speaking with other philanthropic initiatives around town, like Creature Comforts' Get Comfortable community outreach program, Windham approached the Athens Area Community Foundation for help setting up a bank account in order to utilize their 501(c)(3) nonprofit services. The AACF could also potentially help Athens Resonates grow through donations it receives, helping to sustain the project's operations and mission.
The Athens Resonates vision is unabashedly bold and large in scope, pooling wide swaths of local talent together to create original art, all for the sake of bridging communities and paying it forward to the community's youth, so they may grow and more easily achieve a life of prosperity, like other locals who came before them.
"How do I be a positive force for keeping people in a good space, where, when they grow and develop and move forward, they're in a good lane to do that?" asks Vandenberg. "I want to figure out the way here, in our little bubble, to maybe set the wheels in motion to remedy it."
Like what you just read? Support Flagpole by making a donation today. Every dollar you give helps fund our ongoing mission to provide Athens with quality, independent journalism.