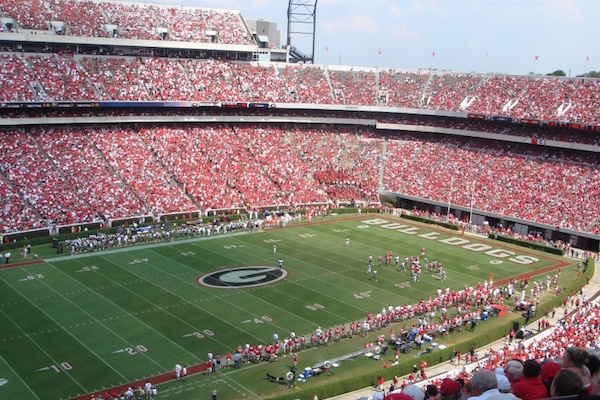 Photo Credit: pruddle/Wikimedia Commons
The SEC has lifted its ban on selling alcoholic beverages at sporting events, but the average Dawg still won't be able to throw back a cold one in the stands at Sanford Stadium.
The new policy, approved Friday, requires conference members that wish to sell alcohol to set aside designated areas for consumption and prohibits drinking in seating areas.
"Our policy governing alcohol sales has been a source of considerable discussion and respectful debate among our member universities in recent years," SEC commissioner Greg Sankey said in a statement. "As a conference, we have been observant of trends in the sale and consumption of alcohol at collegiate sporting events and have drawn upon the experiences and insights of our member schools which have responsibly established limited alcohol sales within controlled spaces and premium seating areas."
Free booze is often given to high-rolling donors and other VIPs at Sanford Stadium skybox suites, and more recently in the East End Club in the newly renovated east end zone area, but this will be the first time it's available for fans to purchase.
There's a catch, though: Entry into the newly created bar area on the 200 (or club) level will be available only to members of the Magill Society, which requires a commitment to donate $25,000 to the athletic association over a five-year period. Beverages purchased must be consumed in the club-level bar area; patrons won't be able to take them back to their seats.
UGA is also considering whether to create premium seating areas where alcohol is sold at baseball and football games.
Like what you just read? Support Flagpole by making a donation today. Every dollar you give helps fund our ongoing mission to provide Athens with quality, independent journalism.