For local hip-hop artists, performing at the Hot Corner Celebration and Soul Food Festival is a rite of passage and also a source of pride. The annual festival takes place at the "Hot Corner" of Hull and Washington streets on the edge of downtown Athens. The event is an Athens cultural staple, as well as a celebration of African-American commerce—something the musical performers also appreciate.
"The Hot Corner Celebration is a celebration of black-owned businesses," says Larry Gresham, known in the rap scene as L.G. "That's something that we should take pride in, and that's something we should support. It's something that we should take joy in. It's bigger than music. It's a good way to reach those people that you wouldn't reach." After all, he says, "Hot Corner only happens once a year."
Gresham has performed at the festival each of the last few years, but has attended since he was a child. The Hot Corner is the only place he can remember getting his hair cut since he was old enough to walk. For him, the event is a chance to gather with and celebrate people he's looked up to his entire life.
"It means a lot, because Athens isn't that big to begin with," he says. "It's like a family reunion, except that it's in the middle of the street. This is just the one time where we can come together, and we can dance together, we can eat together, we can sing, and it's a beautiful thing."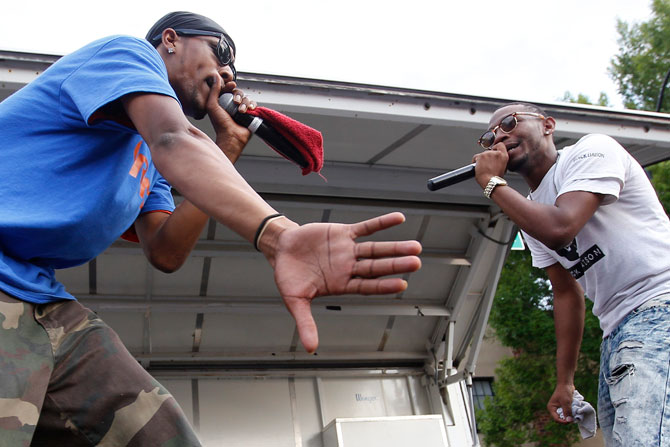 Photo Credit: Joshua L. Jones
One of the things that makes Hot Corner a unique experience in terms of annual Athens events is the diversity of the crowd, which is made up of people of all ages, races and musical tastes. Gresham says hip hop often gets negative publicity, and the Hot Corner festival gives artists a chance to shed some light on the music's positive potential and entertain everyone, no matter their age.
"It shines a light on hip hop, because a lot of people see the negativity that hip hop brings," Gresham says. "With the Hot Corner Celebration being a family event, it shows that hip hop can and will have that positive aspect that can entertain the family, from grandmother on down to the children. Hip hop is trying to reach all bases and ages. It just shows the positive side of hip hop. We're just trying to give hip hop a good look… I aspire to try to entertain everybody."

While Gresham will be one of many return performers Saturday, local up-and-comer Jeffrey Blakely, aka Kxng Blanco, will be appearing on the Hot Corner stage for the first time.
"This is my first time doing it, so I don't know what to expect," says Blakely. "This year, I'm just ready to pipe up and give the folks that don't know me something to remember."
Blakely, a recent Clarke Central graduate who considers himself a student of the older artists in the Athens area, says he thinks this edition of the Hot Corner festival will provide a good learning environment for artists his age, as well as an opportunity for the older generation of fans and artists to connect the dots and put a face and voice to his ever-growing reputation.
"I always take notes from the people I consider the OGs of the Athens hip-hop scene," Blakely says. "I'll be spectating just to get a feel for the dos and don'ts when I get up there… I definitely want to leave an impact on the people that don't know me. For the people that haven't been to a Kxng Blanco show, they don't know why all of the hype is around me. It's more than just the audio that they hear and the stories that they hear about me—it's the energy."
Local emcee Torrance "Squalle" Wilcher, who will also perform Saturday, says he was unaware of the significance of the Hot Corner Celebration until relatively recently. Wilcher was born in Athens but moved to the Commerce area as a child. Since returning, the event has become an important part of his Athens experience and helped move his music career forward.
"It's something I always clear my schedule for," Wilcher says. "[E]ven if I'm not performing, I want to be in the atmosphere. Ever since I've known about it, it's something that I've taken pride in doing. [With each performance], my career has taken a different step, because there were so many people."
The Hot Corner Celebration kicks off Friday with a gospel program and prayer service at the First AME Church downtown. Saturday, the action moves outside for a full day of music, performance, kids' activities and much more.
Like what you just read? Support Flagpole by making a donation today. Every dollar you give helps fund our ongoing mission to provide Athens with quality, independent journalism.