Regardless of genre, one can trace the origins of most modern popular music to one of two root forms: folk and blues. This weekend, Athens is set to host celebrations of both.
On Saturday, Sandy Creek Park and The Foundry will be alive with music. The former will be home to the 33rd annual North Georgia Folk Festival, while the latter will host the second annual BBQ, Bourbon & Blues Festival.
"I think there's something in it that touches everybody and that doesn't go away," says local singer-songwriter Rebecca Sunshine on the staying power of folk music. "No matter where you go, everybody's going to have a good time listening to it." The Rebecca Sunshine Band is one of many bands scheduled to play the Folk Festival.
With events starting at 11 a.m. and continuing into the evening, the Folk Festival boasts activities for the entire family. In addition to music, the event—produced by volunteers from the Athens Folk Music and Dance Society with support from Athens-Clarke County Leisure Services—will feature storytelling, arts, crafts, food and activities for kids.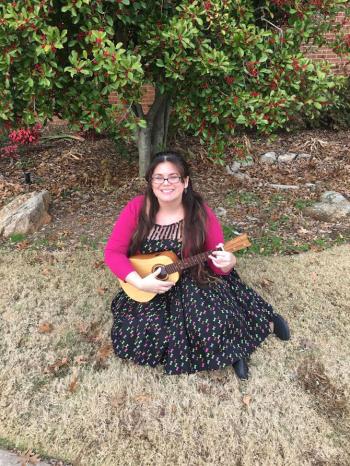 "It combines a bunch of great music and really cool crafts, and it's great for everybody to come to. All ages love it. Little kids love it, and old people love it," says Sunshine. "It's just a great place for the whole community to come together and have a great time."
The main attraction—the music—is represented by a stacked lineup featuring Cortez Garza, Remedy Tree, Beto Cacao, Georgia Mudcats, Broken String Band and Austin Darnell, among many more on the main stage. The Fire Circle Showcase will feature Boone Hood, Rob McCurry and Sarah Zuniga.
"I think, especially nowadays, there's a lack of outlets for folk music in Athens. It's all very progressive, very alt-rock," says Sean Stephansen of Broken String Band. "So, the Folk Festival gives that outlet—one weekend where everybody that enjoys that style of music can come out and have a good time. And it's at Sandy Creek Park, which is a great place to be in general."
In an entirely different atmosphere but with a very similar purpose, the BBQ, Bourbon & Blues Festival at The Foundry will celebrate the blues from 2–10 p.m. In addition to a full day of tunes, this second installment of the festival will have barbecue and bourbon specials for its duration.
"[Blues is] the wellspring—all American music grows out of that. Rock and roll, jazz," says Tom Gray of Delta Moon, which will play Saturday's festival. "It's in country, and hip hop and rap, too."
The fest will feature acts such as Frankie's Blues Mission, The Original ScrewTops, The Georgia Healers and Will White & The Howlin' South. The night will end with a performance by Selwyn Birchwood, a Florida guitarist still running high after his most recent album, Pick Your Poison, debuted at No. 6 on the Billboard blues chart.
"I really wasn't connecting with the music that all of my friends were listening to in middle school, high school and stuff, but I could definitely relate to some blues music," says Birchwood. "I think it has a staying power because it's still relatable. Everybody's always going to be able to connect with the raw human emotions associated with that kind of music."
Both of Saturday's events will offer attendees a chance to gather with like-minded listeners to celebrate genres that have shaped music for generations. For some, it's an opportunity to relax and enjoy. For others, including the performers, the festivals are as much educational as they are entertaining.
"I like events where there's lots of other bands," says Delta Moon's Mark Johnson. "You really come away with lots of ideas and thoughts about what you're doing."
"Talking backstage with them, it's also really a wonderful thing," adds Gray. "I learned a lot that way."
Like what you just read? Support Flagpole by making a donation today. Every dollar you give helps fund our ongoing mission to provide Athens with quality, independent journalism.