If there's one cold, hard truth that's become increasingly evident in the music industry, it's that there is no one way to "make it" these days.
Except for an uptick in vinyl over the past few years, physical album sales have dropped, making way for a surge in popularity among streaming services like Spotify and Apple Music. As a result of that shift, much attention has been given to live performance as artists' primary means of revenue. But to confound matters, some artists don't even perform live, instead posting music and videos online in hopes of going viral. Whichever way you look at it, yesterday's approach just doesn't hold up anymore.
Two of Athens' most promising rock bands, Deep State and Oak House, are releasing anticipated new albums this month, taking practical steps towards making their rock and roll dreams come true. The former recently signed to Sacramento boutique label Friendship Fever to release its sophomore full-length, Thought Garden, while the latter has enlisted the help of former Athenian and Noisy Ghost PR publicist Michelle King to promote its self-released second album, Hot or Mood.
"When is that guidebook going to come out about being a successful band in 2017?" Deep State singer and guitarist Taylor Chmura asks sardonically.
But Deep State is doing something right. With its brash, high-energy live show, the melodic punk band has become a townie household name. After Deep State established a solid regional following by touring behind its debut, 2015's Nice, Friendship Fever founders Chris and Sabrina Watson found the group in typical internet-era fashion: by scouring Bandcamp. The couple reached out to discuss plans for future releases and soon signed the band, preparing for this month's Thought Garden.
Despite the fervent nature of the band's output thus far, Chmura says Deep State's latest full-length comes more from a place of self-examination. "Our first full-length, Nice, is about voicing frustration outward. Thought Garden seeks to be more introspective," he says.
The album's title is taken from a passage in Herman Hesse's Narcissus and Goldmund, in which the protagonist ruminates on humanity, realizing that it's more courageous to sin and suffer the consequences rather than "laying out a lonely harmonious thought-garden, strolling sinlessly among one's sheltered flower beds."
In other words, you have to go through some stuff to really understand what it means to be human—and you'll be better off for it. It's a mature, enlightened vantage point that requires thorough listening to recognize. With the exception of the record's closer, "Urn," Thought Garden is still full of the rollicking, uptempo gems for which Athens has come to adore the band.
And thankfully, it seems Deep State is in it for the long haul. "We love to play," says Chmura. "We will keep doing it as long as we can, and hopefully more folks will jump on board with us."
That sentiment is shared by Friendship Fever, says the label's Chris Watson, who is set to release the record digitally and on CD and vinyl with press and radio promotion. "Personally, if people love it, that's a success," he says. "Professionally, something that pays for itself in terms of sales [and] licenses and serves the purpose to build or help establish a creative career, that's a success."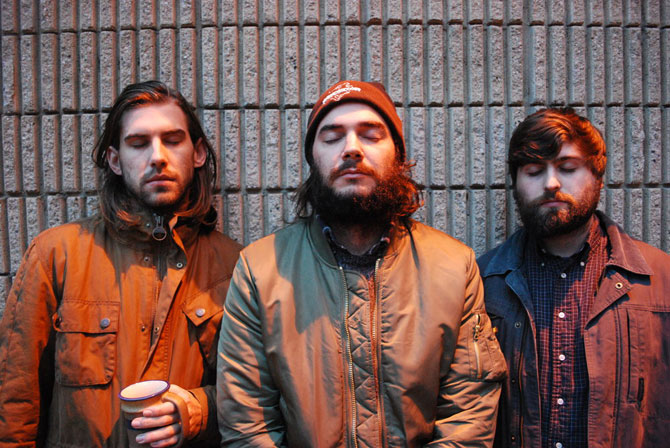 Photo Credit: Rebecca Cash
The new release from genre-bending trio Oak House, Hot or Mood, likewise finds the band coming to terms with a new phase—something potentially bigger than itself. Singer and guitarist Gresham Cash points out that the connection between the band's most recent lineup is one of the largest factors in pushing it towards a clearer, more unified vision.
"[Bassist] Connor [Sabula] joined, and then we started to kind of compositionally change directions pretty dramatically," says Cash. "Connor and [drummer] Wes [Gregory] kind of understood what I was trying to get through our songs and what I wanted from the rhythm section. Pretty much immediately after our last album, our sound started shifting more into a certain direction, and our live show definitely came across in a different way than our recordings."
That new direction inspired the unit to think more critically about what its sophomore album should sound like, and how to bridge the gap between the record and Oak House's live show.
"It's a challenge as a band to put yourself into the studio to paint a broader picture, and then to condense it live and pull off what you can pull off," says Cash. "So, we pretty early on were thinking, 'OK, we're a three-piece now, so what can we do as a three-piece?'
"We basically came to the conclusion that we wanted our record to have the aggression and intensity and volume—drums and bass-wise—of our live show, but not to just be a heavy album," he continues. "There's still layers and attempted beauty and stuff like that. We didn't want to just squash everything with a live show, which is a lot of times what we have."
On top of discussions regarding the band's sound, Cash was determined to make art and music a career, not just a hobby. The band talked seriously about what to do with the album and how to further the goal of making music as a legitimate, full-time venture. Though a label deal wasn't in the cards, it was able to enlist the help of a national publicist to promote the album, garnering track premieres and coverage from NPR and Consequence of Sound, among others.
While quantifying the results of that sort of press is difficult, it's seen by most musicians as essential to increasing exposure, offering bands a national reach and introducing them to hordes of potential new listeners. Additionally, it provides the clout booking agents, venue promoters and labels often look for in a group looking to make music its primary hustle.
Still, both Oak House's and Deep State's standout new albums speak to the new reality of the music industry—one that has no set path to or definition of success. Ultimately, a band can only use the resources available to it to attempt to navigate a rather absurd world, which, like the world at large, doesn't always make much sense.
Like what you just read? Support Flagpole by making a donation today. Every dollar you give helps fund our ongoing mission to provide Athens with quality, independent journalism.