Three weeks doesn't seem like a long time. It goes by in a snap. And you'd think that after touring for months, a three-week break at home would be welcome. But Graham Ulicny, vocalist and guitarist for Reptar, is ready for the road.
"I know it's nice being back, but, honestly, I can't wait to get out on tour again," he says.
So, Reptar's pretty well known by now around these parts, but here's the short version: four Athens guys played a ton of house shows, got the city excited, they played more shows, bigger shows, put out a swell EP, toured, toured, toured, picked up fans nationwide, et cetera, et cetera.
And with all the talk and attention that Reptar's gotten over the past several years—much of it thanks to the band's deliriously giddy, equatorial-inflected electropop—you might have to remind yourself that, oh yeah, these guys haven't put out a full-length album yet. There was the Oblangle Fizz, Y'all EP, but that was mainly an appetite-whetter for the live show, which is where the band's made its reputation. Well, until now—this week sees the release of Reptar's Body Faucet, a confident, cohesive and downright fun collection of tunes. And by flipping the script (How many hundreds of Athens acts record and release amateurish albums before they even know what they're doing as a band?), Reptar waited to get the album sounding just the way they wanted.
"I'm really pleased with how each song has its own sonic character," says Ulicny. "But I think even more than that, I like how there's a cohesive sound across the album, too. It's really clean and very present, but it also has more of a live feel. It sounds more like our band than the EP does. I'm really pleased with it, and I can't wait for it to come out and for people to hear it."
Ulicny gives credit for much of the album's sound to Atlanta producer Ben Allen, who has helped craft a number of groups' most notable records. But he specializes in hard-to-categorize acts that tend to favor layer upon intricate layer of diverse sound. He has produced records from Animal Collective, Deerhunter, Gnarls Barkley and Washed Out, among others. Reptar worked with Allen on their previous EP, and that prior experience in Allen's Maze Studios helped up the comfort level for the guys, according to Ulicny.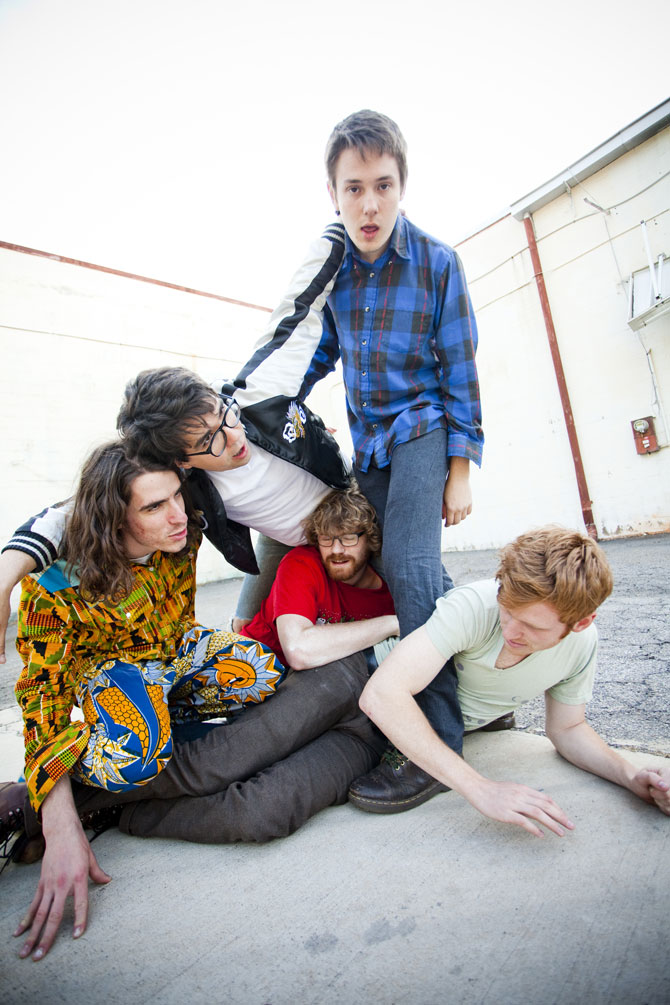 "Ben Allen is a good friend of ours now at this point—we played his wedding reception party—and we know each other well, so I think it's like being here in Athens recording with your friends," he says. "Except, in this case, you're in a crazy-professional real studio with amazing equipment. It's just cool to have someone with an encyclopedic knowledge of sound working with you. He's an incredibly talented dude, and it was cool for us because we knew what we wanted things to sound like, but didn't know how to get those sounds onto an album. It was a really creative environment and less rushed: two months versus two weeks. I think we got into more interesting sonic territory."
Body Faucet, which shares sonic qualities with bands like Vampire Weekend, Talking Heads and Passion Pit, gets a national release courtesy of Vagrant Records, the ever-diversifying record label once known as a bratty pop-punk boutique label, but that's now home to acts like Edward Sharpe & the Magnetic Zeros, School of Seven Bells, PJ Harvey and The Hold Steady. It made sense for Reptar to team up with a label with name recognition and one that could front some of the Body Faucet recording costs, says Ulicny.
Body Faucet features the original four-piece lineup of Ulicny, Andrew McFarland (drums), Ryan Engelberger (bass) and William Kennedy (keys, synths). Athenians who caught the band at its New Year's Eve show at the Georgia Theatre also would've seen a fifth member shredding guitar: Jace Bartet (Bit Brigade, 'Powers) debuted as a new member at that show, and his hyper-enthusiasm (damn-near legendary, at least around Athens) electrifies the band's already-frizzling live presence.
"It's been really awesome playing music with someone you really respect as a musician," says Ulicny of Bartet's recruitment. "And it's been a fun change to the band dynamic. It's been the four of us for a while now, so it's cool to have new input and ideas."
Bartet knew some of the Reptar dudes peripherally, but only got friendly with Ulicny after being paired up to collaborate on a Mixtape Wars feature in this paper last summer, where they shared outer space-themed songs with one another and wrote about their reactions.
Of his role, Bartet says, "[Reptar] doesn't sound like a guitar-heavy band, though there's a lot on the new album, and they gave me a lot of freedom to make up my own parts and add color where I saw fit. And I think I've also picked up a hype-man kind of role, by my own accord. If there's not something for me to be doing on the guitar at any moment onstage, I'm really into playing the crowd. I think that's helped enrich and flesh out and balance the live experience. You know, you've got William behind the keyboards going crazy—Wild Man Kennedy doing his thing on the keys flailing away. And then Ryan's playing the bass and Andy's on drums, and they're there, looking handsome, and Graham's singing, and I think I'm balancing out William's wildness by being on the other side of the stage with my own craziness; he and I kind of flank the center and both raise and focus the energies of the crowd in a fully formed way."
After this week's release shows in Atlanta and Athens, Reptar's back out on the road, just as Ulicny hoped for, opening for San Francisco's Grouplove. It's another step in spreading the word for the band who, over the past year, performed at Lollapalooza, Austin City Limits and to quickly sold-out shows in New York and Chicago, among other places.
"We're all doing the band full-time," says Ulicny. "We played Lollapalooza and we made enough from that show to sustain us for the rest of that year, and then we played some bigger festivals and made some money so that we could do the band full-time now. I mean, we're not rich; we just made enough to get by living in Athens and not having to work day jobs, you know? Though being in a band definitely is work. But it's incredible. It's a fucking dream. I can't ask for anything more than playing music all the time."
Like what you just read? Support Flagpole by making a donation today. Every dollar you give helps fund our ongoing mission to provide Athens with quality, independent journalism.