Springtime in Athens always brings two crucial elements back to town: temperate weather and a smorgasbord of music festivals. The first fest of the year is the fifth annual Athens Americana Fest, a celebration of America's musical roots that townsfolk consistently welcome with open arms.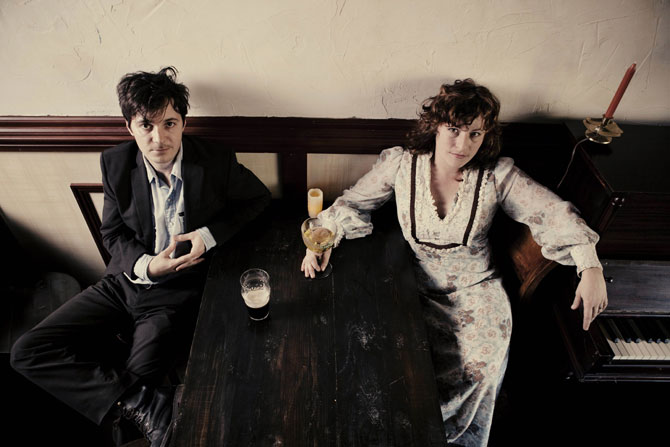 One can likely find aspects of Americana music in all major Athens festivals, but the Americana Fest focuses on this particular genre. The pacing of this event is unique: a five-day journey kicks off at Georgia Theatre, moves to Little Kings over the weekend and winds down at Highwire Lounge Sunday evening. What's so unique about that? Americana Fest's founding organizers, Justin Evans and Adam Klein, make sure to plan everything in such a way that allows audience members to catch each show.
"One thing that's different about Americana Fest,†says Evans, "is that we only have one venue going at a time… At the Georgia Theatre, we're doing a free rooftop happy hour, then an evening show. Other festivals will do multiple clubs at once.â€
With their audiences in mind, Evans and Klein set out to book both traditional and new-fangled Americana acts. Being a big-tent genre, Americana seems to include artists with a certain historicity, rather than a specific sound or message, within its ranks. Now, we're left with an imprecise definition.
"I define Americana as a broad genre of music,†says Evans. "I know some people try to narrow it down, but… we just try to stick with bands that have some attachment to roots music. We have two or three blues bands playing, two or three bluegrass bands playing, then we have other bands that have drifted further from the roots. But you can still sense that connection.â€
Perhaps it detracts from the meaning of the word "genre†even to refer to Americana as one—we might, more precisely, refer to it as a musical tradition. Blues and bluegrass are certainly two sonically distinct styles, but they both form the roots of modern American music. As Evans says, blues is "essentially American music, in that it spawned rock and roll, jazz and all these other things that came out of that tradition.â€
With a festival that's had steady growth year after year, audiences can expect to see some new and interesting talent. In years past, New West Records has provided the Americana Fest organizers with various items to raffle out, acting as an informal sponsor of sorts. This year, the label is taking on a more active role by providing the festival with a freshly signed duo. The Mastersons, a husband-wife-indie-country-folk act that dropped its debut album, Birds Fly South, less than a month ago, will be moonlighting at Americana Fest—by day, they compose part of Steve Earle's backing band.
Evans can hardly begin to list the bands he's most looking forward to; he seems excited about every act, new and old. "I think it's cool that Shonna Tucker from Drive-By Truckers is kind of branching out on her own,†he says. He also mentions Sans Abri ("a spinoff of the Packway Handle Bandâ€), Shovels and Rope (of Charleston, SC, one of Evans' favorite bands) and several others. More broadly, he indicates that a new sonic addition has been added to this year's fest:
"We do have a few artists playing this year that are a little more poppy, like Ruby Kendrick and Thayer Sarrano… We wanted to include a little bit of everything, especially the things that are acoustically based.â€
Besides satiating the Americana junkie's appetite, the festival's organizers aim to "let people know just how much of this stuff is actually in Athens.â€
"The original purpose,†says Evans, "was just to bring everybody together and have an event that really celebrates this kind of music and brings attention to it.â€
It must be difficult to decide "who's been representing Americana music in Athens over the past year,†and Evans and Klein regretfully "couldn't get to everybody†this time around. "Eventually,†says Evans, "we want to get everybody who wants to play in on it.†He adds, "For our purposes, we're just trying to get music that is rooted in America and bands that appreciate that once they move past the roots.â€
Hopefully, tradition will be simultaneously honored and bastardized to Athenians' satisfaction.
Athens Americana Fest Schedule
Wednesday, Apr. 18 (Georgia Theatre)
Happy Hour on the Rooftop
7 p.m. Andrew Combs
8 p.m. T. Hardy Morris and the Outfit
Opening Night
9 p.m. Jonny Corndawg
10 p.m. Shovels and Rope
11 p.m. Bloodkin
Thursday, Apr. 19 (Little Kings Shuffle Club)
9 p.m. Ruby Kendrick
10 p.m. Vespolina
11 p.m. The Georgia Healers
12 a.m. Thayer Sarrano
Friday, Apr. 20 (Little Kings Shuffle Club)
8 p.m. Norma Rae (outside stage)
9 p.m. Justin Evans and Friends (inside stage)
9:45 p.m. Charlie Garrett Band (outside stage)
10:45 p.m. The Mastersons (inside stage)
11:45 p.m. Bic C and the Velvet Delta (outside stage)
12:45 a.m. The Corduroy Road (inside stage)
Saturday, Apr. 21 (Little Kings Shuffle Club)
8 p.m. Old Smokey (outside stage)
8:45 p.m. Sans Abri (inside stage)
9:30 p.m. Smokey's Farmland Band (outside stage)
10:20 p.m. Adam Klein and the Wild Fires (inside stage)
11:10 p.m. Dave Marr and Friends (outside stage)
12 a.m. Shonna Tucker (inside stage)
1 a.m. The Whiskey Gentry (inside stage)
Sunday, Apr. 22 (Baxendale Guitar)
2–4 p.m. Free guitar workshop on general care, maintenance and guitar set-up by master luthier Scott Baxendale
Sunday, Apr. 22 (Closing Party @ Highwire Lounge)
5 p.m. Cicada Rhythm
6 p.m. Borderhop 5
7 p.m. Betsy Franck
8 p.m. Kim Morgan and the Baxendales
9 p.m. Bobby's Shorts (feat. members of Futurebirds)
Like what you just read? Support Flagpole by making a donation today. Every dollar you give helps fund our ongoing mission to provide Athens with quality, independent journalism.