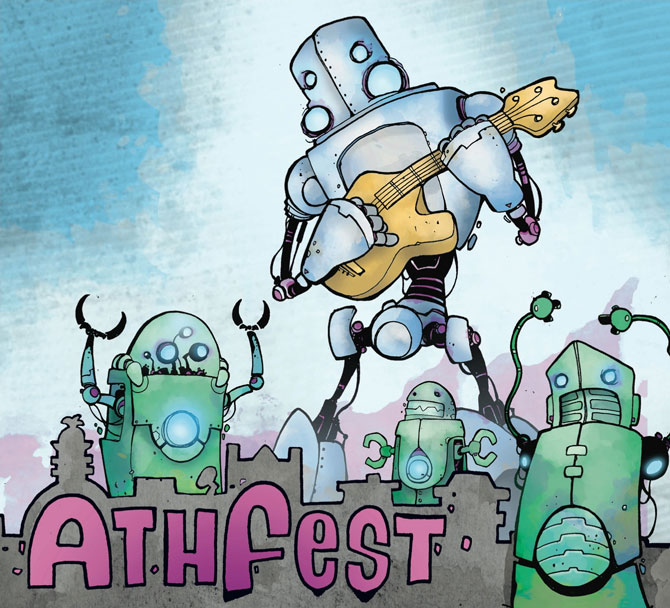 Flagpole is proud to be the first to announce the lineup for this year's AthFest compilation album. Although the album seems to lean on the Americana side of things, it does provide a broad cross-section of the Athens music scene, much like the festival itself—from the electronic washes of FLT RSK to the angular pop of Reptar. Details on the official CD release party, slated for May 4 at Little Kings Shuffle Club, will be announced soon.
Patterson Hood & The Downtown 13 – "After It's Gone"
Ruby Kendrick – "Do Me Right"
The Corduroy Road – "All Around This Town"
Hope For Agoldensummer – "Stars Shine Down"
pacificUV – "Float"
Tumbleweed Stampede – "Lost Boys"
FLT RSK – "Before Night Falls"
Reptar – "City Of Habits"
Casper & the Cookies – "Drug Facts"
White Violet – "Everyday Is Listening"
Futurebirds – "Megachills"
40th Street Candid Coal People – "Ambivalence In D"
Clay Leverett & The Buzzards – "Back To You"
Yo Soybean – "An Old War In The New South"
Sam Sniper – "Nothing Kills Me"
Dodd Ferrelle – "Rain Comin' Over The Mountain"
Ken Will Morton – "Hitting Ditches"
Vespolina – "I Don't Love You
Efren – "If My Heart Don't Fail Me"
Like what you just read? Support Flagpole by making a donation today. Every dollar you give helps fund our ongoing mission to provide Athens with quality, independent journalism.