"Athens is probably one of the few towns of its size that could actually pull something like this off,†says Bob Sleppy, executive director of Nuçi's Space. "I'm really excited about all the bands that have signed up. It's going to be good.â€
The "this†would be a four-night, fundraising, rock and roll bonanza known as Athens Business Rocks.
For the past several years, Nuçi's Space has held a "battle of the bands"- type competition to raise funds for various Nuçi's projects. Last year, the Space opened up the competition to all Athens businesses, effectively creating what is now Athens Business Rocks. Prior to that battle, the competition was limited to places like music venues and restaurants. Now, even small businesses can compete, creating the perfect climate for an even larger and more insane competition.
"Last year really set the tone for this year, I think,†says Sleppy. "It seems like a lot more people are talking about it, which is good because we put a lot of work into making this as fun as possible.â€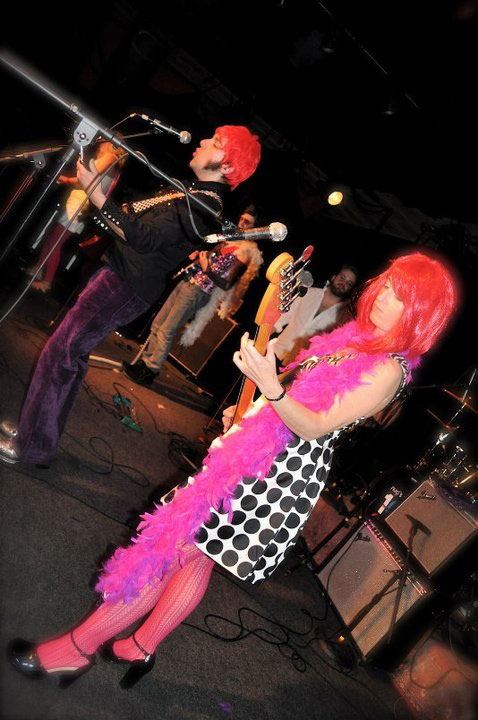 The concept is pretty simple. Athens has many musicians that have never set foot onstage. These musicians are hiding in plain sight as our dentists, waiters, pencil-pushers and so on. Gather the employees of a small business together and, more than likely, enough know how to play an instrument to form a band. The bands rehearse three cover songs, wear some funky clothes, play the covers onstage for friends and family, and raise money for Nuçi's Space all at the same time. It's simple, fun, and a way better workplace bonding experience than trust exercises.
Bands can move on to the next round (Feb. 18) by getting the most points, accumulated by raising funds via the ABR site (www.athensbusinessrocks.com), collecting donations or by having friends "bribe†the guest judges by placing money in tip jars with their band's name on it.
"We thought the idea of 'bribing' the judges would just add to the fun atmosphere of the night,†says Sleppy. "We always have great local judges to help us out. We've had Patterson [Hood of the Drive-By Truckers], Dewitt Burton, who works with R.E.M., and many others who make it all really fun to perform. You get to play in front of real industry people.â€
If you're in one of the bands and are worried about being judged by a music business professional, don't fret. Sleppy says the judges aren't too concerned about how well bands perform, it's more about how much fun everyone's having.
"That's one of the main reasons we ask everyone to do cover songs instead of originals. Athens Business Rocks is not about how well you can play or write a song, it's about getting together with your friends and co-workers and just having a good time playing songs you like.â€
Of course, in order to maximize the silliness of it all, bands are encouraged to produce really cool names. This year will see the likes of Caledonia Lounge's "Pörtly Crüe,†"Athens Band Trust†from Athens Land Trust, and Flagpole's very own "Selig and the Walmartians.†Bands from bygone years have also made up ridiculous stage costumes to go along with outrageous names and inspired cover selections.
"I guess the best part of it all is just seeing people have fun up there,†says Sleppy. "Some of these people have never been on a stage before, and it's really fun to see them get all excited about playing to a crowd. Some of the most entertaining performances came from first-timers who just wanted to get up and play and not take themselves too seriously.â€
Like what you just read? Support Flagpole by making a donation today. Every dollar you give helps fund our ongoing mission to provide Athens with quality, independent journalism.