From big anniversaries to big breakups, downtown institutions reopening and shuttering, 2011 was packed with music happenings. Flagpole's music writers sifted through the year's headlines, Tweets and live show reviews to generate our list of most memorable moments. We estimated that there were about 6,000 sets of music played this year in Athens, so obviously a few gigs are not going to make the cut, but here are the moments that most stand out in our collective memory.
Widespread Panic's 25th Anniversary
Feb. 10 & 11 @ The Classic Center
Flagpole heralded the renowned jam band's big two-night stand at the Classic Center with perhaps our best cover art of all time: Dave Schools as cupid. WSP returned later in the year for another special sold-out night, packing out the Georgia Theatre and raising tens of thousands of dollars for Tunes for Tots.
Athens Business Rocks
Feb. 2–4, 19 @ 40 Watt Club
No, this isn't just another excuse to remind all our readers that Flagpole took home top prize in the competition (Ed. note: yes, it is). But even if The McCommunists hadn't dominated, we'd still be singing this event's praises. People often joke that every dang person in this town is a musician, but thanks to Nuçi's Space's brilliant fundraising event, we learned that it's true. HVAC repairmen rocked alongside employees from print-copy stores; computer nerds took on bartenders. Flagpole's own lineup featured drivers, editors, office managers and interns. What a blast! And you better believe we'll be back to defend our title in 2012.
David Barbe Appointed Permanent Director of UGA's Music Business Program
March
You couldn't ask for a cooler professor or one more knowledgeable about the ins and outs of the music business—unless maybe you ask for David Lowery, whom the MBUS program also recruited this year.
Godspeed You! Black Emperor
Mar. 1 @ 40 Watt Club
Godspeed You! Black Emperor played like a tidal wave: a rushing wall of apocalyptic post-rock that enveloped the crowd, washed every onlooker clean with the revelatory power of its musical vision and saw them emerge from the 40 Watt newer, wholer people. This show was nothing short of a baptism by sound. [David Fitzgerald]
Kevn Kinney and the Musical Kings
Mar. 12 @ 40 Watt Club
In March, Kevn Kinney and the Musical Kings rocked the 40 Watt before the Baseball Project show. No one knew that the Musical Kings would include Steve Wynn, John Keane, Tim Nielson, Linda Pitmon, Scott McCaughey and Buck, Mills, and Berry of the now retired R.E.M. The gang's scorching version of "Underground Umbrella" won't soon be forgotten. [Jordan Stepp]
The Return of Jeff Mangum
The news of the infamously reclusive Neutral Milk Hotel frontman's return to the stage came in waves. First, in February, we heard he'd be curating the All Tomorrow's Parties Festival. Then, a handful of tour dates were added up north. That was followed by a secret, masked appearance at the AUX Experimental Arts Festival in May. Then, he surprised Occupiers on Wall Street with a special acoustic set. And finally, in November, two dates at the 40 Watt Club were announced, and tickets sold out within minutes. Here's predicting at least one of those shows, if not both, will make our year-end list in 2012. [Michelle Gilzenrat]
AthFest Gets Electrified
June 24 @ Downtown Athens
The weather stole the show at AthFest this year, when Lera Lynn's breathtaking cover of "In the Aeroplane Over the Sea" was punctuated by an explosive exclamation from up above. A lightning bolt struck the corner of Trappeze Pub, shattering bricks and causing a few startled fans to, um, shat a brick as well. Although a handful of people were smacked by building fragments, nobody was very seriously injured, and the festival continued without disruption. Check out video of the performance, thunderclap included, below. [MG]
The Vestibules, Like Totally! and Mr. Guppy Fin
July 4th House Party
In a dirt-floored backyard shed, artists came together one balmy summer night to laugh and drink and sing and dance beneath a Georgia sunset. It was a night of a thousand moments—of blinks and glances, fireflies and embers, and hundreds and hundreds of notes floating ebulliently into the trees, co-mingling with the cricket choir in perfect Southern harmony. [DF]
The Georgia Theatre Returns
Aug. 1
AthFest came and went. Not-so-secret shows that were meant to serve as a soft opening for the Theatre were cancelled. After a two-year roller-coaster ride, the Theatre's reopening was still in doubt just hours before The Glands were set to take the stage for opening night. And then the Tweet finally came: "@GaTheatre: APPROVED!! The @GaTheatre is officially ready to go." That show made Chris Hassiotis' top list; see the next item. [MG]
Madeline, The Glands
Aug. 1 @ Georgia Theatre
Madeline Adams may have recently moved to Atlanta, but her longtime status as an Athens favorite solidified as the first full band to usher in the renovated Georgia Theatre, playing before a packed house of well-wishers and happy folks. She and her backing band warmed up the crowd for The Glands who were performing their first "real" show in about a decade. Warm feelings filled the room, and it didn't matter that the band's energy was just lukewarm (I've always preferred their recordings to their live performances)—the night was a summertime welcome-back party with the sort of bonhomie more typical of this festive time of year. [CH]
Reptar
Aug. 26 @ Farm 255
Whether you love 'em or love to hate 'em, there's no denying that Reptar was the most hyped local act of the year… again. There was a line around the block to catch these guys at AthFest; they packed the Georgia Theatre, too, but the absurdity of this show at Farm will forever be etched in my memory. That Farm 255 wasn't shut down by the fire marshall that night was nothing short of a miracle. I had to watch the gig through the railings of MAX because the restaurant patio was packed—probably 10 times over its capacity. It was a clown car of a concert, and kids just kept pouring in. From an outside perspective you could see a dividing line straight through the audience—everyone up front, oblivious and dancing wildly, and then the back group of curious newcomers, stretching their necks for a glimpse, and skeptics with arms folded. The latter taking full advantage of the free gig to see what all the fuss is about. It looked unbearably claustrophobic to me, even outdoors, but the crowd stayed tightly packed until the end of the set, despite technical difficulties. [MG]
SchoolKids Records Closes Its Doors
August
Low Yo Yo Stuff returned to the scene just as another one bit the dust. Just remember that if you love local record stores and want them to stick around, you've got to patronize regularly… even if the owner of the store might patronize you. [MG]
of Montreal
Sept. 1 @ Georgia Theatre
Of Montreal always puts on a great show, but their performance this past September was especially noteworthy. It may have been the shiny newness of the Georgia Theatre or Kevin Barnes' fabulous assortment of tights, but the groundbreaking levels of positive energy were undeniable. It was all of the glittering good time I'd hoped for, with a few pre-The Sunlandic Twins jams and plenty of funky new tunes to boot. Seeing so many super-young faces in the audience restored my faith in the younger generation's musical taste. [Carrie Dagenhard]
Sons of Daughters
Sept. 21 @ Hendershot's Coffee Bar
On a truly transportive evening, a saxophonist with fire in his soul turned a cozy coffee bar into a noirish speakeasy, and half a dozen patrons into mad men and femmes fatale with one bombastic, voluminous, devastating solo. Barely a blip on the Athenian radar, this remains the most profound musical experience I had all year. [DF]
R.E.M. "Calls It a Day"
Sept. 21
After 31 years serving as Athens' finest ambassadors and our most popular cultural export, R.E.M. announced via their website that the band had decided to split. Word spread around the world in minutes, and soon press from all corners descended on Athens to cover the story—most using terrible R.E.M.-related puns as headlines. (My favorite: "Cue the rapid-eye-mourning"- Yahoo! Music). Flagpole was flooded with remembrances, too; from former mayors to professors, from scene stalwarts to college students, fans young and old expressed their sincere gratitude for the band's musical contributions and their indelible role in shaping the Athens music scene forever. [MG]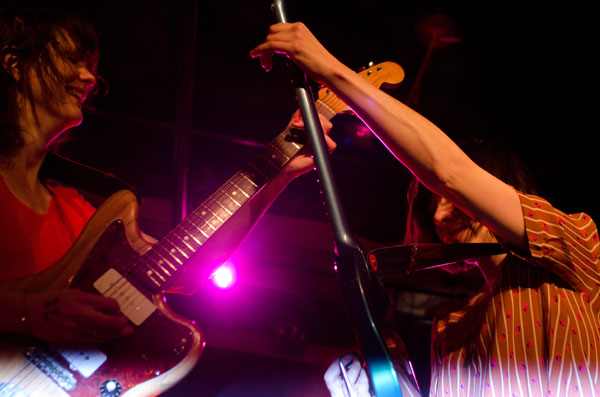 Photo Credit: Mike White
Wild Flag
Oct. 22 @ 40 Watt Club
The soul-spirit of great electric guitar music was fully divined the night Wild Flag came to town. They arrived in Athens in the midst of a hellride of a tour, supporting their mostly live, self-titled LP; their commitment to a bullshit-free (no backing tracks or other cheat codes) presentation of the reality of their music was evident. They brought it all: tangled-up Television guitar rave-ups, Sabbath grit and Live at Leeds exploratory energy. Put your money on them. [Jeff Tobias]
Welcome to the Reconstruction
Nov. 13 @ Georgia Theatre
When R.E.M. announced the band was calling it quits, it was no surprise that a big tribute/release party was soon to follow. The recently rebuilt Georgia Theatre welcomed all the band's staff, family, friends and as many fans as it could hold. Highlights of the night included Mike Mills' stage crashing antics, the high school band 706 kicking off the night with a bang, and the two R.E.M. HQ staffers, Kevin O'Neil and David Bell performing "That Someone Is You" for the first and last time live. [JS]
Manray
Anywhere.
I probably caught five or six Manray sets this year, and I can't pick a favorite. Maybe it was the mind-blowing night when Bambara's Blaze Bateh doubled up the drumming power, or maybe one of the nights Lazer/Wulf's Bryan Aiken added another layer of shredding onstage. But Manray doesn't need guest players to tear it up. Their shows are consistently thrilling: intense, provocative and filled with enough smiles and teasing banter to avoid scaring away more timid music fans. I wonder how many dudes were inspired to get chest tattoos after seeing them play… [MG]
Festivals. We Had a Lot of Them.
AthFest, American Music Festival, Americana Festival, PopFest, AUX, North Georgia Folk Festival, Devilneck, Del YEAH! Festival, SlopFest… [MG]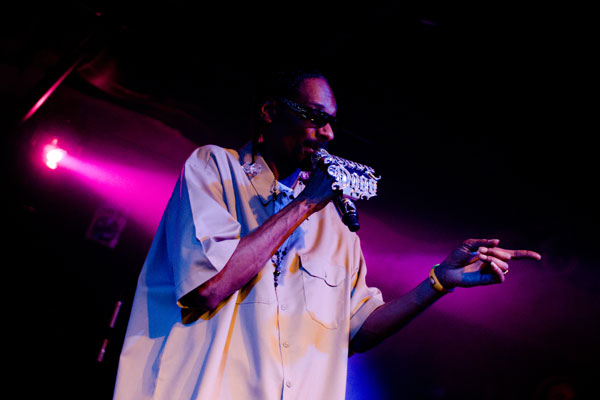 Photo Credit: Mike White
Hip-Hop
This was the greatest year in recent memory to catch national hip-hop acts in Athens. We were treated to Big Boi (so many ladies dancing onstage!), Snoop Dogg (so many family members dancing onstage!), Del the Funky Homosapien (free show!) and my personal favorite, a blazing, high-energy set from Childish Gambino at the Theatre that had a sold-out crowd singing along with every word. Oh, and speaking of comedians who also rap, let's not forget the impressively choreographed and hilarious set from Turquoise Jeep at the 40 Watt. So much fun. [MG]
Like what you just read? Support Flagpole by making a donation today. Every dollar you give helps fund our ongoing mission to provide Athens with quality, independent journalism.