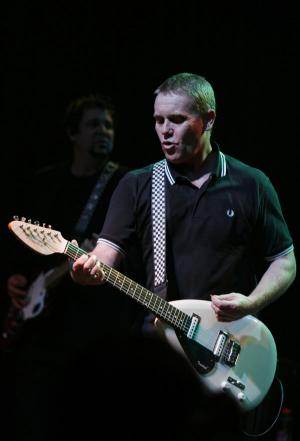 In the early '80s, when R.E.M. scored its first ever slot on a national tour as the opening act for The English Beat, Michael Stipe wanted to know what Beat frontman Dave Wakeling thought of his upstart band.
"He asked me what I thought of the group after about two or three shows, and I said, 'You've obviously got some really great songs, very evocative. But to be honest, I can't hear a bloody word you're singing. It's all mumbling. You need to enunciate, Michael, you need to get your words out there to the people,'" Wakeling says. "By the end of the tour, their first EP had sold about 10 million copies, and they were already much more famous than The English Beat would ever be."
Wakeling has several stories like this. After 30 years of writing and performing with some of the most strange and spectacular names in music like The Clash, Talking Heads and David Bowie, he could talk your ear off about the various things he's seen and done. With his gravelly voice and Cockney accent, he relays some nearly gut-busting tales about his rounds with The English Beat. But, as he's quick to tell you, it's no longer really The English Beat, although he accepts that others might not see it that way.
"It's not a reunion. It's only me from the original lineup. And it was more or less, to be honest, by default," he says. "I kind of realized that once you've been out in the public for a little while, you probably lose the right to say what everybody's going to call you. But if you do call it The English Beat the place is sold out; there's a line around the building and everybody's happy."
Many of those snaking around buildings are young people whose parents raised them on The English Beat and similar bands like The Specials, or who just remember the monster '80s hits "Tenderness" (General Public, featuring Wakeling and the Beat's Ranking Roger) and "She Drives Me Crazy" (Fine Young Cannibals, with former Beat members Andy Cox and David Steele). Either way, he says, it's rare to find a kid who's familiar with the band's beginnings, or how much of those beginnings are rooted in Britain's socially charged 2 Tone ska movement. No problem, though—Wakeling loves to explain it.
"We wanted to blend punk and reggae. Coming from post-industrial England, it was clearly a time where multi-culturalism was becoming important. At the same time, there were forces of reaction—the British movement, and the National Front, which was our watered-down version of the Ku Klux Klan," says Wakeling. "There were these anachronisms still left. In return, music and 2 Tone dance became an antidote to that, a way of positively espousing multi-culturalism in a fairly innocent and naïve way.
"It was then very difficult for people to organize a race riot on Monday," he adds, "if all sorts of different-colored people had been wearing the same clothes and dancing to the same beat on Saturday night."
He hopes to get the same groove going when he brings The English Beat to the 40 Watt Club on June 3. With a sizable and diverse population in Athens, he should be able to bring together a particular combination of people he's seen at his shows, a combination that's become one of the most satisfying ways he sees people respond to the music.
"I see a lot of people in their 50s dancing next to people in their late teens or early 20s, and neither of them notices there's an age difference. There's no sort of discomfort whatsoever," he says. "The music tried to bring people of different skin colors together, and now we're bringing different age groups together."
The 40 Watt Club is also the site of Wakeling's last visit to Athens 15 years ago, when he helped record a live version of R.E.M.'s "Drive" for the Greenpeace album Alternative Energy, a record produced entirely with solar energy.
"Stipe insisted we get there a few days early so we could charge our solar generator with Athens sunshine. Now I'm going back to the 40 Watt, and that's superb," he says. "With any luck we can have a multi-cultural, positive dance revolution beginning right there."
WHO: The English Beat, Outlaw Nation
WHERE: 40 Watt Club
WHEN: Wednesday, June 3, 8 p.m.
HOW MUCH: $15
Like what you just read? Support Flagpole by making a donation today. Every dollar you give helps fund our ongoing mission to provide Athens with quality, independent journalism.