It's no secret that Athens has a vibrant and diverse music scene, especially considering the city is said to have more bands per capita than any other place in the world. But the sheer volume of local music everyone loves may also work against some musicians and genres that, undeservingly, get buried in the heap.
Local musicians Adam Klein and Justin Evans want to shed light on some of those artists with the second annual Athens Americana Festival, a two-night stand at Little Kings Apr. 24–25 dedicated to celebrating the best folk, country and bluegrass the city has to offer. With a schedule including Vigilantes of Love, Hope for Agoldensummer and Don Chambers, they hope to draw attention to what they see as an overlooked part of the local scene.
"Athens is on the map mainly for indie and pop, and Justin and I do like that. But the scene is so much richer than those genres alone," says Klein. "We want to generate exposure for these artists and celebrate the scene in a forum that can connect the artists and bands, as well as build a larger audience for this music in town."
Klein and Evans first organized the festival last year, with 13 acts performing at Little Kings. This year the roster has expanded to 20 bands and songwriters featured on two stages – an indoor stage for full bands, and an outdoor stage for acoustic acts. The schedule is such that there will never be two acts playing at the same time, says Evans, so that people can enjoy the music and dispel any myths about local takes on American music traditions.
"A lot of people shy away from being called Americana. To me, Americana is songwriting influenced by American music from the 1900s, like blues, bluegrass, jazz, rock. It's people who draw from that pool," he says. "It's not like it's songs about 18-wheelers."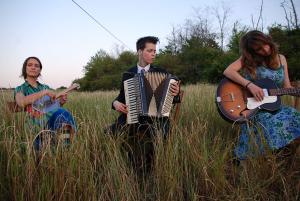 One particularly exciting set, says Evans, will be the solo acoustic performance from Dave Marr, formerly of local country act Star Room Boys. "This is kind of a treat because he doesn't play often."
Aside from the music, festival-goers can grab some dinner courtesy of Wilson's Soul Food. A barbecue stand will be set up at the event with pork, chicken and vegetarian options. It's all part of the plan to make this year successful enough to warrant a third festival, and many more to come.
"The festival is still in its infancy," says Klein, "but we hope it can take its place as a signature event for the Athens music and arts community."
---
Athens Americana 2009 Schedule
Little Kings Shuffle Club
Friday, Apr. 24
7:30 p.m. Daniel Mack and the Pickin' Coup (inside)
8:15 p.m. Timber (inside)
9 p.m. Matt Stoessel (outside)
9:30 p.m. Big C (inside)
11 p.m. Nightingale News (outside)
11:45 p.m. Vigilantes of Love (inside)
12:30 a.m. Patrick Carey (outside)
1:15 a.m. The Granfalloons (inside)
Saturday, Apr. 25
6 p.m. Betsy Franck and the Bareknuckle Band (outside)
6:45 p.m. Clay Leverett (outside)
7:30 p.m. Jumpin' Jesus Christers (inside)
8:15 p.m. Curley Maple (inside)
9 p.m. Hope for Agoldensummer (inside)
9:40 p.m. Dave Marr (outside)
10:20 p.m. Justin Evans and the Chinatown Diaries (inside)
11 p.m. Little Country Giants (outside)
11:45 p.m. Kaitlin Jones and the County Fair (inside)
12:30 a.m. Don Chambers (outside)
1:15 a.m. Wydelles (inside)
Tickets are $6 at the door. Ages 21+ welcome.
Like what you just read? Support Flagpole by making a donation today. Every dollar you give helps fund our ongoing mission to provide Athens with quality, independent journalism.