You can catch Chris Howe (AKA Feral Youth) headbanging and thrashing on stage at The Bad Manor every Friday night in front of a wild crowd of grinding and groping dancers. His contender, Next to Last Festival founder Will Donaldson, tends to favor booty-bounce tunes when spinning as DJ Chamber Music at Farm or Go Bar. But for this mixtape, we asked the pair to create spooky, zombie-themed creations to soundtrack a bumpin' Halloween party. As DJs, the mixes they created are a little different than the usual Mixtape Wars collection of tracks in that they have woven each song seamlessly into the next or, in Donaldson's case, layered several songs on top of each other as a wild mash-up. So, the "track" titles are more like references to samples used, listed chronologically as they appear in the mix. And now, tear up your clothes, cake on the face paint and start moaning for brains…
Feral Youth's Mixtape
1. Dawn of the Dead Theme Music
Feral Youth on why he picked this tune: Of course, this is a super obvious choice, but as a kid, this music and all '70s Romero-esque doomy disco jams for that matter creeped me the hell out. Just makes me think of empty streets sparsely populated with the walking dead.
Chamber Music's reaction: Goblin is our common denominator for a good reason. This stuff is so unique yet classic-feeling to so many people. It built so well on a fun attitude in horror music that was developing and set a standard for a specific film vibe: real occult sound with a tinge of camp.
2. "M1A1" by Gorillaz
FY: This song always stuck out to me on the album because of the Dawn of the Dead sample at the very beginning. It gives it an eerie, atmospheric introduction to a song that ends up sounding more like a rock anthem worthy of zombie-hacking status, Shaun of the Dead-style.
CM: Unexpected twist. Rock stars will use holograms to lure the unsuspecting undead into perilous traps.
3. "Sapphire (Escort Remix)" by Zombi
FY: Growing up as a death metal kid, two things interested me: zombies and Relapse Records. This duo puts out atmospheric analog albums on Relapse, and that's how I got into them. This Escort remix just brings it more into dialogue with the sort of stuff I am listening to now.
CM: Vibes. I love the quality of this track! Classic future sound make me wanna get down.
4. "1975" by Zeds Dead
FY: The piano part here is so negative and sad-sounding, then it kicks into high gear for what I can only imagine being a zombie blood bath sequence.
CM: Feeling your flow first going into this one. Strange turn of events indeed: dubstep bloodsport.
5. "Sweetbread" by Simian Mobile Disco
FY: Not sure if it's the analog feel, the long, drawn out progressions or just the music video itself that made me choose this… perhaps all three.
CM: Wow, that lead sound! What a cool recording. Really creating some space between the speakers here. Feeling you in the mix again.
6. "Have Mercy on Us" by The Bloody Beetroots
FY: Creepy organ line, classically ominous chord progressions, plus a funky beat to decapitate some motherfuckers to.
CM: Ha, ha. I love the way this goes from Final Fantasy to "Rock Me Amadeus" but with Count Drac surfin' the boards. This is what Dracula plays on his castle organ when he eats ecstasy.
7. "Brrrat (Bart B More Remix)" by Armand van Helden and Steve Aoki
FY: Something about that synth stab just makes me want to stab at the living dead. Evil-sounding, heavy—just all around good choice, I think.
CM: I like the breakdown later on when the synth kinda sirens out for a second and then starts stuttering. Huge room sound with all the "empty" spaces. Serious zone.
8. "Face Melter" by Designer Drugs
FY: Obviously, the song title didn't hurt this one in its selection. Neither did the Mortal Kombat keyboard parts. Wish I had the balls to play this around town more.
CM: This is the soundtrack for the most disgusting, violent and bloody zombie porn ever. Hardstyle death sex, or playing "Killer Instinct" in the Euro Zombie Mall.
9. "First of the Year (Equinox)" by Skrillex
FY: OK, I know that I will get some shit for this because it's cool to hate on Skrillex, and, yes, he is essentially the nu-metal equivalent to EDM, but at the same time this song has some seriously awesome lines, if you can get past the robot sex noises.
CM: Well, it does end up sounding about as gross as things would probably get… So, I think this added some "zombie realism" to my experience in a way. I did like the creative use of rhythm and drum sounds in the beginning. Is it cool to hate this guy?
10. "The Man Comes Around" by Johnny Cash
FY: I always envisioned myself sitting on my roof with a rifle, sniping my zombie neighbors while this plays in the background. This is the song we all hear before we die in the zombocalypse by slow motion disembowelment.
CM: In the zombocalypse, we'll all be judged by "King Shit of Fuck Mountain," as it's been said.
Chamber Music's Mixtape (listen here)
A disclaimer from Chamber Music: "I made this using pretty large speakers with a lot of bass. I apologize if things sound a little like a mob of zombies on smaller setups, but break out the subwoofers for maximum enjoyment."
1. Intro
CM: Our introduction consists of sound by Abigail Mead (AJA Vivian Kubrick), Goblin featuring Dario Argento and Tobe Hooper with Wayne Bell. All three came from scary parts of films that I love.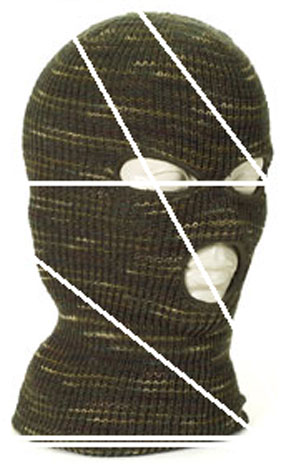 2. "It's the End of the World As We Know It (So We at the Mall)" by R.E.M.
CM: Stipe gave me this tape of demos in confidence at a party one time. I'm letting the cat out of the bag. This one's a duet with the Butthole Surfers and DJ YAYYAY is on drums. Unreleased R.E.M.
FY: Holy shit. This makes me envision a zombie Mike Mills plucking the sinews of his last meal. Seriously some weird shit… love it.
3. "Suspiria Theme (Subspiria Edit)" by Goblin and Dario Argento
CM: Goblin's collaborative soundtrack with Italian director Dario Argento for his film Suspiria is amazing and has become highly influential. It's one of my favorite films! Goblin also collab-ed with Argento on the music for George Romero's Dawn of the Dead, which you heard voices from in my introduction. The drums on this track are the same ones from DJ YAYYAY's "Micro-Chips," but faster.
FY: Love Suspiria as well—the most vivid and vibrant acid-trip gore around.
4. "Hashshashin Chant" by Demdike Stare; "Tribe" by Tunnidge
CM: All the best spells start with some heavy white magick. This one will get you in the dead zone.
FY: This is great, already this mix differs from mine so much in just realm of zombie movies. Where I focused more on the Romero zombie, this choice really brings the whole Serpent and the Rainbow voodoo zombie into the mix.
5. "One Blood" by DJ Roc w/"Monster (Panoramic Juke)" by Indigo Bunting; "Dead.Long.Time." by Massacooramaan
CM: I bet that in the zombie apocalypse there will be tons of blood, realization of acquaintances' transformations and killing man dead. Old Man Wiki sez: "Chicago Juke, a variant of Ghetto House, is sometimes defined as music around 150–160 BPMs with bass drums usually in a One-And-Two A-And-Four-style pattern and a lo-fi production style. Chicago Juke is accompanied by Footwork, born in the disparate ghettos and back-alley nightspots of Chicago and living hand in hand with juke music, Footwork is one of the last untapped (and resultantly, unfiltered) hood dance music styles in the world. DJs and dancers battle it out in circles with intricate, blindingly fast foot moves."
That said, these three in particular kinda bleed off the canvas, if you know what I mean…
FY: First thing I thought of when I heard this was the first story from Tales from the Hood. The rogue cop one where the wronged zombie gangster comes back to take some serious vengeance on his murderers.
6. "Sax Maniac (live)" by James White and the Blacks; "Zombi" by P-Model
CM: Gravewave. It's time for all the wallflower zombies who have been watching the dance battle to raise up and get down from here on out! "Peel away the skull; put you in a state of Zen." See Downtown '81. Listen to P-Model's Perspective.
FY: Love how the song slows down more and more until it just falls apart as zombies bumrush the stage to feast. Can't tell where the sax solo ends and the disemboweled death rattles begin.
7. "PNP" by Rizzla and Blk.Adonis; "Feel Is a Realing" by Shock Diamond; "Monster (KINGDOM's Nicki-Centric Edit)" by Kanye West; "Purple All the Time" by Eddie Murphy
CM: "Tha rasta and tha monsta crew," she says. Zombies hear all their 45s at 33rpm… Listen to the DJs go! These three artists are the tops, especially when played at the same time. "Oops, I sat on the Eddie Murphy record" version.
FY: Creepy, out of tune… sounds like it's being played by a gang of the undead. Digging it.
8. "Big Onion (Joakim Slap on It Remix) (Boston Bun Lean House Edit)" by Detroit Grand Pubahs; "Creep" remix by Boy Division
CM: When the Zombies run the airwaves, these two tracks will "kill" their charts for months. Dead Greg Street says, "Wooooooow." Lean house is something kids in Paris are doing right now à la moombahton or OG DJ Screw; artists like "Purpp Cobain" are slowing down mostly classic house tracks for maximum syrup content. Left Eye (R.I.P.) got re-animated and dropped this second track with David Beltran from now defunct Chicago dance staple, Starfoxxx. He consistently puts out exciting content on the regular and calls this style Brujaton… czech it out.
FY: This mix starts off good, but man that "Creep" remix is perfect.
9. "Reach" by Krueger; "Goin' In (Sam Tiba Remix)" by Birdy Nam Nam; "Be Myself" by Dark Sky
CM: My most exciting and current spooky dance suite. Sure to shift corpses. Philly, Paris and London respectively with the innovative dead sound. "Be Myself" closes the mix (plus a little New Orleans surprise), so don't be a zombie 'cause their apocalypse is here!
FY: This one is possibly the creepiest in the mix. Picks up nicely, though, into a dancier vibe into "Be Myself." Favorite track = "Be Myself."
Like what you just read? Support Flagpole by making a donation today. Every dollar you give helps fund our ongoing mission to provide Athens with quality, independent journalism.