The Georgia Theatre was a full house Friday night for internationally-touring multigenre group Lake Street Dive. The funky five-piece released their newest EP, Freak Yourself Out, in November, just six months after their latest album, Free Yourself Up.
The core of the band's sound is Australian-born, Tennessee-raised Rachael Price. The band was set up in a sort of semicircle with Price in the center. All the musicians gave a great performance—even if they looked a bit bored—and though Price only played guitar on one song, one could say she had the most important instrument in the entire show. Her voice is the kind that demands a room, calling to mind the great Carole King, and her presence is one that won't let you look away. Price's energy levels never dropped, and neither did her pitch.
Upright bassist Bridget Kearney, winner of the 2005 Jazz category of the John Lennon Songwriting Contest, added a folky yet jazzy sound to the songs. Despite being mostly to the side of the stage, her bass skills and perfect harmonies were an integral part of the performance.
Photo Credit: Jessie Goodson
Though he only joined the band in 2017, keyboardist Akie Bermiss didn't seem at all a stranger to the stage. Bermiss performed a solo and added backup vocals that were both smooth and tantalizing.
The touring opener of the night was Mikaela Davis, a young songwriter and harpist whose presence was both gentle and powerful. At first, I thought her style would be somewhat similar to that of chamber-folk harpist Joanna Newsom, and while they are both classically trained, their styles are unique and mesmerizing. Davis bounced to and from the harp and keyboard during a fun and in-sync performance with her band.
The highlight of the show was when Davis joined Lake Street Dive onstage with her harp. The first song featured Price's vocals and Davis' harp stylings, and the second was a duet with harmonies resonating throughout the theater.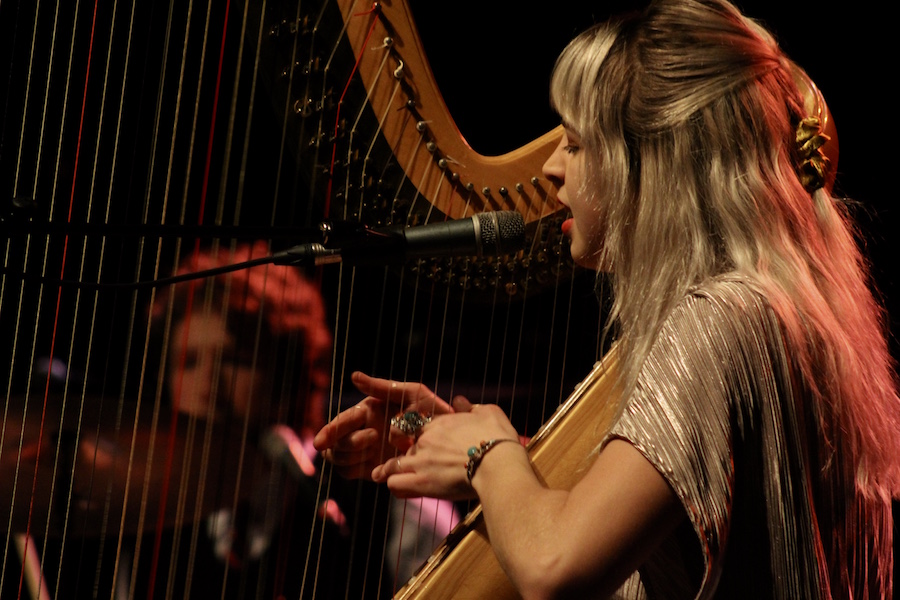 Photo Credit: Jessie Goodson
The encore featured all five of Lake Street Dive's members gathered in the center of the stage, with Bermiss playing a melodica and drummer Mike Calabrese shaking a tamborine that gave off some serious traditional bluegrass vibes. The sold-out crowd—my favorite audience member was the woman on the balcony rail bopping to every beat and singing every word—enjoyed every minute of it.
Like what you just read? Support Flagpole by making a donation today. Every dollar you give helps fund our ongoing mission to provide Athens with quality, independent journalism.