Over 150 bands played this year's AthFest Music & Arts Festival. Last week, we previewed the fest by highlighting 10 that we thought were worthy of your time. Here are 10 additional acts our writers saw and loved:
Misnomer
The winner of this year's Flagpole Athens Music Awards for both Album and Artist of the Year blew the crowd away with their unique, all-original instrumental jam-funk-fusion sound. The band makes fans everywhere it goes, and AthFest's Hull Street Stage was no exception. Friday night, the nine-piece ensemble played a set of high-energy tunes that had the crowd on its feet. Trumpet player Michael Meo says, "I'm really ecstatic that we're doing something we love, and that other people like it too. That's as good as it gets." [Jessie Goodson]
Easter Island
It's been roughly a year since Athens and Atlanta-based Easter Island returned to the stage as a full band, following a three-year hiatus that brought with it a lineup change and plenty of new material for the post-rock and dream-pop group. Ryan Monahan is now on lead guitar instead of bass, making way for the addition of North Carolinian Justin Ellis, and the bulk of new songwriting has shifted from the Payne-brothers split to just singer and guitarist Ethan. Despite those shakeups, the band is as alluring and visceral as ever. Its set, which focused on unreleased material, featured all the touchstones of its core sound: tense, dramatic builds; tender, impassioned choruses; and the eventual shedding of a brooding exterior in place of pure fun and joy. The Georgia Theatre was the best possible venue for the band's ambient, soaring songs, and, luckily, its 9 p.m. time slot on Saturday meant that its set was (mostly) frat-boy-free. [Andy Barton]
The Norm
Local alt-rock/hip-hop band The Norm took the stage Friday night. Fronted by stepbrothers Bryan Rucker and Ryan Bars, the group provided the audience with a set of upbeat, high-energy tunes. The set included many of the band's original songs, as well as an OutKast cover. [JG]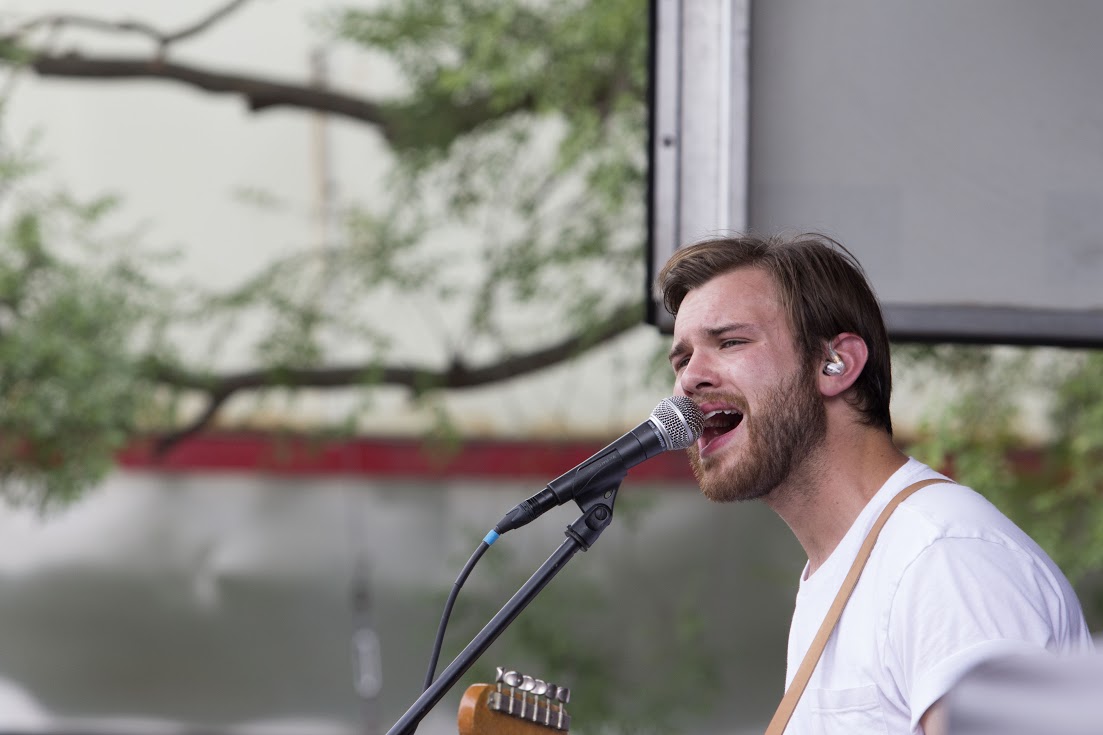 Photo Credit: Savannah Cole
Wanderwild
Local indie-rock band Wanderwild stole the crowd's attention with its incredible energy and passion. Dressed in black jeans and white T-shirts, the group premiered some new songs in addition to a few from its previously released album. Founder Matt Martin says, "[AthFest is] always one of the most fun events of the year—it just brings everyone in the music community together." [JG]
Caulfield
Caulfield (not to be confused with the local rap group of the same name) is fronted by singer-songwriter Holden Le Dinh. The Hull Street Stage was rockin' Friday as Le Dinh and his bandmates performed. In the words of bassist and guitarist Trey Wood, "My favorite thing about performing is seeing the crowd's response to what you're doing. It's an energy thing." The audience watching Caulfield seemed to vibe almost as hard as the musicians themselves. "Whatever [the audience is] giving off is what I receive—it's a spiritual thing," drummer S'antonio Hunlen says about his performance. [JG]
Space Dungeon
Though it was billed as a solo set from producer WesdaRuler, Friday's Little Kings set quickly turned into a family affair, with emcees Lex Callahan and Linqua Franqa joining the beatmaker for a no-holds-barred set of skillfully crafted hip hop. As the evening's graceful guiding force, Wes stayed faithful to his tasty brand of late-night boom-bap while firmly reminding the crowd that, damn right, #BlackLivesMatter, providing attendees with a taste of Athens rap's singular blend of fire and festivity. [Gabe Vodicka]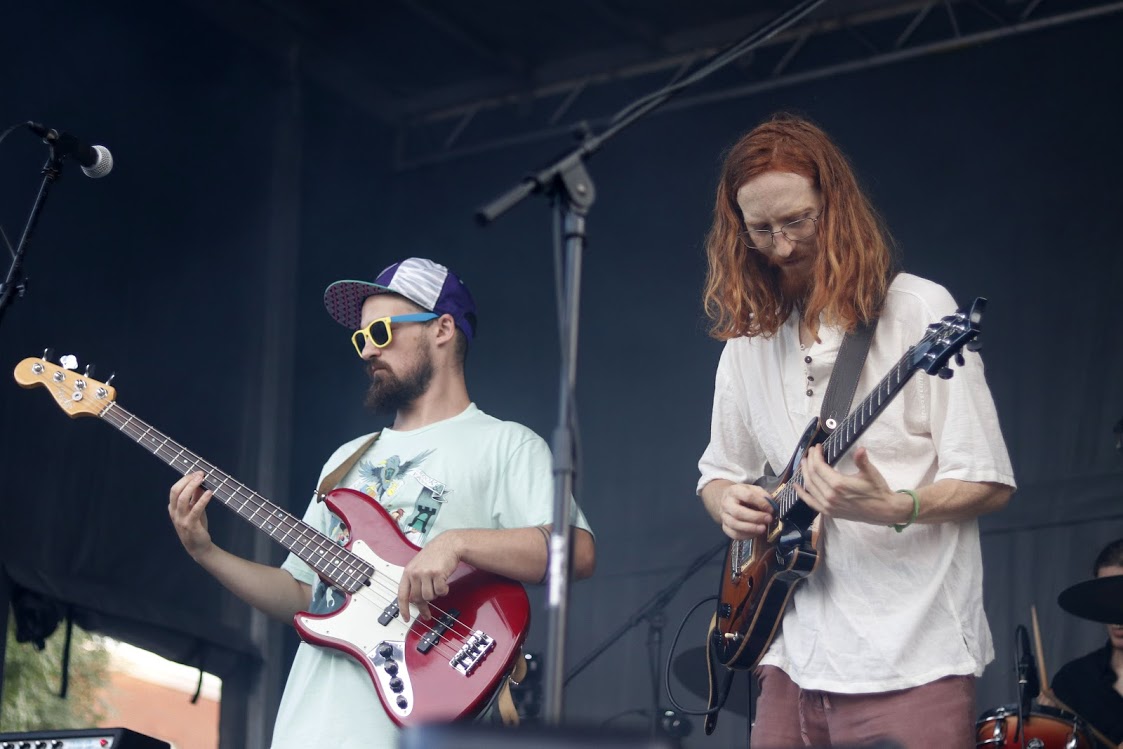 Photo Credit: Savannah Cole
Universal Sigh
Universal Sigh drew a huge crowd to the main stage Saturday. The four-piece psychedelic rock group is a local favorite with influences like Radiohead and Umphrey's McGee. Joining them onstage for the last few songs were three members of Misnomer. "It's like a dream come true being able to play Athfest," bassist and vocalist Austin Park says. [JG]
Neighbor Lady
Fresh off the release of their debut album, Maybe Later, Neighbor Lady commanded a packed Georgia Theatre crowd during what was one of the festival's best performances. If you were looking for a show, the high-energy foursome didn't disappoint. The band's chemistry was palpable, and guitarist Jack Blauvelt's mix of exuberance and skillful precision was a sight to behold, jumping like lightning to every member he engaged. Seeing Neighbor Lady completely in its element on the Theatre stage seemed like the most logical and natural progression for a band that had played at this same festival, just two years prior, on the back patio of Little Kings, barely a year into its life as a band. And I'd be remiss if I didn't mention at some point in this write-up how great singer Emily Braden's voice is—but that's just understood by now. [AB]
The Tuten Brothers
The Tuten Brothers, led by Sam and Walker Tuten, packed the house at the main stage Saturday with their original country and Southern rock sound. The five-piece group performed both original and cover songs, and its energetic performance entertained the audience and kept people on their feet. [JG]
Cicada Rhythm
Americana duo Cicada Rhythm made the Sunday crowd swoon with its unforgettable harmonies and sweet bass riffs. The group recently released a new album, and performed some of those tunes as well as some classics. Joined by their band, Andrea DeMarcus and Dave Kirslis drew an audience that filled the Hull Street tent as well as the surrounding streets. [JG]
Like what you just read? Support Flagpole by making a donation today. Every dollar you give helps fund our ongoing mission to provide Athens with quality, independent journalism.