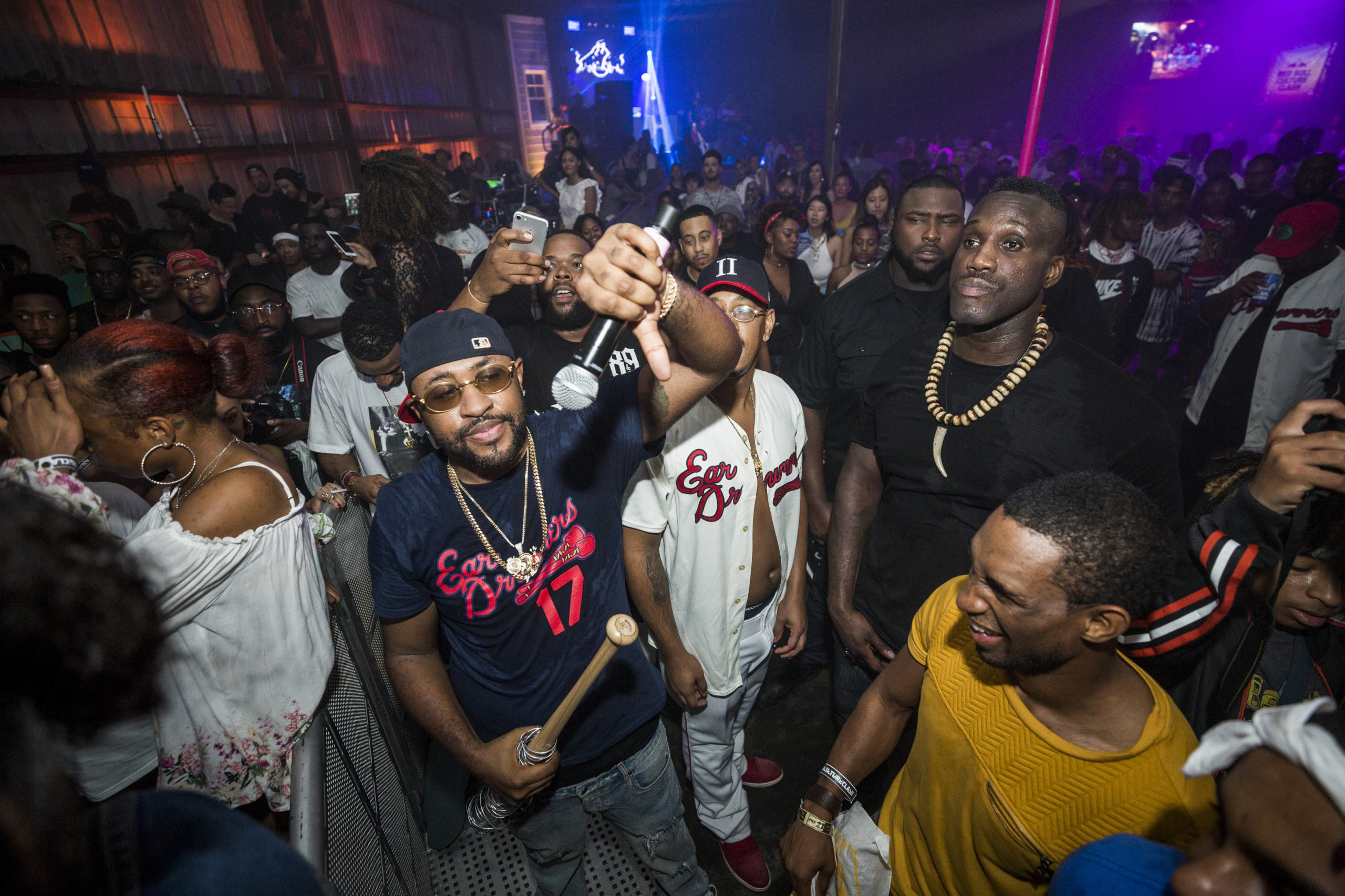 Photo Credit: Brian Hall/Red Bull Content Pool
Last week, Red Bull held its annual Culture Clash event in Atlanta for the first time. For those who don't know, Culture Clash is basically the summer blockbuster version of a sound clash competition. Originating in Jamaica, a sound clash features two or more groups of artists and DJs coming together to battle it out on stage, with the crowd deciding who reigns supreme by the end of the night. Crews spin their best tunes and bring out artists to perform and play "dubs"—remixed or re-recorded versions of popular songs that are meant to shout out their crew and diss the competition.
The basic concept of sound clash has been around for more than half a century, and it has been an integral part of dancehall and hip-hop scenes all over the world. Red Bull's version ups the production value and invites crews from different scenes to battle in different venues once a year. Every year there are four teams, four rounds, five possible points and strict sets of rules that make it easier to get disqualified than you may think.
Flagpole huddled into Atlanta's 787 Windsor with sound clash fans and newcomers alike to watch and judge the competition. Here are some highlights and lowlights.
EnjoyLife
Hometown: Toronto, Ontario
Crew Leader: Wondagurl
There's no getting around it: EnjoyLife performed really poorly. Led by Brampton-born, Toronto-representing producer Wondagurl, the group's sets were plagued by poor song selection, dubs that packed no punch and a lack of surprise guests. Wondagurl is a bonafide wunderkind—at just 20 years old, she has already produced songs for Jay-Z, Rihanna and Drake. She is an impressive figure that should command respect, but she and the EnjoyLife crew got absolutely raked over the coals by the other DJs, who frequently made reference to not knowing who they were and, by the end of the night, barely bothered mentioning them at all. EnjoyLife is made up of a lot of nice people who are really good at making beats, but it was clear by their performance that they were nowhere near ready to play in the big leagues. Grade: D-.
Disturbing London
Hometown: London, England
Crew Leader: Tinie Tempah
Led by UK rapper Tinie Tempah, the Disturbing London crew got off to a slow start, but eventually came through with a few massive surprises and some Wrestlemania-worthy theatrics. The crew's biggest mistake came in the second round, when they unintentionally disqualified themselves by playing tracks that had been previously played by other crews earlier in the night. Red Bull is strict on the rules, and announced their disqualification immediately the round's conclusion, though no one in the crowd seemed to react.
However, in key moments, Disturbing London really turned up the heat. Their primary DJs were particularly brutal when dissing the other crews, including a few unfortunate homophobic comments that felt deeply out of place. But it was their musical choices and special guests that cut deep and won over a lot of the crowd. Tactical jabs included bringing out Mike WiLL's rival Atlanta producer, Sonny Digital, to spin some tunes, playing a video message of support from Atlanta legend T.I. and unleashing a particularly nasty dub of Ed Sheeran's "Shape of You." Their final round was a true slobberknocker, as they wheeled out wooden coffins inscribed with the names of the other teams and brought out the Ying Yang Twins to perform a cavalcade of hits. Grade: B-.
EarDrummers
Hometown: Atlanta, Georgia
Crew Leader: Mike WiLL Made-It
Coming in with a hometown advantage and a large rolodex of big-name guests, super-producer Mike WiLL Made-It and his EarDrummers crew were the odds-on favorites to win this competition. With matching baseball uniforms bearing the crew's logo, giant carnival bags of popcorn and an ear-shaped mascot beating itself with a drum stick, no other crew matched EarDrummers' production values.
Things started out strong, with Mike dropping a few Atlanta hits new and old and bringing out homegrown rockstars Rae Sremmurd to help kick things off. From there, things got crazy. Pusha T, OJ Da Juiceman, K Camp and SahBabii all came out early in the night to rapturous applause. In round three, in a pointed jab at Disturbing London, Ludacris came out on stage to rep Disturbing Tha Peace and perform some of his biggest hits. In the final round, Mike WiLL mixed things up, bringing out dancehall legend Junior Reid to perform "One Blood" and ending the night with a full-on Crime Mob reunion. As Crime Mob performed "Knuck if You Buck" to close out the night, Mike WiLL was shooting hundreds of dollar bills into the crowd and laughing maniacally.
It was chaotic, and tons of fun, but it wasn't enough. Though EarDrummers had immense star power, their guests were too spread out, and their track selection could have been slightly stronger. With better guest placement, there's not a doubt in my mind Mike WiLL would have walked out as champion, but it wasn't meant to be. Grade: A-.
Unruly
Hometown: Saint Thomas, Jamaica
Crew Leader: Popcaan (not present)
Last year's Culture Clash in London was won by a somewhat small, Brooklyn-based dancehall label called Mixpak, which was one of the first American labels to give uber-popular dancehall artist Popcaan a chance, distributing many of his singles and his debut album. It was Popcaan and his strong affiliation with Drake's OVO crew that landed Mixpak a now famous dub of "One Dance" that drove the crowd wild and ended up winning them the competition.
This year, Popcaan's hometown crew Unruly essentially came to defend the championship they had rightfully won one year prior. Unfortunately, Popcaan was unable to make it due to unspecified visa issues—something every other crew wasn't afraid to harp on all night. Despite their leader's absence, Unruly came ready to fight, and it was clear a large portion of the crowd was on their side for the entirety of the night. The whole idea of sound clash competitions originated from Jamaica and dancehall culture, so every time Unruly was out on stage, you could tell they were running through a perfectly crafted game plan.
Though maybe 60 percent of the crowd was familiar with all of the dancehall tracks they dropped throughout the night, Unruly's infectious energy was inescapable. Notable moments included a special surprise appearance from Jermaine Dupri, a goodwill video message from fictional Gorillaz frontman 2-D and a ton of new dubs from artists like Young M.A. and Drake. Though it was a close race between them and EarDrummers, it was no surprise to see Unruly end the night as clear-cut winners. Grade: A.
Like what you just read? Support Flagpole by making a donation today. Every dollar you give helps fund our ongoing mission to provide Athens with quality, independent journalism.