The Wrecking Ball ATL festival was held at the Masquerade on the weekend of Aug. 8 and 9. A huge number of emo, hardcore and pop-punk bands gathered to celebrate the 25th anniversary of the historic Atlanta venue and its enduring legacy.
With the future of the Masquerade in question, this was a bittersweet celebration. With bands playing at all hours on every different stage of the venue (Heaven, Hell, the Music Park and the front parking lot, serving as a more spacious substitute for Purgatory), the fest gave attendees a chance to see every inch of what makes the venue such a unique and beautiful place to see music—possibly for the last time. Here are a few highlights.
TWIABP (Hell, Saturday)
The World Is a Beautiful Place & I Am No Longer Afraid to Die (TWIABP for short) has nine members. The fact they can wrangle that many people together for one show, let alone an entire tour, is already an impressive accomplishment. It was undeniably disappointing that their set leaned so heavily on their 2013 debut album, Whenever, if Ever, given that the band has a new album set to come out in just a few weeks. But it's a testament to that now-iconic album's staying power just how much genuine joy could be found in songs these guys have probably played on stage thousands of times at this point.
Braid (Heaven, Saturday)
Braid could survive on '90s-nostalgia cash-in tours and the occasional disappointing single a la Pavement or Drive Like Jehu, but the reunion has served as a creative renaissance for these emo pioneers. Their set was mostly built around their excellent 2014 return LP, No Coast, with a few older tunes sprinkled in. Thankfully, No Coast has such a youthful and exciting energy that no one in the crowd seemed to mind the set's intentful focus on the present. This is some of the best work Braid has ever put out, and if the positive reception from the packed crowd is any indication, this 22-year-old band has a bright future ahead of it.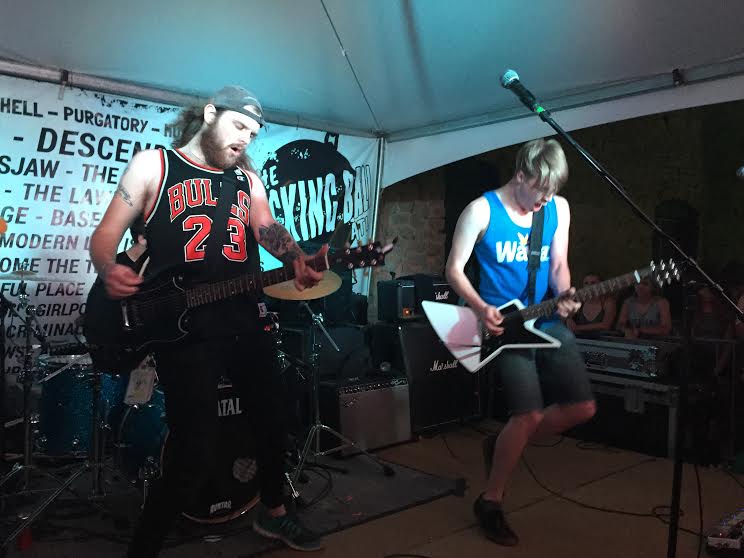 Sorority Noise (Purgatory, Saturday)
One song into their excellent late-night Saturday set, Sorority Noise's lead vocalist Cameron Boucher stopped to address the audience about what their music means. Boucher has long struggled with manic depression and various addictions (something that their latest album, Joy, Departed, covers in vivid and often uncomfortable detail) and making music is his way of dealing with his issues and possibly helping others get through similar problems. He made note to say that he is strongly against the romanticization of sadness, a sentiment the crowd seemed to strongly connect with, as shouts of "fuck sad culture" were peppered throughout the audience. From there, Sorority Noise played an intense and emotional set. The mosh pit was frantic and exuberant, with many people openly crying and singing along to stories of Boucher's personal struggles.
You Blew It! (Hell, Sunday)
Orlando-based band You Blew It! is prolific, poppy and hilarious. Their band name was stolen/politely borrowed from a popular "Tim & Eric" bit, and their lyrics are often self-deprecating and/or painfully sarcastic (not to mention emotionally devastating to most adolescent-minded males), so it's clear they put some stock in trying to make people laugh. Their set was mostly made up of material from their extremely successful 2014 release, Keep Doing What You're Doing, with a lot of stage banter and intentionally lame jokes scattered in between. Even if the band was joking around, the crowd was emotionally engaged and ready to put all of their feelings out on the dancefloor. This might have been the biggest and most active mosh pit of the weekend. At least 15–20 different people attempted huge stage dives, with about a 50/50 success rate of being caught. When the music is this good, bodily health just isn't that much of a factor.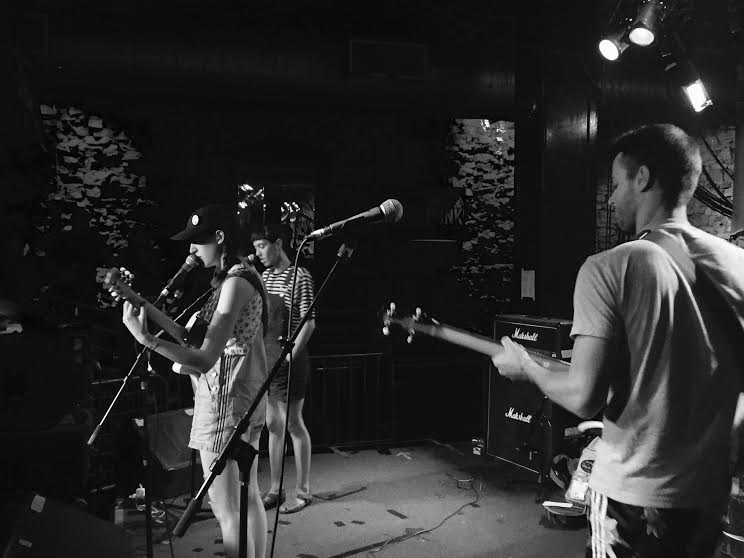 Frankie Cosmos (Hell, Sunday)
Greta Kline, better known as Frankie Cosmos, is a singer-songwriter from New York who has produced an insane amount of high-quality bedroom-pop for someone who only just turned 21. With a full backing band, Kline's music comes alive in a way distinctly different from how it sounds on record. On one hand, it doesn't feel as personal as hearing Kline work through her angst alone in a room, but on the other, there's a certain power that comes from expressing those feelings under bright lights with a lush, full sound. It's clear from the awkward banter between songs that Kline is somewhat shy, especially when faced directly with the intense passion of her growing fanbase. However, the idea of Frankie Cosmos being a full band is still a relatively young and new idea, and it's exciting to think of how far Kline could take the project in the coming years.
Girlpool (Hell, Sunday)
L.A. punk duo Girlpool has had a great year. After releasing their debut self-titled EP last year and their debut album, Before the World Was Big, this summer, they have soared through a whirlwind of hype. Cleo Tucker plays guitar, Harmony Tividad plays bass, and they both sing. While a percussion-less band isn't a new idea, Girlpool still feels different than any group that has come before them, and certainly different from pretty much every other band at Wrecking Ball. Their minimal live performance and lack of showy instrumentation put the emphasis on their socially conscious, emotionally engaging lyrics. Despite their short time on the scene, they have an intensely devoted following, many of whom were packed into Hell, singing along with every word.
Like what you just read? Support Flagpole by making a donation today. Every dollar you give helps fund our ongoing mission to provide Athens with quality, independent journalism.