Flagpole attended the CMJ Music Marathon in New York City last week. Here is a recap of some of the action. View a photo gallery here.

Photos by Usman Khan
Tuesday, Oct. 15
From the very first brass notes, it was clear that we were in the presence of an auteur who had meticulously fussed over all the details. That's unsurprising coming from Woodkid, a French director who's done visionary work with Lana del Rey, John Legend, Rihanna, Drake and Katy Perry. From the projections (he makes his own and used to work in CG effects) to costume to the light show, everything was accounted for and perfected.
At Webster Hall, Woodkid wore Air Jordans, color-blocked cropped sweatpants, a color-blocked jersey and a fitted New Era cap printed with his signature double key logo (the same mark that is tattooed on his forearms). He is diminutive and stylish with a dense beard, but Woodkid's voice seemed to come from an altogether different, older, more world-weary man. The seven orchestra players that accompanied him all donned identical black skinny jeans, t-shirts and patent leather Air Force Ones.
Woodkid makes orchestral pop that's meant to be played in the largest venues imaginable: Rungnado May Day Stadium in North Korea; Soccer City, Johannesburg, which hosted the World Cup; or our own Sanford Stadium. The music is like the dramatic crescendo of a summer blockbuster score, but Woodkid's vocals are fragile and personal.
The highlights were plentiful and well-planned. Midway through the show, Woodkid and his band constructed what amounted to a dubstep song, but with trumpet, timpani and other classical instruments. At another point, Woodkid gesticulated about stage, controlling the lights like a sleight of hand, as the onstage lights moved in lockstep with his choreography and the ebb and flow of his music.
Ambitious, epic and totally dazzling, this music writer can say it's the best show I've seen in years. Woodkid live is less a concert and more akin to an orchestra series or better yet, a gesamtkunstwerk of light and dance and sound.
Woodkid was supported by Thomas Azier, a high-cheekboned, delicate-looking Dutchman. He wore a black flight jacket, skinnies, slicked-back '90s hair and a hoop in his left ear. His look was fashionable and simple, like his music—a hybrid of moody, bass-heavy French and German synth-pop.
Azier's setup was equally simple: a mic stand at the front and a synthesizer off to the side of the stage. The Berlin-based artist performed alone and sung in front of a smart backdrop that projected his name and nothing more. Despite his stripped-down performance, Azier commanded the crowd, mostly of which I'm sure had never heard of the artist before.
Wednesday, Oct. 16
It ain't CMJ if you don't stop by the Team Clermont showcase. The Athens-based music PR firm has been holding down the local scene for a minute now, occasionally repping bold-face clients like Sufjan Stevens and Bear in Heaven as well as locals like Bambara and Circulatory System.
We caught the tail end of the showcase, but managed to see headliners Pattern is Movement, those experimental math-rockers from Philly. The burly duo, consisting of Andrew Thiboldeaux and drummer Chris Ward, brought their trademark knotty melodies and simple drum/synthesizer combo to Union Pool for a soulful 30-minute session in baby-making music. Trading angular math rock tendencies for blue-eyed soul, singer-keyboardist Andrew Thiboldeaux has also added some vocoder to the mix, calling to mind the twisted machine affectations of Bon Iver and the smooth rap gurgles of Future, if Future was a trained singer.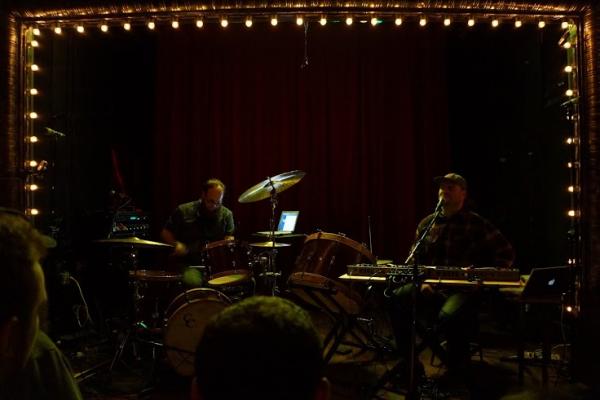 Thiboldeaux wore a plaid button down and a HUF hat while sitting down at his Korg keyboard for the entire set. However, what the band lacked in movement, they more than made up for in expressiveness. With a series of effect pedals and two laptops, Thiboldeaux's unique voice took us to the sort of obscure places that James Blake built his career on.
The show mostly served as a preview for All Together, an album several years in the making which should be released sometime this year on Hometapes. Until then, I'll be listening to the band's awesome revisionist take on D'Angelo's classic "Untitled (How Does it Feel?)"
And while you're here, be sure to check out the Soundie that Pattern is Movement made here in Athens a few years back.
Thursday, Oct. 17
"Nice to be in NY; we're from Wales." Those were the first words from Welsh upstarts Joanna Gruesome, a band furiously gunning for most billed band at CMJ. Running the gamut from jangle-rock and riot grrrl to Sonic Youth and post-hardcore, Joanna Gruesome makes incendiary noise pop that is absolutely kinetic live.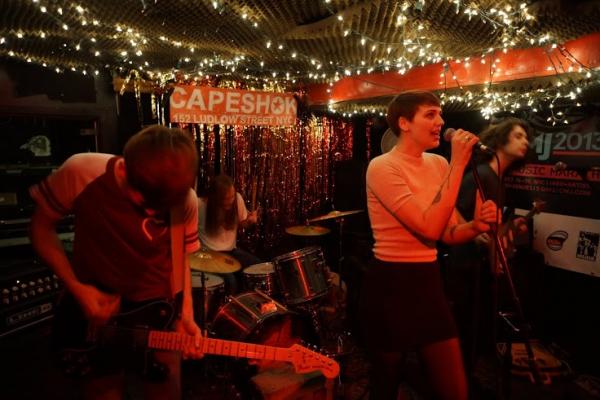 Like all packed Cake Shop shows, it got hot fast as the crowd huddled around the small sliver stage that is the venue's signature. In fact, the stage was much too small for Joanna Gruesome's tumbling boys, who like to mob, mosh and thrash about while playing. This means that off-stage space was game too, as three Gruesomes smashed against photographers and onlookers who got too close.
Lead singer Alanna McArdle gave occasional glimmers of a 2013 Kim Gordon, but with low-top Doc Martens, a neat black spandex skirt and one of those paradoxical sweaters with short sleeves. The guys all wore athletic-looking shirts and schlub tees, with the exception of the drummer, who went shirtless. Besides electric vibes, the band also carried that special British brand of self-deprecation: "We're not good at this on stage thing. Anyone want to get us some beer?" Alanna said.
For the final song of their brief set (single "Sugarcrush"), Alanna song a few lines and walked off stage as the guys went batshit and moshed and slammed against the audience. Two of them threw their guitar down on the stage in excitement. In short: it was badass.
Saturday, Oct. 19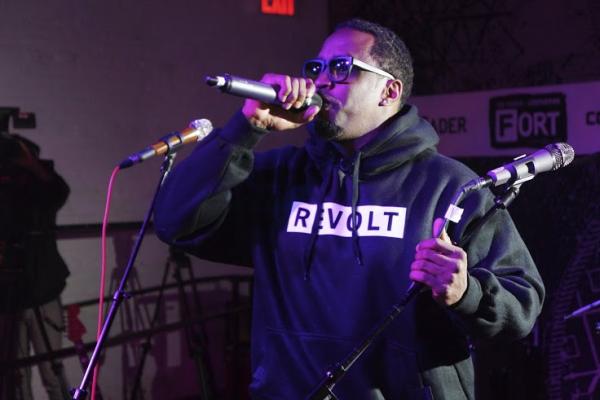 "I know you're probably thinking, 'What the fuck is P. Diddy doing up there?'" Yeah, that was P. Diddy, and he has a web TV channel to promote, so there he was introducing Deerhunter to a puzzled-looking audience that consisted of bored fashionistas, hip hop heads and a few dedicated Bradford Cox fans. It was very non-sequitur and surreal, but a P. Diddy co-sign is cool, I guess.
Deerhunter is the kind of band that can either kill live or sort of suck, depending on the temperament of lead singer Cox (an Athens native), who is famously fussy on stage, usually further depending on how happy he is with the sound guy. But ever since Deerhunter returned to its noisy roots with Monomania, the Atlanta band has seemed happy to perform under less-than-stellar conditions and with muddy sound mixes. That's a good thing, since Deerhunter is just as good playing it loose, loud and grimy as they are playing it clean.
Deerhunter's set consisted mostly of material from Monomania and Halcyon Digest. Lockett Pundt sung lead on two songs, including the always amazing "Nothing Ever Happened." Cox wore a brown bob wig, which I guess is his thing this album cycle. Also onstage was bassist Josh McKay, who you may know from Macha, Abandon the Earth Mission and other rocking Athens bands.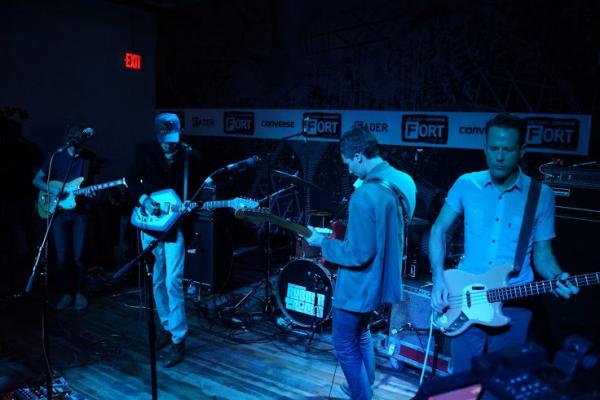 The band closed with title track from Monomania, which ended with Cox handing a super fan his guitar while the singer posed and popped his collar. Cool.
Deerhunter plays the 40 Watt Club on November 16.
Like what you just read? Support Flagpole by making a donation today. Every dollar you give helps fund our ongoing mission to provide Athens with quality, independent journalism.