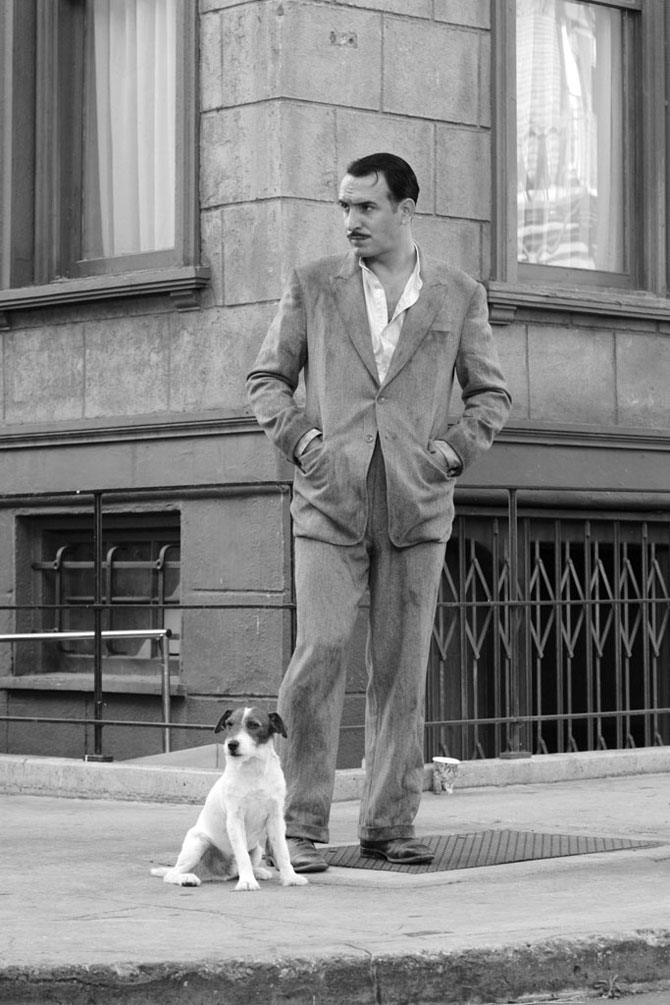 THE ARTIST (PG-13) You can fight, but it's hopeless. There's simply no way to resist the larger-than-life charm of actor Jean Dujardin as silent film star George Valentin. The man oozes the sort of star appeal that's rare nowadays but that was once a required element for an actor like Douglas Fairbanks, Tyrone Power, Errol Flynn and others who exuded that special swashbuckling allure. Valentin is at the top of his profession, and audiences regularly flock to his movies. In one he plays a Fantômas-like character, in another a dashing Zorro-like hero, and he always saves the day with effortless style. The times are quickly changing however. It's 1927, and the silent film era is in its twilight. The Hollywood studios, including Kinograph where Valentin is employed, are about to make the technological leap into the sound era. The stars who can't make the transition, like Valentin, are doomed. But an up-and-coming talkies actress, Peppy Miller (Bérénice Bejo), whom Valentin inadvertently discovered, does what she can to help the struggling actor.
The Weinstein marketing juggernaut wants audiences to think that The Artist, directed by Michel Hazanavicius, is unique in its evocation of cinema's past—it's not. Since the late 1980s Canadian director Guy Maddin (Tales from the Gimli Hospital; Careful) has been conjuring up the pleasures of silent and early talkie cinema in his own distinctive movies, mimicking the techniques, acting styles and love of melodrama for new generations. Mel Brooks also spoofed silent films in his 1976 comedy Silent Movie. That's not to take anything away from Hazanavicius' accomplishment, however, which is considerable, always creatively playful, and infectiously joyous. Light comedy tends to get denigrated for being lesser entertainment, as if the idea of letting go and simply enjoying the work at face value is unsophisticated. That type of thinking seems like a leftover from Puritanism: that a movie is only of great value or enjoyable if there's a lesson to be learned at the end of it all. The Artist wants our affection. That it earns it honestly is not only a surprise but something to be savored. Cinematic frivolity doesn't come any more genuine than this. And like Hugo and War Horse, it pays homage to earlier styles of filmmaking at a time when the movie industry is dramatically in flux. This isn't mere nostalgia, but a reminder that cinema's rich past still has a lot to teach us.
Like what you just read? Support Flagpole by making a donation today. Every dollar you give helps fund our ongoing mission to provide Athens with quality, independent journalism.