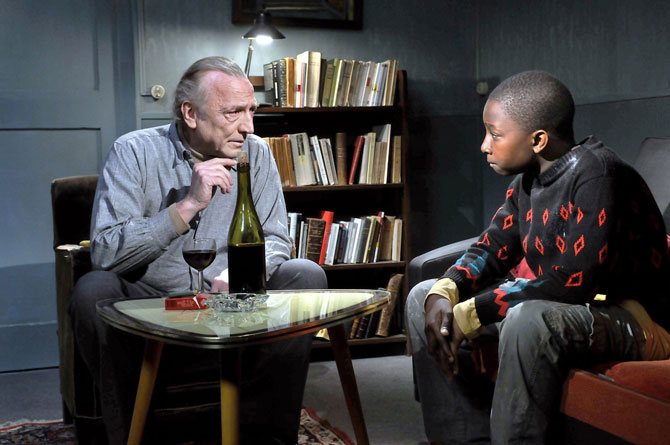 LE HAVRE (NR) Set in the Normandy port town of the same name, Le Havre centers on an aging, poor, failed writer, Marcel Marx (André Wilms), who befriends an African refugee, Idrissa (Blondin Miguel), on the run from French immigration authorities led by the aggressively by-the-book Monet (Jean-Pierre Darroussin). When Marx's devoted wife Arletty (Kati Outinen) falls seriously ill and winds up in the hospital, Marx harbors Idrissa from the law and tries to figure out a way to get him back to his loved ones.
Moviegoers already familiar with Finnish director/writer Aki Kaurismäki's distinctively bleak and deadpan films, such as Leningrad Cowboys Go America and The Man Without a Past, know the fine balance he strikes in his work between pitch-black comedy, melodrama (particularly since the mid-1990s) and stark social realism. Somehow, these disparate stylistic modes gel perfectly in most of his work, Le Havre included. Although his latest film shares the same rich visual scheme he began with 1996's Drifting Clouds, courtesy of his longtime cinematographer Timo Salminen, Le Havre deviates slightly from his earlier work thematically by negotiating through the bleak narrative waters with a real sense of optimism. Hardship and suffering are not foreign to the amiable Marx—who earns little money shining shoes—or to the fugitive Idrissa, who has been separated from the rest of his family. In many ways, Le Havre evokes the romantic doomed fatalism of earlier, poetic realist movies like Marcel Carné's Port of Shadows and Le Jour Se Lève, progenitors of what later became film noir.
But Le Havre is not interested in succumbing to the allure of nihilism. It's essentially a fairy tale, albeit one completely clear-eyed about harsh social/political realities. The grimness of everyday life, however, never overtakes the proceedings, and Kaurismäki seems delighted to engage with the material, relatively irony-free. Wilms—who played the same character in an earlier film—moves through Le Havre with a Zen-like calm authority, bending with the rhythms of life but never passively wandering through it, despite what many other characters believe. His decisive choice to help Idrissa gives the film a moral weight that deepens the otherwise gently comedic events. In its modest way, Le Havre is a fleet-footed revelation—charming without being saccharine, incisive about human nature without despairing and daring enough to give us what we secretly crave, even though we know miracles are rarely if ever offered in real life.
Like what you just read? Support Flagpole by making a donation today. Every dollar you give helps fund our ongoing mission to provide Athens with quality, independent journalism.