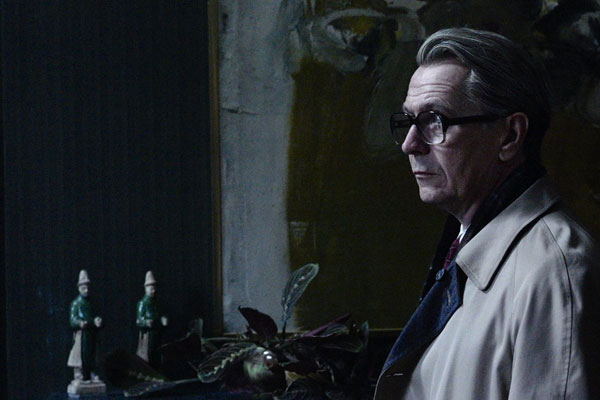 TINKER, TAILOR, SOLIDER, SPY (R) The Cold War tends to be written about in easily quantifiable narrative terms, with East and West pitched in an overheated battle between Good and Evil, culminating in President Reagan demanding that Soviet leader Gorbachev tear down the Berlin Wall, and, within a few years, Communism's capitulation, stamped out once and for all. It's history simplified and packaged as a dumb war movie. The novels of John le Carré—his most famous ones written in the thick of the Cold War—examine how history was really forged in the fog of it, by agents of bureaucracy, information and stealth. James Bond made espionage sexy, but the truth was that the real spies more-so-than-not looked like dweeby middle-aged men.
Set in the early 1970s, Tinker, Tailor, Soldier, Spy deals with the intricate inner workings of Britain's Secret Intelligence Service (AKA the Circus) and the hunt for a possible Soviet mole within its highest rank. The head of the organization, known only as Control (John Hurt), and his Deputy Head of Service, George Smiley (Gary Oldman), are both fired in the aftermath of a disastrous operation in Hungary involving agent Jim Prideaux (Mark Strong). Smiley is hired back, however, to ferret out the traitor, focusing on the new head of the agency, Percy Alleline (Toby Jones), and his closest aides, Roy Bland (Ciaran Hinds), Toby Esterhase (David Dencik) and Bill Haydon (Colin Firth).
Fans of new-breed espionage movies like the Mission: Impossible and Bourne series may feel bored by the lack of hyperkinetic action here and bewildered by Tinker, Tailor's convoluted plot. The Sphinx-like visage of Smiley—a brilliant slow-burn of a performance by Oldman, an actor who made his name playing manic sleazeballs—won't break into a toothy Hollywood-ready gleam as he rockets down London's M25 in his Aston Martin, nor will you catch him pummeling bad guys before somersaulting out of an exploding building. Director Tomas Alfredson (Let the Right One In) has nevertheless crafted a meticulously paced thriller that generates a wealth of tension through the slow accretion of significant dramatic details, plunging us into a maze of cryptic information curated by offices of silently suffering agents of moral relativism. It's a haunting piece of work, subtly stylish with its washed-out color palette, and peopled with stellar performances, particularly Tom Hardy and Benedict Cumberbatch as young blood within the Great Game of old, jaundiced men.
Like what you just read? Support Flagpole by making a donation today. Every dollar you give helps fund our ongoing mission to provide Athens with quality, independent journalism.