At the recent Georgia Organics Conference, two Athens innovators in the organics scene did the town proud. Julia Gaskin, the University of Georgia's sustainable agriculture coordinator, and Eric Wagoner, who created the online farm-to-table market Locally Grown, were both honored for their contributions to promoting sustainable agriculture and food systems.
Gaskin received the Georgia Organics Land Steward Award for her contributions to the field of soil science and all that she has done to promote the study and advocacy of sustainable agriculture in the state and in academia. She's worked for UGA extension for more than 15 years as a soil scientist. As such, her interest in sustainable practices developed naturally.
"I've always been interested in ag systems that would build soil health," she says. "And those tend to."
On a day-to-day basis, Gaskin responds to inquiries from farmers who want to learn more about making their work environmentally sound and economically viable. On a grander scale, she creates programming to meet the needs of farmers—needs that she has seen become more and more oriented toward organic farming.
"As it's getting more coverage, I think there's been an increased interest," Gaskin says.
She is excited about the work to come. "We have a brand-new grant that will cover training organic farmers," she says. "That's something that I think we really need in this state."
Gaskin is also working on a calculator that would predict how much nitrogen cover crops yield. This, she hopes, will give farmers the confidence they need to discontinue using nitrogen fertilizer, which can damage water supplies, evaporate into greenhouse gas and explode when stored.
Although she is often the face of Georgia's sustainable farming movement, Gaskin is quick to credit the work of many. "[The award] was really the result of a lot of work and collaboration of a whole lot of extension people, research faculty at UGA and farmers… They have stepped up," she says.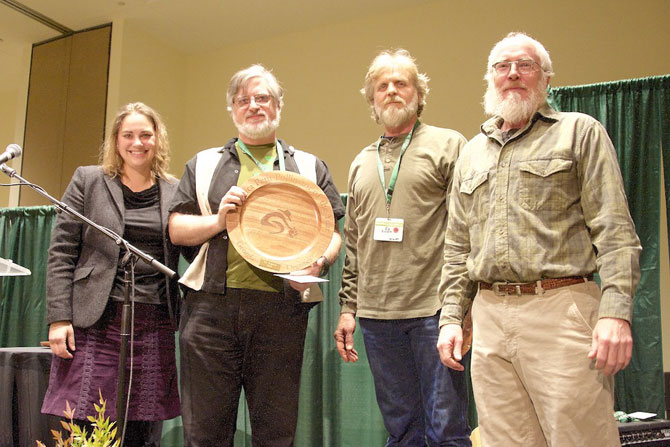 Photo Credit: Brooke Hatfield
Wagoner's work is on the opposite end of the food production and consumption process—he gets local, sustainably grown food to the people. His development of Locally Grown earned him the Barbara Petit Pollinator Award.
Wagoner initially created Locally Grown to facilitate sales for a co-op he was part of as a new farmer in 2002.
"I'm a web developer by day, so it made perfect sense for me to write a little back-end so our customers could just go to a website each week and mark what they wanted, rather than relying on emails or spreadsheets or faxes," he says. "I didn't know it at the time, but when we went live in May of 2002, we became the world's first online farmers market."
The concept grew quickly. What began as a solution for a few growers in the Athens area has spread to more than 500 communities throughout the country. The uptake seems obvious for its appeal, but it also caught on because of its deliberately simple design.
"It's very simple, to the point of appearing plain, but that simplicity makes it easy for the non-nerds to get online and begin a market or start selling at an existing one," Wagoner says. "It also doesn't lock the market into being just like Athens—it can handle a big urban market with many drop-off points, down to a single farmer running a self-service farmstead at the end of their rural driveway."
And it's not just farmers who have benefitted from Wagoner's innovation. "One of the things I'm proud of the most is how easy it makes it for a casual customer to get more interested over time, buy more things, start their own garden eventually, sell their excess at the market and even transition to becoming full- or part-time farmers," he says.
Like what you just read? Support Flagpole by making a donation today. Every dollar you give helps fund our ongoing mission to provide Athens with quality, independent journalism.