It's a proven fact that summer and beer go hand in hand. With Athens slowly but surely emerging as a craft beer destination—four local breweries are going strong and two more, Athentic Brewing on Park Avenue and Normaltown Brewing in Chase Park, are on the way—we checked in with local beer-makers to see what they've got in store for the warmer months.
Akademia Brewing Company
With a newly opened music venue, along with a bursting beer list, Athens' youngest brewery isn't slowing down. General Manager Donnie Malone, Brewmaster Morgan Wireman and the rest of the Akademia team have been hard at work getting their summer brews ready. Their new Cram Session IPA (5.2% alcohol by volume) and A-Team stout (6.8%) made their debut at a recent release party, complete with a giant water slide.
Malone also has plans for more beer-band collaborations, similar to the Beast Mode black ale Akademia released a couple of months ago. A brew is currently in the works with local hip-hop group Clip Art.
Other popular summer beers include The Dom kölsch (4.6%), IQ IPA (6%), Skal Norwegian wheat (5.8%), Hoprodisiac double IPA (8.2%) and Curriculum Berliner weisse (4.6%).
The brewery's summer events include Latin Night every second Thursday and hip-hop nights every month as part of a new residency featuring DJ Chief Rocka.
Malone says he's working to make everyone who comes in comfortable, and to create more of a separation between the restaurant and the brewery, inviting people to come in for more than just the food. "I feel like we're in our final form of aesthetic," Malone says.
Creature Comforts Brewing Company
Wood Cellar and Specialty Brand Manager Blake Tyers has been with Creature Comforts since its beginning, and says Creature is offering some new and returning brews perfect for summer days and nights.
Mutualism (6%) begins its life as a typical lager, then the brewery uses local wheat and grits to complete the fermentation process. Tyers compares it to a white wine spritzer, lightly tart and acidic. River Ridge Red (6.6%) features raspberries from River Ridge Organics in southern Virginia. There's also The Curious No. 12 (8.1%), a Belgian strong ale that Tyers says tastes similar to red wine, though no grapes are used.
Another summer special is the release of 16-ounce cans of Tropicalia IPA (6.6%) and Classic City Lager (4.2%). "I drink a lot of the Classic City Lager," says Tyers. "I think it's great on a hot summer day—it's nice and cool and refreshing."
The Athens Farmers Market is continuing at the brewery every Wednesday this summer, and each week Creature offers a beer featuring ingredients from various vendors at the market.
"I think it's a really awesome [thing to] be able to taste the agriculture and what people around us are growing," Tyers says. "It's a really awesome thing that we're… able to work with local farmers and include their ingredients in our beer as much as possible."
Terrapin Beer Company
Later this month, Athens' original craft brewery is releasing two new IPAs, Peach Dreamsicle (7.89%) and Jazz Cabbage (6%). The brewery is also preparing for high demand for its seasonal Watermelon Gose (4.5%) and the recently released Hoppin' Bubbly Brut IPA (6.5%), a hoppy ode to Miller High Life.
The Peach Dreamsicle is a peach IPA brewed with lactose that makes for a milkshake-like beer, says Marketing Manager Leah Keggi. Jazz Cabbage is brewed with hemp seeds, as well as "our very own special strain of hemp flavors," according to a press release.
One of Terrapin's biggest summer events is Grateful Day on Aug. 3. The event celebrates the birthday of guitarist Jerry Garcia of the Grateful Dead, whose Terrapin Station album gave the brewery its name.
In addition to its regular schedule of live music, on July 20, Terrapin hosts the 10th annual Tomatoes at Terrapin fundraiser, a benefit for the Athens Nurses Clinic. There will be drink and food deals, as well as live music.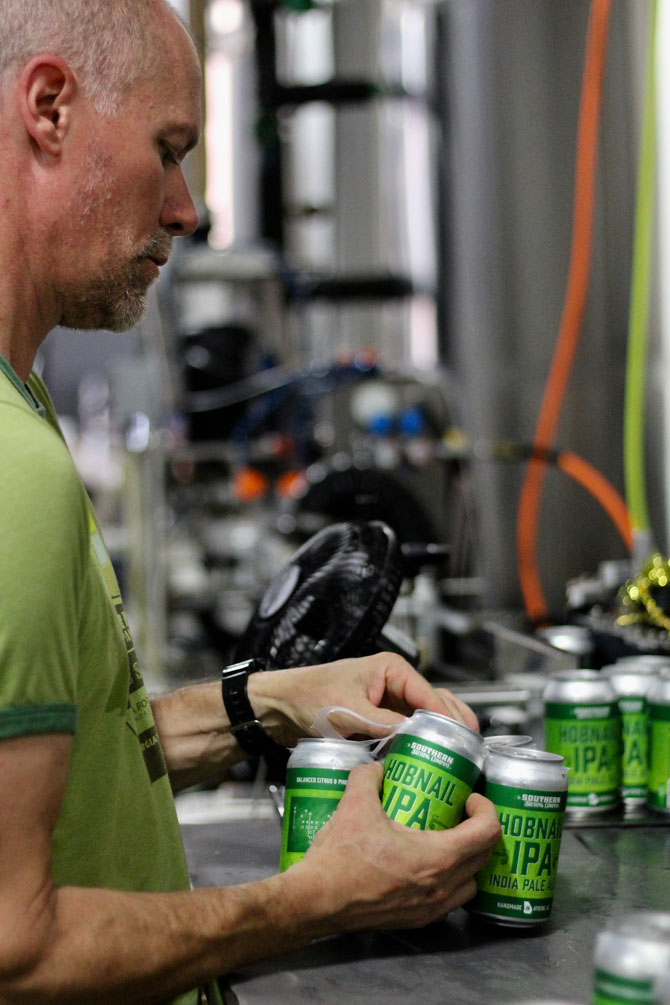 Photo Credit: Jessie Goodson
Southern Brewing Company
Celebrating four years in business this August, Southern Brewing is in full summer swing. They've got lots of seasonal beers, like Warpig (8.5%), a hoppy, West Coast-style double IPA; Ray's Peach Kölsch (4.7%), using locally sourced peaches; Lanier Life (5.5%), a New England-style IPA using Ella hops; Killer B (5.5%), a barrel-aged Berliner made with blueberries and blackberries; and Shizzle, a Southeastern Berliner made with wild yeast from the brewery's property and offered in four different fruit flavors over the course of the summer.
Southern is continuing its weekly events through the summer, like karaoke Thursdays, Friday movie nights and live music Saturdays. They are also now hosting wrestling the third Saturday of each month, with a cage set up outside.
Lauren Smith, SBC's event coordinator and tap room manager, says her favorite Southern summer brew is a mainstay. "If someone's looking for a super easy-drinking beer when it's hot outside, our Red and Black [Berliner weisse] is one that I always recommend."
Like what you just read? Support Flagpole by making a donation today. Every dollar you give helps fund our ongoing mission to provide Athens with quality, independent journalism.