Oh, What a Lovely War! Circle Ensemble Theatre Co. has finally established a home in the formerly abandoned Winterville Auditorium. After being a nonprofit for six years under the Athens Area Arts Council and playing in various spaces in town, the group has independent nonprofit status and an official partnership with the City of Winterville. The space is getting its grand reopening Thursday, Apr. 20 with Circle's production of Oh, What a Lovely War!
The auditorium, built in 1953 as part of the old Winterville High School, burned down on its opening night. The brick part of the structure was mostly salvageable, and local kids were paid three cents a brick to clean off mortar and soot. The auditorium was rebuilt with the same bricks, if not quite to the same specifications; over time, the remaining broken bits and other discards got thrown into a big pit behind the stage. The present-day "pit dump brigade" has finally cleaned them all out, 64 years later.
Winterville Mayor Dodd Ferrelle, who appeared in Circle's first production as Mack the Knife in The Threepenny Opera, had expressed hope during his campaign for the auditorium to be restored and used as a community space, with Circle as a professional resident theater company. The citizens of Winterville have been motivated to save and restore the space, which would have been torn down without their hard work. SPLOST funds helped with roof and windows, but for the most part the work has been done through community work days involving a great deal of cleaning and redoing parts of the damaged stage.
Workers salvaged about about 100 of the original wooden seats, which are now grouped in the middle. This makes a more flexible space, with a dance floor or table area in the front that could also be used as a thrust stage or replaced with portable seats. The city may also do movie days with places for picnics and blankets down front.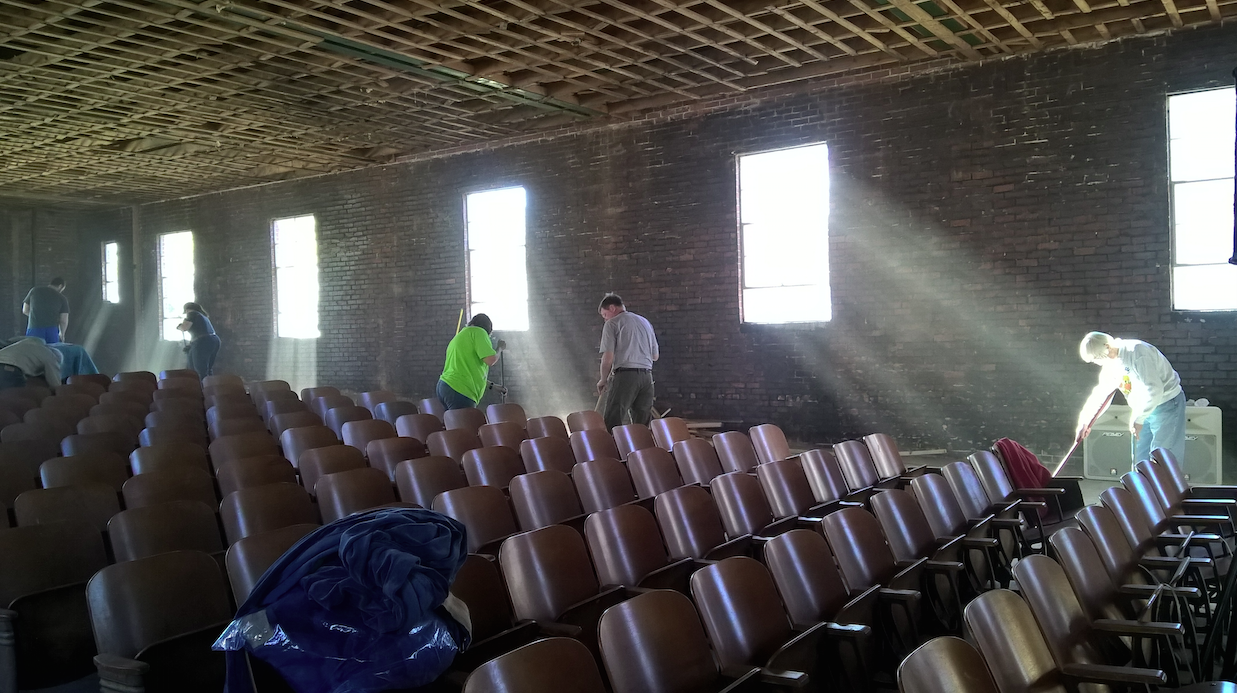 Photo Credit: Joelle Ré Arp-Dunham
Circle Ensemble members have played a big part throughout the process, motivated by the joy of a permanent home. Producing Artistic Director Joelle Ré Arp-Dunham is thrilled that her garage will no longer house the entire company, and the group has hopes to be able to expand its programming and services for area children, as well.
The auditorium is still a work in process, but the unfinished look of the theater and creative use of natural light fits the production of Oh, What a Lovely War! well, Arp-Dunham believes.
The vaudeville-style musical commemoration of World War I features well-known songs like "It's a Long Way to Tipperary" and "Keep the Home Fires Burning" set against a backdrop of images and stats that shine a light on the horrors of the "war to end all wars." It premiered in London in 1963 but was created over a period of years by actors, who did meticulous historical research and extensive improvisation, collaborating with the Joan Littlewood Theatre Workshop. The production included popular theater and wartime nostalgia that was sharply contrasted with the disenchantment of the soldiers and the brutalities of warfare.
Circle has Americanized the show; for example, answering questions the original production asked about why the U.S. didn't enter the war for so long, and why it finally did. The real words of historical figures like President Woodrow Wilson are used in the show, which is very much in the spirit of the original.
"It's fascinating how the language used then is the same we hear today, like 'America First.' There's even talk of a wall," Arp-Dunham says. "The show isn't making a partisan statement, but it's definitely relevant today. Uncannily so."
However, "it's not an angry play," she says. "It really is pro-soldier. A lot of the criticism in it of World War I is coming from the soldiers. It's really about how to get through the worst of times. The resiliency of people. Not just the soldiers, but the women as well." It's a thought-provoking show that you can sing along with.
The musical direction is by Isaiah Feken (a PhD student who recently played Sweeney in UGA's Sweeney Todd), who Arp-Dunham says "basically recreated the entire score," since the show comes with a songbook, not a libretto. This seems like an ideal show at an ideal time by a talented group happy to have found its own home, sweet home.
Oh, What a Lovely War! by the Joan Littlewood Theatre Workshop is presented by Circle Ensemble Theatre Company at the Winterville Auditorium at the Winterville Center for Community and Culture Thursday, Apr. 20–Saturday, Apr. 22 at 7:30 p.m., with a 2 p.m. matinee Sunday, Apr. 23. Tickets are $18, $12 for students and available at 706-613-3771 or circleensembletheatre.com.
The Little Mermaid You probably know the songs from the beloved Disney classic, and the stage musical offers all of those and more, with a big tap dance number, too (done by seagulls, not fish). Ariel (Bekah Lee) is a young mermaid who wants more than her provincial aquatic life—so much so that she'll give up anything to make her dream come true and have a shot at the hunky human Prince Eric (Fulton Pritchett). But is it really better under the sea? Will Eric kiss the girl in time?
It can be hard to stage underwater settings, but Brightstone is going all out on its biggest production to date; the sea creatures will fly across the stage in order to "swim." Best of all, Lee, veteran of many local musicals, can be expected to bring a lovely voice, comedic charm and experience to the title role.
The Little Mermaid by Alan Menken, Howard Ashman, Glenn Slater and Doug Wright is presented by Brightstone Productions at the Oconee County Civic Center on Friday, Apr. 21 and Saturday, Apr. 22 at 7:30 p.m., with matinees on Saturday and Sunday, Apr. 23 at 2:30 p.m. Tickets are $18 at the door, $15 in advance and available at 706-705-2599 or brightstoneathens.com.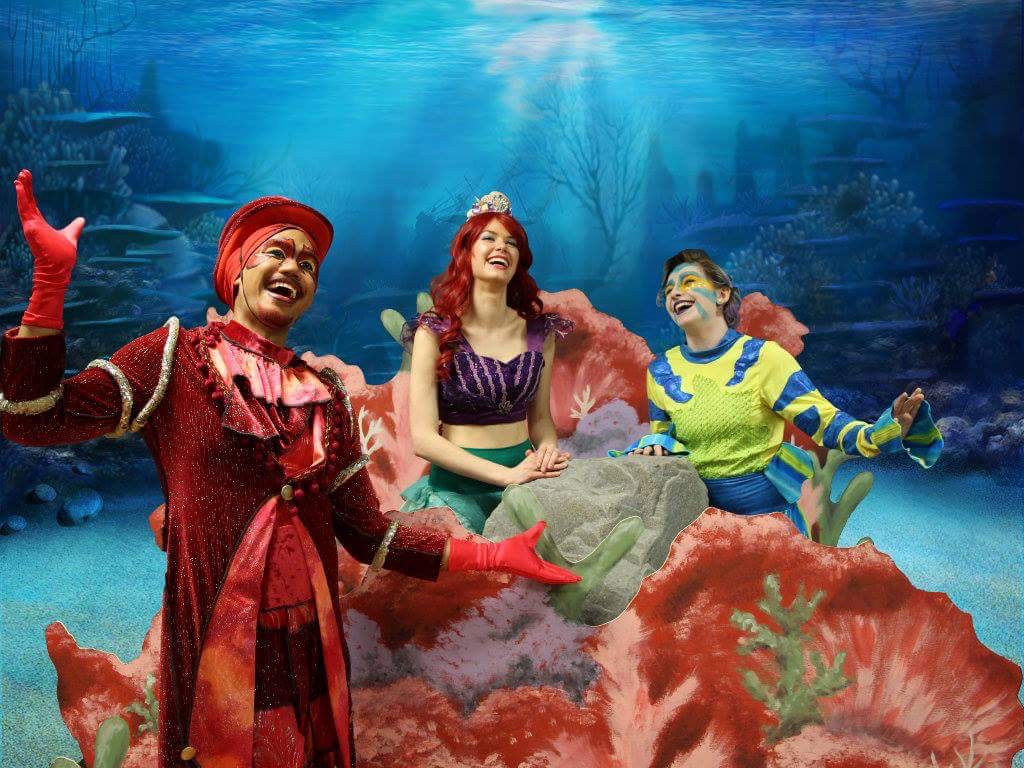 Little Shop of Horrors It's a classic rock/horror/comedic musical that features a florist, the girl he loves, a bloodthirsty plant, a sadistic dentist and lots of song and dance numbers. By Alan Menken and Howard Ashman, it's presented by Clarke Central High School at the E.B. Mell Auditorium Thursday, Apr. 20–Saturday, Apr. 22 at 7:30 p.m. Tickets are $7, $5 for students and children and available at the door. For more information, call director Harriet Anderson at 706-357-5200 ext. 17302 or email andersonh@clarke.k12.ga.us.
New Play Festival Co-hosted by Athens Playwrights' Workshop and UGA student and CURO grant recipient Abraham Johnson, the New Play Festival features new plays written, directed by and featuring undergraduate students:
Skyman by Brian Chenard, directed by Derek Henderson, on Sunday, Apr. 23; Shades of Black by Jordan Richards, directed by Jessica Browder, on Monday, Apr. 24; The Origin of Our Specials by Julia Koslowsky, directed by Madison Silva, on Tuesday, Apr. 25; Search by Mariah Manoylov, directed by Ellen Everitt; and and What the Woolf Wore by Abraham Johnson, directed by John Buisman, on Wednesday, Apr. 26. All of the readings are at 6 p.m. Location TBA. Admission is free.
The Best Plays Avid Bookshop is hosting a launch for The Best Plays From American Theatre Festivals, 2015 (Applause Theatre and Cinema Books), an anthology edited by Athens Playwrights' Workshop leader, playwright and UGA professor John Patrick Bray. Bray also co-edited The Best American Short Plays 2015–2016. The launch party is at Avid's Prince Avenue location on Friday, Apr. 21 from 6:30–7:30 p.m.
Like what you just read? Support Flagpole by making a donation today. Every dollar you give helps fund our ongoing mission to provide Athens with quality, independent journalism.