Wait Until Dark: Town & Gown wants to scare the hell out of you. You don't get that a lot in stage plays, though you can catch a suspense thriller at the movies almost any week of the year. The script is adapted from an earlier version that was adapted for film in 1967, starring Alan Arkin and Audrey Hepburn, who was nominated for an Oscar for her role. Susan has something desperately sought by a psychotic criminal and his henchmen, who find her alone in her apartment. She's newly wed and newly blind, left alone to struggle against the thugs.
This version sets the action in the '40s rather than the '60s in a brilliant innovation; a somewhat dated crime thriller featuring a fragile female victim takes an ideal turn towards the noir. Susan becomes a stronger character who is learning to manage on her own while her husband is away at war. She turns the tables on her adversaries by turning out the lights. If you've watched "Daredevil," you know she can gain the upper hand with such a move. The lighting design by Erwin Greene is practically an additional character in a show like this, which by necessity is highly technical as Susan uses her wits and her disability against villains who have underestimated her. They see her as just a woman who can't even see them. They assume she is weak—until she shows them what can happen in the dark.
Director Cameron Logan saw the show in New York as a high schooler, with Quentin Tarantino playing the chief criminal, Roat, here played by Steven Carroll, a Town & Gown veteran with a particular penchant for horror. She was on the edge of her seat and says that Tarantino's performance "scared the hell out of me." The audience, according to Logan, won't know much more than Susan (played by Bekah Lee) does, so "you're right there with Susan trying to figure things out." Lee, who has been a staple of Town & Gown musicals (You're a Good Man Charlie Brown, Oklahoma, Evil Dead, Rent) has never played a role that didn't include singing, but she is ready for the task and should do very well in Hepburn's role. It's a solid, experienced cast, including Patrick Najjar, Sarah Anne Owens, Patrick Hooper and Isaac Callahan, plus new Town & Gowner Greer Jones.
By Frederick Knott and revised by Jeffrey Hatcher, Wait Until Dark is presented by Town & Gown Players at the Athens Community Theatre Friday, Apr. 8, Saturday, Apr. 9 and Thursday, Apr. 14–Saturday, Apr. 16 at 8 p.m., with 2 p.m. matinees on Sunday, Apr. 10 and Sunday, Apr. 17. Tickets are $15, $12 for members/seniors/students, $8 on Thursdays for students and members and available at townandgownplayers.org or 706-206-8696.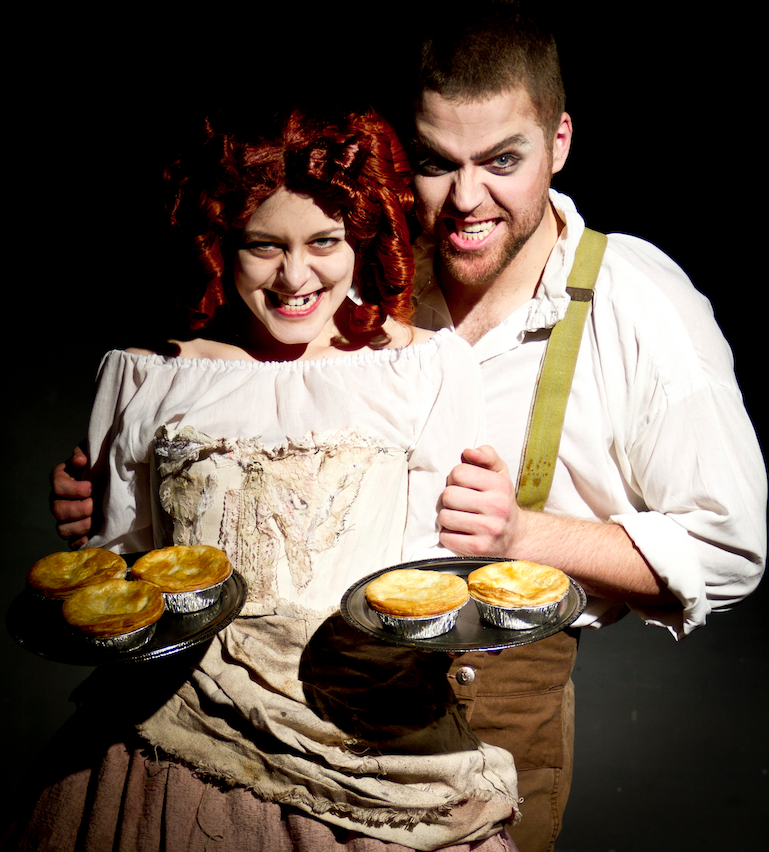 Photo Credit: C. Adron Farris III
Sweeney Todd: The Demon Barber of Fleet Street: From "South Park" to Fried Green Tomatoes, we shouldn't find the notion of literally feeding on our enemies too shocking, and yet it is an unconventional choice for musical theater. Sweeney Todd is a barber who has returned to London in search of vengeance upon those who had badly mistreated him and his wife. He forms a bloody partnership with Mrs. Lovett, who bakes "the worst pies in London," and realizes the corpses of his murdered enemies make excellent source material for her meat pies. Who wouldn't want to sing and dance about that?
The original story of the murderous barber Sweeney Todd came out as a British penny dreadful periodical in 1847, when lurid slasher films weren't yet in existence to entertain the young, male masses. Director George Contini says the story has fascinated readers and audiences alike since "we've all fantasized about revenge on those who have wronged us. But Sweeney and Mrs. Lovett go the extra mile and become demonic eco-warriors urging us to 'eat locals.'"
"Eat locals," indeed. University Theatre has partnered with downtown meat-pie restaurant Pouch to create Sweeney-themed pies that patrons can buy in the lobby before the performances or at Pouch until the show closes. They were created just for the show, with names like Mrs. Lovett's Signature Steak Pie and The General Pie, "with or without his privates, which is extra." You'll laugh at the "something extra" in the pie. There's even a vegetarian option, "The One That Got Away." Just be sure to get a pie before the show; you won't likely have a taste for it after. Unless there is something dreadfully wrong with you.
Expect every element of the show to be top-notch; the set and costume designs (Michelle Gersten and Ivan Ingermann), inspired by German expressionism and M.C. Escher drawings, aim to look as unstable as the minds of the main characters. As Contini says, "It's a dark world we've created." The bright spot is the music. Contini asserts, "You'd be hard pressed to hear these voices on Broadway. They really are extraordinary talents."
This show features some of the best of two departments, theater and music, in rare combination. Sweeney is impeccably portrayed by Isaiah Feken, who is working on his Master of Music degree in vocal performance. His culinary accomplice, Mrs. Lovett, is well played by Master of Fine Arts acting student Katie Butcher, who has double bachelor's degrees in both music/vocal performance and theater. The cast is a near-perfect balance of music and theater students, so don't miss this rare opportunity to see the best of what both can do. Just don't bring the kids or the faint of heart to this one.
By Stephen Sondheim and Hugh Wheeler, Sweeney Todd is presented by University Theatre at the Fine Arts Theatre in the Fine Arts Building Thursday, Apr. 14, Friday, Apr. 15 and Wednesday, Apr. 20–Saturday, Apr. 23 at 8 p.m. with 2:30 p.m matinees Sunday, Apr. 17 and Sunday, Apr. 24. You can buy Pouch pies for dinner starting an hour before curtain. Tickets are $16, $12 for students and available at 706-542-4400 or drama.uga.edu/box-office.
Hamlet: Here's yet another character struggling with his inner darkness. Hamlet is caught between the ghost of his murdered father, his complicated love for his remarried mother, his loathing for his uncle/new stepdad and his own existential angst. Circle Ensemble Theatre Company likes to search for the most authentic versions of Shakespeare's plays, and this production of "Hamlet Unadulterated" is no exception.
Their script is taken from the First Quarto, the first published version of Hamlet also known as Q1. It's a significantly shorter, earlier version of the play than later editions more commonly known and produced. Some past Shakespeare scholars have called Q1 the "Bad Quarto," considering it to be either pirated or reconstructed from the memory of an actor who had appeared in a minor role. Current scholars consider it a true alternate—if unauthorized—version of the original performance text. It's a better length for performance, with more violence and less talking, and has some curious oddities and differences from later editions.
UGA professor Fran Teague, a leading international Shakespeare scholar, says, "I do not think [Q1] is a bad quarto. I think it's a version of the play, as are the second quarto and the first folio. I also think that the text of Q1 is probably a performance text, i.e., the script they actually used, rather than the playhouse copy that marked the play as the company's property, because a script belonged to the theatrical company, not to the playwright in 16th-Century London."
Directed by UGA professor Farley Richmond, it stars Circle regular Dustin Drake with UGA theater major Madison Smith as Ophelia, Richard Cheney as Claudius and Joy Ovington as Gertrude, plus other Circle regulars and newcomers. It's a unique opportunity to see Hamlet in a way that is not often performed. It'll be in the Terrace Room rather than outdoors in the pollen, so you can expect improved sound in this space compared to shows in the great room of the visitors' center. School shows are also available.
By William Shakespeare, Hamlet is presented by Circle Ensemble Theatre Company in the Garden Club Terrace Room at the State Botanical Garden of Georgia Friday, Apr. 15 and Saturday, Apr. 16 at 7:30 p.m. with a 2 p.m. matinee Sunday, Apr. 17. Tickets are $18, $12 for students and available at circleensembletheatre.com. For more information or group pricing, call 706-613-3771.
Coming soon…
Catch Me If You Can: is a musical about going after your dreams and hoping you won't get caught. Based on the hit movie about the notorious, charming con artist Frank Abagnale Jr., the musical version is more family-friendly than the movie. An interesting tidbit: One of the Cornerstone performers learned that her aunt once went on a date with the real Abagnale. By Terrence McNally, Marc Shaiman, and Scott Wittman, based on the DreamWorks motion picture, it's at the Oconee County Civic Center Saturday, Apr. 23 at 2:30 and 7:30 p.m. with a 2:30 p.m. matinee on Sunday, Apr. 24. Tickets are $12 and available at cornerstoneathens.com.
A Month of Sundays: is Bob Larbey's "well-aged comedy" about whiskey-drinking friends in a retirement home. It features some of Town & Gown's absolute best, including the return of the hilarious Jeff Evans in a guest appearance, along with Rick Rose, Speedy Arnold, Cindy Nason, Danielle Bailey Miller and Ginny Simmons. This is a group you don't want to miss on stage, directed by Gay Griggs McCommons. Presented by Town & Gown Players at the Athens Community Theatre Friday, Apr. 29 and Saturday, Apr. 30 at 8 p.m., with a 2 p.m. matinee on Sunday, May 1, tickets are $5 (free for season ticket holders). For more information, visit townandgownplayers.org or call 706-206-8696.
Like what you just read? Support Flagpole by making a donation today. Every dollar you give helps fund our ongoing mission to provide Athens with quality, independent journalism.