"You should definitely message me if" was the one part of my J Date profile I managed to actually complete in the week that I spent on the dating website last year. "You should definitely message me if—you like to read…or, if you're a rich Jewish doctor!" was the enticing text I offered to potential partners.
Before I got around to adding that my preference would be an allergist, given a choice of specialist M.D.s, I had met someone at a local art opening and pulled my profile from the site. Thankfully, he's a reader.
Naturally, I was intrigued when I heard that Avid Bookshop would be hosting a Singles Soiree on Valentine's Day. The event, which took place on Saturday, offered local readers an opportunity to mingle in the shop. Avid suggested that attendees "take dating off a web page and surround it with book pages instead!"
Upon arriving, I ran into a friend at the check out. "This is a singles soiree?" she asked. "I'm just here to buy a book! I'm so boring."
But most people filling the shop were indeed there for the event. The general consensus was that, while this was a little different, it was certainly a more promising place to meet someone than the plethora of bars downtown. Brian Henry said, "Bars are hard to meet people in." Daniel Clark agreed and said, "You don't know if you'll meet someone like-minded. You'll just know they like to drink."
There was a little Côtes du Rhône on hand, along with Valentine's cookies and the requisite chocolate candies clad in shiny pink and red wrappers. On one table a placard encouraged guests to "Get to know each other! Pick a card and share answers." My card asked "What mythical creature are you?"
One young woman asked to remain anonymous but volunteered that "I know I'm not going to meet anyone sitting alone on my sofa watching Netflix." One single dad sheepishly noted that the last book he had read was from the Harry Potter series. Another visitor, O.C. Carlisle, enjoyed mingling but proudly said, "I'm into myself right now—me, myself and I."
A radiant Becca Bennett, newly single, was there that evening. She confessed that an interest in reading was important to her but, "I'm all about me right now. I realize I'm not good at spending time alone anymore." She proclaimed Valentine's Day "an interesting holiday."
Avid was generously handing out free books wrapped in brown kraft paper and decorated with intriguing captions like "I love you so much I could eat you!" written in magic markers. Employee Rachel Kaplan stated, "If they don't meet somebody, at least they can go home with a good book."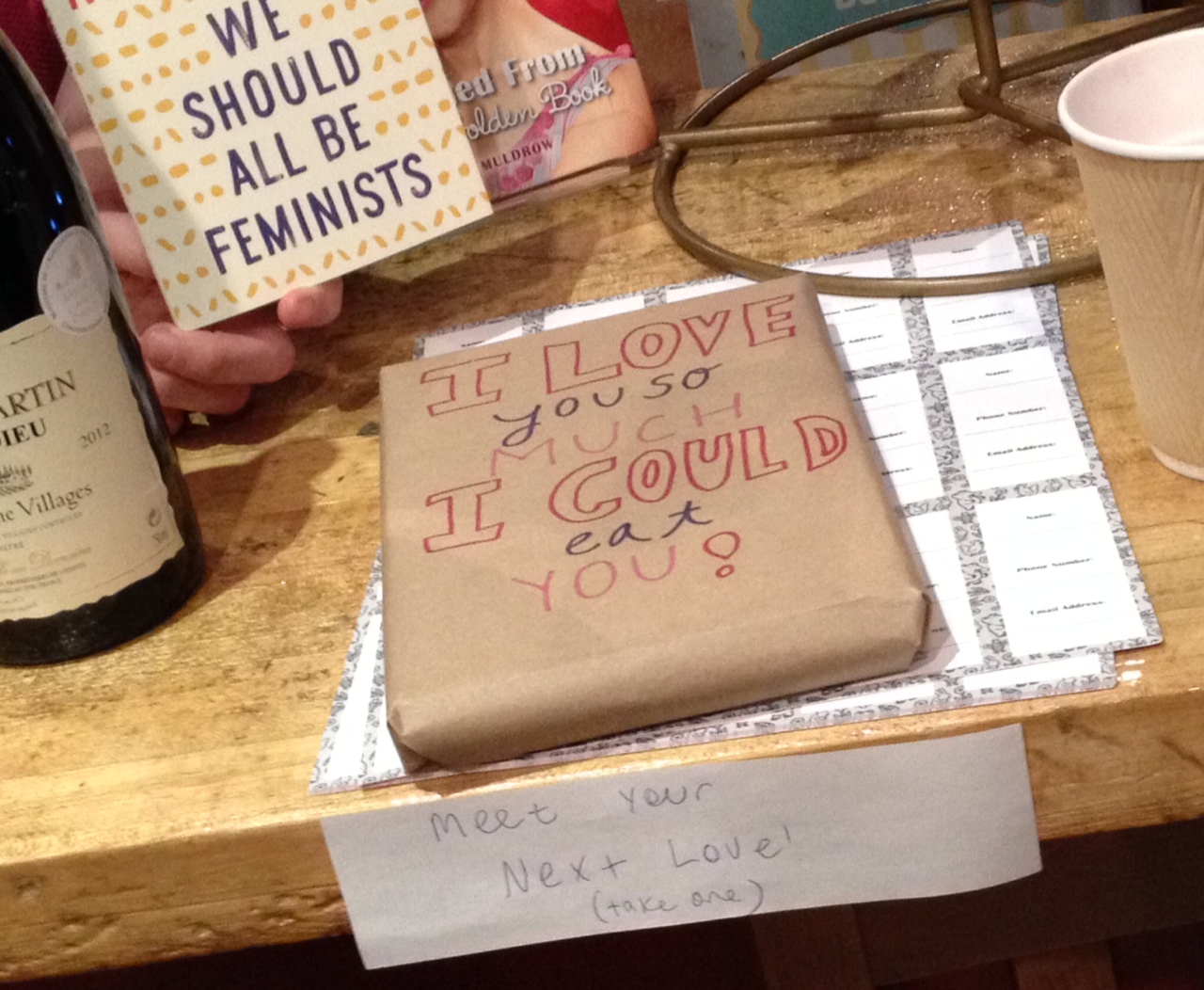 Photo Credit: Barbette Houser
Another opportunity to meet that literary lover will take place at Avid on Saturday, Feb. 21 from 6:30–7:30 pm. "Translations" will feature Mounawar Abbouchi reading poetry translated from Lebanese, music by Darrin Cook, and fiction from Bart Lemahieu translating from Dutch and Genevieve Esquire translating into French. See you there, mes chéris. For more information, go to avidbookshop.com.
Like what you just read? Support Flagpole by making a donation today. Every dollar you give helps fund our ongoing mission to provide Athens with quality, independent journalism.