Rent-heads and Bard-lovers rejoice! October is a perfect example of why Athens is a great theater town. In the space of two weeks, you can see a rock musical about starving artists living through NYC's AIDS epidemic (Town & Gown Players, Rent, Oct. 3–12), a refreshingly funny version of Shakepeare's teen-angst tragedy (Circle Ensemble Theatre Company, Romeo and Juliet, Oct. 3–5), house flippers and cranky neighbors past and present (University Theatre, Clybourne Park, Oct. 1–5) and a gun-loving desperate housewife (University Theatre, Hedda Gabler, Oct. 14–19).
Rent
Rent brings love and music to a town familiar with underpaid artistic folks who love the quirky place where they live—despite the difficulty of earning enough to pay the rent while following their dreams. Set in New York City's East Village in the early 1990s, Rent's musicians, artists and street eccentrics are not just poor but also struggling to hold on to hope, despite the looming terror of HIV/AIDS.
Director John Patrick Bray, playwright and UGA dramatic writing lecturer who lived in New York City during that time and saw the show's first run, believes that Rent was one of the plays that helped to change the conversation around LGBTQ communities and the AIDS epidemic, to celebrate diversity and reduce stigma around people with HIV/AIDS.
The wildly popular Broadway run lasted 12 years and earned Pulitzer, Tony and Drama Desk awards, while spawning fans so devoted they were dubbed "Rent-heads." Bray says Rent is a show "that builds community—a community that includes folks who identify outside of the mainstream, whether that's gender identity or some other form of theater geekdom. And I think for many of us, Roger's song 'One Song Glory' speaks to the mark that we all hope to leave on the world before we go."
Producing the show today in Athens with Town & Gown evokes that spirit of community, according to Bray. "There's something about the music of Athens, the music of Rent, the plurality of cultural identities in Athens," he says. "We have a great drag culture, a great network of artists in various mediums and the show is about artists working in different mediums… and I think that any show that foregrounds questions of artists' identity will resonate in a town with such a rich artistic history."
The production team and cast is made up of a variety of Athens locals and students, with newcomers to Town & Gown such as Atiya Rahman (Mimi) and Katlyn Firkus (Maureen) and T&G "all-stars" like Dustin Ahkuoi (Roger)—who was just about perfect as Judas in Jesus Christ, Superstar and as the hilarious Ali Hakim in Oklahoma—and Matt Hardy (Mark). It will be exciting for Hardy to be on the T&G stage again; his Dr. Horrible in Dr. Horrible's Sing Along Blog and Seymour in Little Shop of Horrors were particularly memorable, but he delivers in every show. We'll also see UGA theater majors such as Bailey Johnson (Joanne), along with Myles Haslam (Angel), who was in UGA's outstanding production of Spring Awakening in April.
The Rent cast performed "Seasons of Love" at the recent PRIDE festival downtown and is partnering with AIDS Athens and other local organizations with events and promotions. Opening night features a Drag Queen and Condom King competition: Audience members are invited to attend in drag or wearing "condom couture." Rent is likely to sell out, so get your tickets in advance.
When asked what is most important about this show, Bray doesn't hesitate. He says: "This show is an invitation to not just be yourself but to celebrate yourself. Honestly. And publicly. With others who are celebrating themselves honestly and publicly. I think that's the most important aspect of this show. More than the music, more than the story."
(Rent by Jonathan Larson—Town & Gown Players, Athens Community Theatre, 115 Grady Avenue, Oct. 3–4 at 8 p.m., Oct. 5 at 2 p.m, Oct. 9–11 at 8 p.m. and Oct. 12 at 2 p.m. Tickets $18. Student, senior and T&G members $15. Thursday show $10 for students and members. townandgownplayers.org or 706-206-8696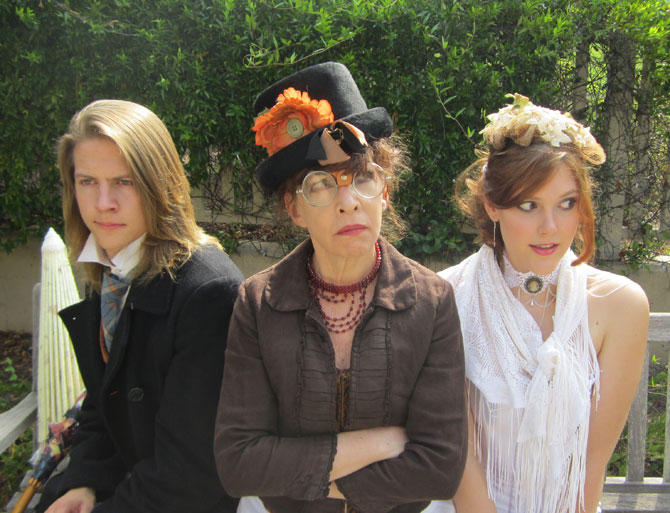 Photo Credit: Joelle Re' Arp-Dunham
Romeo and Juliet
Circle Ensemble Theatre Company's Romeo and Juliet is at the State Botanical Garden of Georgia visitors center atrium October 3–5, advertised as "something you've never seen before." How can there be anything new in this signature Shakespearean tragedy, read by virtually all high school students for decades and frequently performed for centuries? By using the oldest version of the play, the First Quarto, rather than the canonical First Folio version. It's a clever way to freshen up what could otherwise be a rather tired old tale of first love and teenage rebellion gone horribly awry. This version promises to be funnier and more action-packed than the R&J most of us know.
Producing Artistic Director Joelle Re' Arp-Dunham says Circle chose Romeo and Juliet because they wanted to bring a new take on Shakespeare to audiences who know the story and to those who don't—particularly school children. Director Farley Richmond, professor in the UGA Department of Theatre and Film Studies, wanted to use the First Quarto.
"It is more action oriented, has less flowery language, more humor and is quite a bit shorter," Arp-Dunham states. "In addition, since Farley wanted a world that is different from ours, yet has the beauty and familiarity to see ourselves in it, he chose to set it in a steampunk world."
Using the visitor's center interior for the performance space is an intriguing choice as well. Circle's staging of Mary Zimmerman's Metamorphoses in and around the pool at Ashford Manor during their first season was particularly memorable—with an indoor tropical rainforest and the chance to enjoy natural surroundings in air-conditioned comfort. Richmond states: "We are taking advantage of a prominent feature of the atrium: the circular staircase of the pillar that helps support the roof of the structure. It makes a great impression in the balcony scene."
The cast of Romeo and Juliet includes equity actors Dr. Freda Scott-Giles (Chorus, Prince), professor emeritus of the UGA Department of Theatre and Film Studies who gave a powerful performance in University Theatre's Flyin' West in February and Dr. John Cameron (Friar Lawrence), head of the acting program of the University of Iowa, plus familiar community actors. Chelsea Dunham, who teaches drama and yearbook at Westminster Christian Academy and was Cinderella in Into the Woods with Circle last year, plays Juliet, and UGA student Christopher Sapp is Romeo; for anyone who caught his hilariously dear quasi-Romeo performance as Matt in University Theatre's The Fantasticks (a musical spoof of R&J) in 2013, it will be a treat to see him in this role.
"This is a fast-moving production with lots of fighting, loving, visual interest, comedy and killing," says Arp-Dunham. "There is a reason this play has survived over hundreds of years. We see ourselves in it."
(Romeo and Juliet by William Shakespeare—Circle Ensemble Theatre Company, State Botanical Garden of Georgia Visitors Center, 2450 S Milledge Ave., Oct. 3–4 at 7:30 p.m., Oct. 5 at 2 p.m. Tickets $18. Students $12. circleensembletheatre.com or 706-362-2175)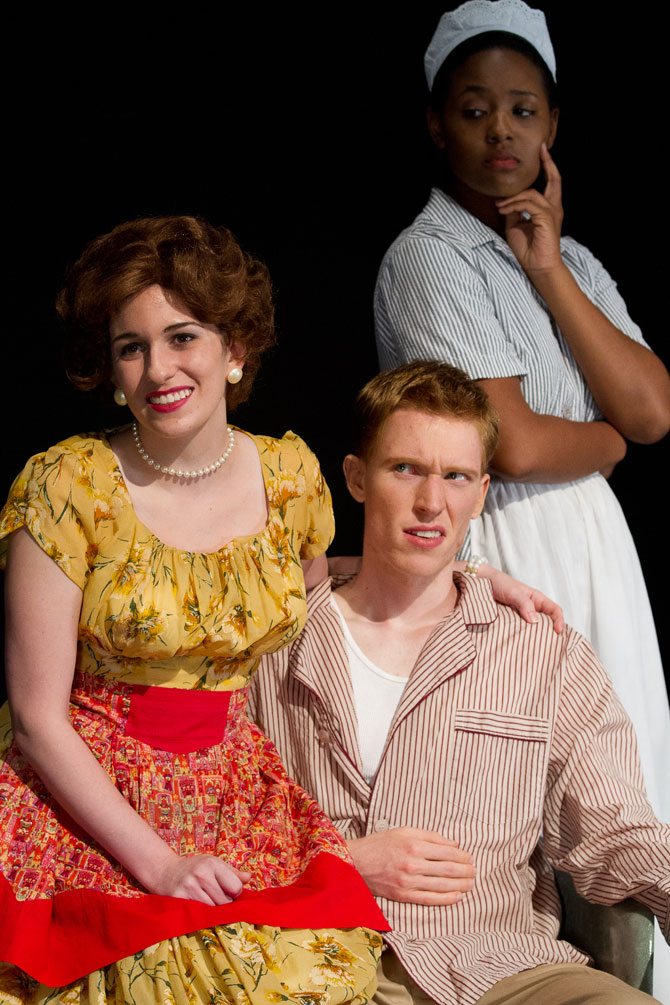 Photo Credit: C. Adron Farris III
Clybourne Park and Hedda Gabler
University Theatre has two productions in October: Tony, Olivier and Pulitzer Award-winning Clybourne Park and the Ibsen classic Hedda Gabler, both in the intimate Cellar Theatre in the Fine Arts Building on campus.
Clybourne Park opened Sept. 25, and only four performances remain, possibly sold out by now. It's a biting comedy that begins right after Raisin in the Sun ends. In Act One, a white neighborhood in 1958 is reacting to the news that a white family is selling their house to a black family. In Act Two, the year is 2008, and a white family is buying and radically renovating the same house in what is now a predominantly black neighborhood.
There are uncomfortable conversations. At the same time, there is humor. As guest director Paul Pierce, producing artistic director of the Springer Opera House and a UGA drama alumnus, says: "It's so easy for people to talk about this play and to say, 'Oh it's about race, and it's about gentrification' and all that kind of stuff, which I think sort of leaves a lot of people cold. But, really, the play is about relationships, and relationships are funny."
Next in the Cellar Theatre is Hedda Gabler, whose title character is narcissistic enough for reality TV. She loves playing with guns and with people, a dangerous combination in a bored housewife.
Director Ray Paolino says that the question this production tries to answer is, "Who is Hedda Gabler?"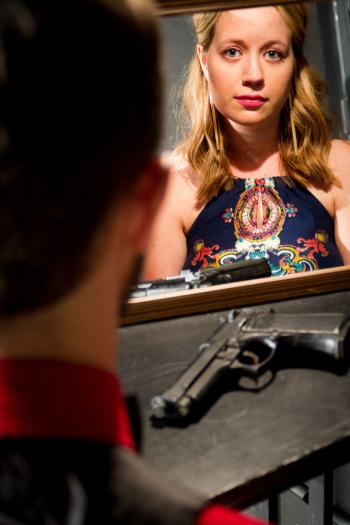 Photo Credit: C. Adron Farris III
Paolino states that "nobody is just one or two qualities, not just Hedda but the other characters, as well. I want to smash all the stereotypes in the play, of Hedda as cold and manipulative, Tesman as the boring husband, Lovborg as the genius artist… I want to do a production about who we are today and what we can learn about ourselves from encountering this woman called Hedda Gabler."
Third-year UGA performance MFA student Jessica Moore is playing Hedda, and Paolino says, "She is utilizing so much of her creativity, her spirit, her sense of fun… the audience can really enjoy Hedda, be mystified by Hedda, be provoked by her, rather than hate and dismiss her as they traditionally do."
It's a studio series show, which means no large budget for set and costumes, and Paolino enjoys the potential for unconventional staging. "I was bored with doing another naturalistic play," he asserts. "I don't want to do another homage to early 20th Century realism." He wants to take "a new approach, more exciting, fun and challenging… We're doing a very theatrical version of this play, whereby objects are used in a symbolic or metaphorical way to create different environments and images." The actors will be on stage the entire time as both the characters they play and themselves as actors morphing in and out of character.
Paolino's intention and hope is that the audience will see people that they know. "The characters are not a century removed from them," he says. "It's from their world and hopefully will speak to them."
(Clybourne Park by Bruce Norris—University Theatre Cellar Theatre, Fine Arts Building, corner of Lumpkin and Baldwin streets, Oct. 1–3 at 8 p.m., Oct. 5 at 2:30 p.m. Tickets $16, students $12. drama.uga.edu or 706-542-4400)
(Hedda Gabler by Henrik Ibsen, adapted by Jon Robin Baitz—University Theatre Cellar Theatre, Fine Arts Building, corner of Lumpkin and Baldwin streets, Oct. 14–19 at 8 p.m., Oct. 19 at 2:30 p.m. Tickets $12, students $7. drama.uga.edu or 706-542-4400)
Like what you just read? Support Flagpole by making a donation today. Every dollar you give helps fund our ongoing mission to provide Athens with quality, independent journalism.