Athens is in a week of rainbows.
It's the fourth year of the annual Athens PRIDE celebration, and this time it's seven days of fun. After last year's success, the PRIDE board decided to expand the festivities from a weekend to a full week.
The celebration kicked off with a three-night documentary film festival that starts with a Monday, Sept. 8 screening of Gen Silent at Ciné, followed at 6 p.m. Tuesday, Sept. 9 in UGA's Memorial Hall by Breaking Through, which reveals the struggles of openly gay elected officials, and at 6 p.m. Wednesday, Sept. 10 in the Athens-Clarke County Library, The New Black, which explores the relationships between the histories of two Civil Rights movements.
"They all cover different areas, different topics that relate to the LGBT and straight ally community," says Ricky Roberts, an Athens PRIDE board member. "We're just hoping to build more community, more awareness, through the film festival. They highlight really important issues in our community, so we're really proud of it."
PRIDE Secretary DeeDee Kane says the film fest could broaden PRIDE Week's reach. "I'm hoping that that brings out different people with a different set of interests," she says.
PRIDE Week participants can also enjoy familiar PRIDE events, including the 20th annual GLOBES reception at 6 p.m. Thursday, Sept. 11 at the UGA Special Collections Library (with an after-party to follow at 8 p.m. at Georgia Bar); drag karaoke at Max Canada Friday, Sept. 12 at 10 p.m., the Youth & Proud event for ages 13–18 at 6 p.m. Saturday, Sept. 13 at Mama's Boy; and the Wig Out dance party later that night at 11 p.m. at Little Kings Shuffle Club.
And after its inaugural success at Lay Park last year, the 2014 PRIDE Festival has moved to College Square Sunday, Sept. 14.
"I think we've set the bar pretty high for ourselves," Kane says. "College Square is really a great opportunity for us. Attendance really jumped last year at Lay Park, and we wanted to hopefully accommodate some more growth. I think people are excited about that—and maybe a little nervous, too. We want people to come, and we certainly have the space for them."
There will be a children's play area and plenty of vendors and info tables to browse while listening to local music acts at the festival's One World Artist Showcase. See athenspride.com or the Calendar for a full schedule.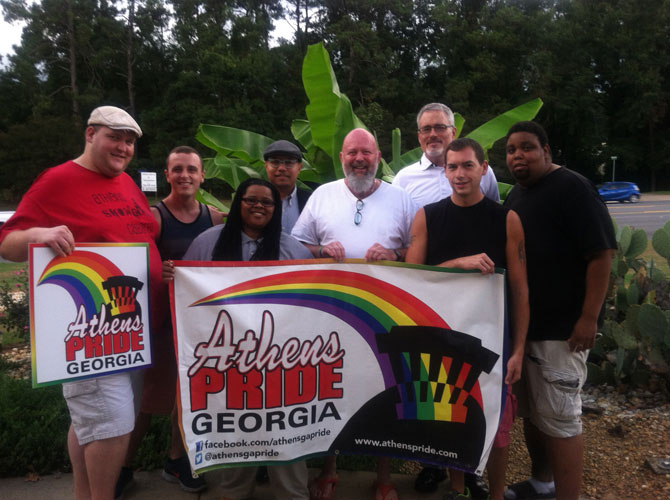 As in years past, attendees will be able to participate in a public commitment ceremony. "It's just an opportunity for those who are already in committed relationships to sort of have a public affirmation of that in a way that's not currently permissible in the state of Georgia, honestly," Kane says. "There's a need for that affirmation and recognition for each couple, and for the community.
"It's a very public moment, but it's also very intimate. It's going to feel different in College Square," she says. "It will be different, because it's a much more public space. But I think it's a way of affirming the relationships and a way of showing that it's the same, you know—it's the same as everyone else's."
The festival will end Sunday night with "Divas Under the Lights," a drag show presented by Athens Showgirl Cabaret after Athens-Clarke County Commissioner Jared Bailey's presentation of the Pride Proclamation.
As always, Athens PRIDE has worked to make the week as accessible as possible. The organization has partnered with various local businesses over the last month, including Ted's Most Best, Little Kings Shuffle Club and The Grit, to accrue funds for the revelry. Downtown venues are even offering their spaces to PRIDE performers free of charge.
"We're only able to do this because of the donations from the community," Roberts says. "We're just very fortunate that so many people were very generous this year and helped us out a lot. We exist because of our sponsors, you know, people making generous donations."
So, she says, no Athens PRIDE event will cost more than $5, if anything. "It's always really important for us to be able to provide no- or low-cost events," Roberts says. "We're one of the only PRIDES that are probably out there that make sure that all of our events are very affordable to the community. That's very important to us. We just try to make it as inclusive as possible to people from all different areas of our community."
Like what you just read? Support Flagpole by making a donation today. Every dollar you give helps fund our ongoing mission to provide Athens with quality, independent journalism.