As the horrifying, child-eating bulldog demon statue on the cover of this week's paper not-so-subtly reminds you, it's college football season once again. Even if you're not a Dawgs devotee, we think it still behooves you to know a little—again, really, just a tiny lil' bit (c'mon, don't be that guy)—about the team, lest you end up at an impromptu gameday party and find yourself hovering forlornly over the bean dip with no one to talk to. Worst-case scenario, you can use this guide to map out the best time to go to the grocery store.
So, for the second year in a row, the two vaguely aware fellas on Flagpole's nonexistent sports desk offer up a half-baked but hopefully somewhat informative Georgia football season preview for your perusal. Below, the answers to all your burning (imaginary) questions:
Is Aaron Murray coming back now that "The Bachelorette" is over?
Uh, actually, that was his brother Josh (also a former UGA football player), but no. Aaron graduated after what seems like a 15-year college career and now plays professionally (albeit third on the depth chart) for the Kansas City Chiefs.
What did his ex-teammates think about that show, anyway?
They weren't too impressed. "Honestly, I just kind of hate that show in general," receiver Michael Bennett said. "I guess he's in love now, so good for him."
Who's taking over at QB?
That would be Hutson Mason. (Or is it Mason Hutson? No, Hutson Mason.) He's waited three years for this opportunity. But he's no Joe, Cox or Tereshinski—seniors who struggled when they finally got a chance to play. After Murray tore his ACL against Kentucky late last season, the former All American out of Lassiter High School in Marietta threw for 808 yards and four touchdowns in two-and-half games.
And it's not like he'll lack for targets. Bennett, Chris Conley, Justin Scott-Wesley and—if he can ever get over his knee problems—Malcolm Mitchell are returning, and Richt has touted the team's depth with cornerback Brendan Langley switching to offense. If this year is anything like last year, Lord knows they'll need it.
Or Mason could just hand off to Todd Gurley or Keith Marshall. Marshall, who ran for 746 yards as a freshman, played in just five games last year due to a torn ACL, but he seems fine now. Gurley rushed for 986 yards last year despite dealing with a sprained ankle. Behind them are Brendan Douglas, who filled in for the maimed quite nicely, and a couple of highly touted newcomers, the wonderfully named Sony Michel and Nick Chubb (lol). While Richt is confident in the freshmen's running ability, they'll only play if they can improve their pass protection, he says.
Conley's going to whip out a lightsaber and go all Mace Windu on Clemson, right?
Unlikely. He did make a Star Wars fan film in the offseason, but he's set his nerd-dom aside for now. "The filmmaking stuff is just me being a student, so now it's time to be an athlete again," he said nervously, while dark-cloaked athletic director Greg McGarity sat menacingly in the shadows just beyond. "Gooooood," McGarity whispered, his pale skin glowing under Butts-Mehre's harsh fluorescent lights.
How's the defense?
Better, hopefully. Much-maligned defensive coordinator Todd Grantham fled to Louisville to work for noted turncoat and adulterer Bobby Petrino for $1 million a year. In a classy move befitting his new employer, Grantham threw shade at UGA play-caller Mike Bobo after leaving. Good riddance.
Richt hired Jeremy Pruitt, who helped Florida State win a national championship last year, as Grantham's replacement. Pruitt's also worked for perennial defensive powerhouse Alabama and Hoover High School, where he displayed his ignorance of vegetables on the MTV reality show "Two-A-Days." Richt says Pruitt is doing a good job of holding defensive players accountable, and at least some are responding. Linebackers Ramik Wilson and Jordan Jenkins both made the preseason All-SEC Team.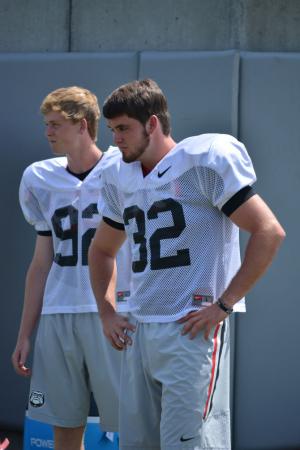 Photo Credit: Stephen Colquitt / UGA Athletics
As mediocre as the defense was last year, special teams were a fucking disaster—so bad that they spawned a parody Twitter account. This year, Richt has named not one, but two (count 'em, two!) special teams coordinators. That's four shoulders for Collin Barber to cry on next time one of his punts is blocked and returned for a touchdown. COME ON COLLIN.
I heard something about a playoff?
See? You have been paying attention. 2014 marks the debut of the College Football Playoff, the promising but as-yet untested system that emerged from the death of the controversial Bowl Championship Series, or BCS. No longer will mindless computer algorithms and unavoidably biased anonymous polling choose the best football team in the land! Instead, we'll have a two-game semifinal followed by a winner-take-all title game on Jan. 12, 2015 that (#realtalk) is probably going to be a rematch of the SEC championship.
But not to worry: The AP and USA Today polls still exist for your mindless arguing pleasure, not to mention the inevitable grumbling about which teams make—or don't make—the final four. There will also still be a shit-ton of meaningless postseason bowl games to enjoy during your holiday-season couch bender.
So, what's your prediction?
The Bulldog Nation has no delusions (well, fewer delusions than usual) of winning a national championship this year after a season that started with UGA ranked No. 6 in the country and ended with an 8–5 record. But UGA is No. 12 in the AP and USA Today coaches' polls and will compete with No. 9 South Carolina for the SEC East title. The Dawgs have four ranked teams on their schedule: No. 16 Clemson at home Aug. 27, the No. 9 Gamecocks in Columbia Sept. 13 and No. 5 Auburn at home Nov. 15. Missouri, which doesn't make the coaches' poll, is ranked No. 24 by the AP. Georgia's other West opponent this year is lowly Arkansas (winless in conference play last year), meaning no LSU or Alabama.
Photo Credit: Sean Taylor / UGA Athletic Association
While no SEC schedule is easy, we can see them going, say, 10–2 if they stay healthy. Or the entire receiving corps' knee ligaments could go flying and put out Gurley's eye, dooming the Dawgs to another Taxslayer.com Gator Bowl.
That said, we're totally gonna win a national championship this year.
Here's what's on tap:
WHO: Clemson
WHEN: Aug. 30, 5:30 p.m.
WHERE: Athens
The rematch of last year's opener will feature one of the nation's most explosive offenses against what's expected to be an outstanding Clemson defense. But can the Tigers score? Star quarterback Tajh Boyd and running back Roderick McDowell are gone, replaced by career backup Cole Stoudt and… well, we're not really sure. Freshman Deshaun Watson is waiting in the wings to unseat Stoudt under center.
WHO: South Carolina
WHEN: Sept. 13, 3:30 p.m.
WHERE: Columbia
Dylan Thompson is looking to fill departed star quarterback Connor Shaw's shoes. Who will fill Murray nemesis Jadeveon "Holy Shit, That Guy's Huge" Clowney's pads? The 'Cocks are still expected to fill up the win column, though, and this early showdown could determine the eventual division champ. The over/under on Steve Spurrier headset tosses: 12. (Take the over.)
WHO: Troy
WHEN: Sept. 20, noon.
WHERE: Athens
YAWN. Next.
WHO: Tennessee
WHEN: Sept. 27
WHERE: Athens
Tennessee is going through an eternal transitional phase, cycling through three head coaches from 2009–2012 before finally landing a keeper in Butch Jones. The Vols managed to be competitive last season, taking Georgia to overtime in a 34–31 nail-biter, but they've got several years before they're a serious contender. QB Justin Worley and receiver Marquez North head up what figures to be a much-improved passing game.
WHO: Vanderbilt
WHEN: Oct. 4
WHERE: Athens
Why do they call it "homecoming" when the last game was at home, too? After one of the best seasons in school history (9–4, which is sad when you think about it), the Commodores lost head coach James Franklin to Penn State and star receiver Jordan Matthews to the NFL. They'll be back to the Vandy of old.
WHO: Missouri
WHEN: Oct. 11
WHERE: Columbia
The other, other conference Tigers made a surprise run last season, finishing 12–2 and winning the SEC East. But they'll have to contend with the loss of quarterback James Franklin, as well as stars Michael Sam, Henry Josey and Kony Ealy. If it stays healthy, Mizzou, which enjoys a relatively lightweight non-conference schedule, could very well be a sleeper team again in 2014. The over/under on clueless announcers referring to the openly gay Sam as a "distraction:" one.
WHO: Arkansas
WHEN: Oct. 18
WHERE: Little Rock
The Razorbacks beat the Bulldogs last year. The Samford Bulldogs, that is. Maybe they'll actually win a conference game in 2014, but this one probably won't be it.
WHO: Florida
WHEN: Nov. 1, 3:30 p.m.
WHERE: Jacksonville (duh)
Coming off the Gators' worst season in 35 years—or best, depending on how you look at it—Will Muschamp is inexplicably still employed, so their mediocrity is likely to continue until they wise up and poach Hugh Freeze from Ole Miss. (Please don't–Blake.) Florida was dead last in the SEC in scoring last year. "We needed to make some changes on offense," Muschamp told the Miami Herald, which is kind of like a Gator fan saying, "We needed to make some changes on our choice of attire."
WHO: Kentucky
WHEN: Nov. 8
WHERE: Lexington
The good news for Kentucky fans: Basketball season starts Nov. 2. The bad news for Kentucky fans: This is a football game.
WHO: Auburn
WHEN: Nov. 15
WHERE: Athens
Unless former Bulldog Nick Marshall gets caught hotboxing on the way to Athens, the Tigers will be a serious challenge for Georgia. This one's a hotly anticipated contest. Last year's UGA-Auburn game was one of the most unforgettable and frankly devastating in the series' storied history. Just remember to bat it down this time, you guys.
WHO: Charleston Southern
WHEN: Nov. 22
WHERE: Athens
Eh. Take advantage of the lull in traffic during the game to head out for some shrimp and grits.
WHO: Georgia Tech
WHEN: Nov. 29
WHERE: Athens
2013's double-overtime win over the Ramblin' Wreck was a thriller, but let's hope enough players are out of jail and out of the hospital that we can breathe a bit easier this time. The over/under on the number of passes the Jackets complete: 2.5. (Take the under.)

Like what you just read? Support Flagpole by making a donation today. Every dollar you give helps fund our ongoing mission to provide Athens with quality, independent journalism.