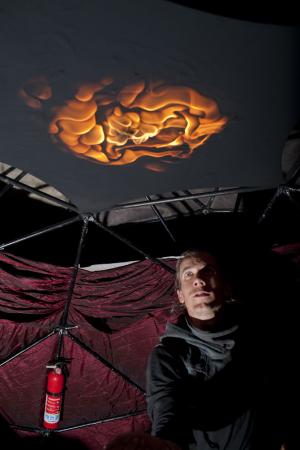 Have you ever wondered what it would be like to party inside the Thunderdome from Mad Max? How about a Thunderdome that shoots fire out of the top while you safely dance the night away beneath the glow?
That is exactly what Athens resident Cory Glenn wants to do with his new project he's calling "Incendia"—a mobile fire installation consisting of 50-foot aluminum dome surrounded by five 20-foot domes that is capable of hosting up to 500 people "for concerts, festivals, wedding and corporate receptions and private soirees," according to a Kickstarter account the New Earth Music Hall bartender started with a goal of raising $10,000 for the project.
Last year, at the Athens Burn Consortium's one-year anniversary, Glenn unveiled an initial prototype—a smaller, fully covered 12-foot dome. "This is my third largescale interactive installation," says Glenn, who added that his first two included the effigy at another burn, Alchemy, in 2012 and the "Square Grouper"—a 20-by-20 floating "party barge" with a satellite dish rigged to be a floating fire pit in the middle of it.
Glenn's third interactive flame installation, Incendia, has been a work in progress since early 2013. "The eureka moment came when I was fooling around with these little pedestals… with a propane tank inside," he says. On top of the pedestals sat a bowl setting, and Glenn says that one day he held the whole contraption at the bottom by the hose and flipped it on its end. "It kind of cupped the flame and held it in there and wafted around," he says.
Glenn made his first prototype and took it to Flame Festival, an event dedicated to learning the art of fire spinning. "It was pretty pitiful," he says. "I didn't have the right fittings, and it malfunctioned after a while. But it was really cool for a second there."
The next time he set it up, he made the appropriate adjustments and continued adding more complex elements, like a cover and faux roof to allow for exhaust to escape. This was his 12-foot dome that was a "big hit" at another regional burn, known as Transformus.
Now, he's made a 20-foot dome—one of the pieces to his Incendia project—and the prototype sits in his backyard.
As mentioned in his Kickstarter, fire is expensive. One 20-pound propane tank could keep the 12-foot dome running for two nights, but the increase in size and more effects—such as a "poofer," a propane cannon that shoots flames out the top of the dome—significantly adds to the cost. "It's negligible in that small size, but when you get up to the bigger size, the one I have right now costs $50 a night to run," says Glenn. "The whole setup, when I'm done, will burn about 500 pounds of propane a night."
The "big setup"—the 50-foot dome, plus the five 20-foot domes—will house about 500 people and will take two flatbed trucks, a boom crane and a team of five people two days to set up. The big dome will have a "fire plate in it the size of a living room" and will also be equipped with 11 fire ports along the top, which will be electronically wired for controlled displays of "chases and spirals," Glenn says.
A lot of the funds will be going towards making sure this project is safe for interaction and adheres to the National Fire Protection Association (NFPA) codes, a professional resource for firemen, which Glenn says a lot of fire marshals use. However, he says, "No matter what we do, no matter how many fire extinguishers we have and how many engineers we have sign off on it… I foresee at least one or two instances [where] the fire marshal says 'There's no way in hell I let you put 500 people in this thing.'"
Glenn says that he's trying to promote Incendia as something that's "safer than palm tree heaters outside of bars, [because] you can't touch the flame.
"This is a really safe concept," he says. "We're trying to pitch it as being safer than those palm tree heaters you see outside of bars because all the fire is out of reach. Those things, people burn themselves on them all the time. I've seen drunks scald the shit out of their hands trying to light a cigarette on it all the time."
Glenn says they'll be purchasing "as much as $3 million in liability insurance" for the mobile installation. Ultimately, he hopes to have the final project finished by this fall for Alchemy, another regional burn in Georgia.
Like what you just read? Support Flagpole by making a donation today. Every dollar you give helps fund our ongoing mission to provide Athens with quality, independent journalism.