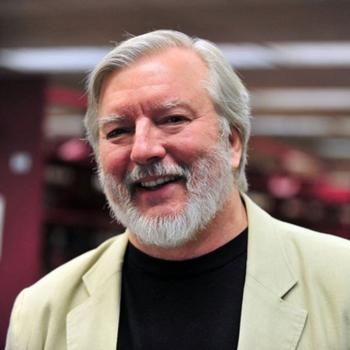 Photo Credit: The University of Georgia
On Monday, Nov. 11, Georgia's Poet Laureate and award-winning novelist Judson Mitcham was inducted into the Georgia Writers Hall of Fame along with the late Toni Cade Bambara. Past inductees include Martin Luther King, Jr., Flannery O'Connor, Harry Crews and Jimmy Carter.
Mitcham was not formally trained as a writer and spent his career as a psychology professor at Fort State Valley University after earning his doctorate in psychology from the University of Georgia. Mitcham also wrote two novels set in the Georgia which both won the Townsend Prize for fiction: The Sweet Everlasting (1996) and Sabbath Creek (2004).
In his acceptance speech, he reflected on the warm memories he has of Athens and Georgia, contrasting them with the racial discrimination that he witnessed through his years in the region. Having attended the university in the late 1960s, Mitcham connected the area's history of racial prejudice to the work of Bambara, an African American woman known for linking the struggle for women's rights and civil rights together in her work.
Flagpole interviewed Mitcham the day after his induction.
Flagpole: The photograph seems to be a recurring motif in your poems. Is there some sense of the poem as a snapshot for you?
Judson Mitcham: Yes, there's another called "Lyric"—that poem in here that explores that. When you look at poetry by-and-large, you have narrative poetry that in its most extended form is an epic. The narrative poem tells a story. So something must change in the story. There's a progression through time. Something changes. In lyric poetry, time is frozen. Time is frozen. It's a frozen moment in time, and it never changes. So the Shakespearean sonnet by and large holds one moment, and the photograph does that as well.
FP: So much of these are solitary moments that you are capturing. And the act of writing is so solitary, yet you spoke yesterday about your dual role as a writer, which you do in private, but now, you're a famous writer. Can you talk about that dichotomy and how that's been for you?
JM: It's been fine. I'm of course honored to have been named poet laureate and to also have been in the [Georgia Writers] Hall of Fame. But of course there's fame and then there's fame. I'm looking forward to going back to my little office at home. I enjoy public performances and events; I do enjoy them. But the primary life of the writer has to be private. And the real joy for me is not in being out in public, but rather in being and working in solitude. And hoping that a single person will read a single poem in some quiet environment and find something in it that gives them something that they did not have before.
FP: There's a moment like that in the first poem, "Somewhere in Ecclesiastes," the line about chaos and beauty. How does that line go?
JM: What it says essentially is that beauty is a result of chaos. That there's no design to it. I'm ashamed not to be able to quote my own poem, but they run together after a while…
It's a dealing with tragic things that happen and a question that we always have. Do they happen by accident—by chance? Or do they happen by design? It's essentially holding the position that they happen by chance. The epigraph to the collection is scripture from Ecclesiastes. It says, "Time and chance happen to them all." So that's probably the theme that runs through it.
FP: Who are some primary poetic influences for you?
JM: Well, of contemporary poets, the person who has been most influential to me is Philip Levine, who was poet laureate of the U.S. right before our own Natasha Tretheway. I had a workshop with him over 30 years ago now in Atlanta, with him and Richard Hugo. Then I began to read Levine and was really taken by his work. So, he's influential. And then quite a few others. I was taught by Ellen Bryant Voigt. I was taught by William Matthews. The person, the large figure, whose work I began by imitating was James Dickey. Dickey's form, the form of Dickey's poems in his book Poems, 1957-1967, which is his greatest volume, I think. Those poems, for many poets my age, those poems were very, very influential. So, I'm no different.
FP: The mantle of poet laureate of Georgia must be a kind of unwieldy thing sometimes. How do you connect your vision and what you're trying to communicate with the state of Georgia?
JM: Well, my work is primarily set in Georgia, my novels and my poetry, simply because that's what I know best. Flannery O'Connor says, "You can choose to write about anything you like, but you can't choose what you can make live." This seems to be what I can make live, is material that has to do with Georgia.
As far as the poet laureate position, I think that that is a public duty and one is recognized and has a responsibility to do something with respect to poetry in the state. And so we're starting, along with the Georgia Council of the Arts, we're starting a prize for high school students—the Poet Laureate's Prize, we're calling it. It will be for a single poem, 30 lines or fewer, to be written by a Georgia high school student, public, private or home schooled. And there will be a winner and four finalists, and they will be given the prize in the Georgia State Capitol. And I'm looking for many, many entries in that. The guidelines will be published on the Georgia Council for the Arts website on Jan. 1.
[There is also] an outreach program where I will go with other Georgia poets into many areas of the state. Libraries and arts councils will be sponsoring these, and we'll sit and talk with poets, and sit and talk about their poems as well. The schedule for that has yet to be formalized.
And the third initiative is a book of photographs and poems with the excellent and award-winning photographer Diane Kirkland and individual poems from Georgia poets that is to be published by the University of Georgia Press. So those are the functions that I see of the poet laureate, not so much that my work itself has to reflect Georgia, but it already does.
Like what you just read? Support Flagpole by making a donation today. Every dollar you give helps fund our ongoing mission to provide Athens with quality, independent journalism.