It's that time of year again. Clear the streets, Athens, the cyclists are here.
"Standing at the edge of the race, when the riders come by, the wind they create is incredible. The sense, the colors flying past you—back in the day, it used to blow my hair back," says Micah Morlock of Georgia Cycle Sport and Twilight event committee chair, running his hands through his hair.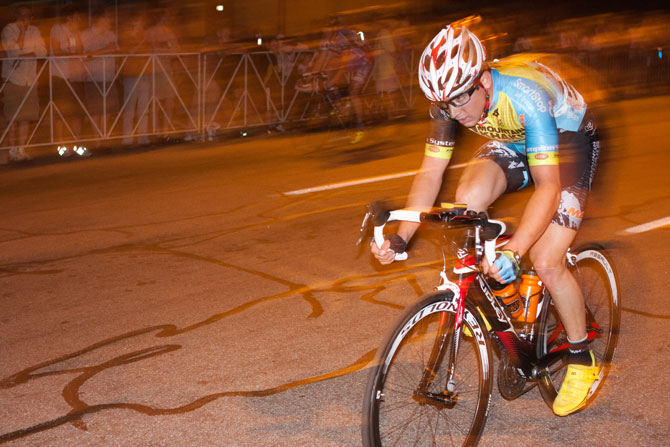 Mention the Terrapin Twilight Criterium to anyone in Athens, and you'll get a similarly enthusiastic reaction.
"I'd never seen these colors, these speeds. And it's at night, and it's glittering, and I've never seen anything like it,†says David Crowe of his first Twilight Criterium, which led to his becoming a pro cyclist and member of the board of the Athens Twilight Foundation. "I think that's what excites people about it, that it's just so different from anything they've seen—and it's still free."
"It's a big damn deal,†says Athenian Camille Morgan. "It's a big, fun deal.â€
The Athens Twilight Criterium has been voted best bike race in the country by numerous magazines and cycling polls, and draws some of cycling's hottest stars, including Lance Armstrong.
"We used to say Athens is the Boulder of the East Coast for cycling, but now we say Boulder is the Athens, and it all started because of the Twilight,†says Morlock.
Gene Dixon created the country's first Twilight Criterium in 1980, putting it in downtown Athens as a draw to businesses when the new Georgia Square Mall was pulling businesses away. Twilight is an economic boon to the retailers of downtown Athens, with attendance averaging between 25,000 and 30,000 people—one year attracting 40,000. This one weekend, as one board-member puts it, "solves a lot of financial needs.â€
Now Dixon produces Twilight Criteriums all over the country, from Tampa to Portland, but the biggest Twilight Criterium in the country is the original race in Athens.
"Twilight is arguably the biggest, perhaps the most highly sought after, prize on the U.S. criterium circuit,†says Christian Foster, whose Athens-based team 706P races Saturday. "To win here—even finish—carries bragging rights in cycling circles.â€
Morlock describes the speed and excitement as "NASCAR on a bike—except when you wreck, you're not in a car."
In his final Twilight ride in 2004, Foster recalls "self-admittedly causing one of the biggest pile-ups Turn 1 (in front of the Georgia Theater) has ever seen. I was moving my team leader up the inside on the front stretch, dropping him off in fifth spot entering the turn. He made it through, but, unfortunately, I did not. I clipped the inside barrier and took out about 30 guys. My bike was in pieces, as was my body, but with all the adrenaline, all I wanted to do was head for the pit and re-enter the race."
Melissa Harshman went to her first race years ago and still remembers how thrilling it was. "I'd never been to a bike race before. I didn't know what it was. I didn't exactly know what was going on because I'm not a bike person, but it was still fun, watching all the events, especially with the kids."
The BMX Stunt Show is a big draw for the kids, but any child can join in on the excitement, too. The Twilight Kids Criterium features races for kids ages 5–14 on Saturday, where the riders are grouped by age, type of bike and gender. There is also a Big Wheel Race for the little ones five years old and younger. All the participants can queue up for the Twilight Kids Parade Lap and have their moment to shine.
"The kid events are adorable,†says Kenneth Kase. "You've got these really intense racers speeding by, and then you've got the kids who just la la la—so clueless, they're just having fun. And it's a friendlier crowd than football. Most of them aren't pulling for one team or the other. They don't know who they're watching; it's just fun.â€
For those who want to ride Saturday but don't match the skill requirements for a criterium team, there's the Gambler, the 50K or 100K ride where anyone with a bike can join in for an entry fee of $40 on the day of (or $35 preregistration). It passes the former estate of Kenny Rogers, which explains where it gets its name and why riders get a hand of cards for a chance to win prizes at the end of the ride, because, as his hit song goes, "you never count your money when you're sittin' at the table†or when you're sitting on a bike among 800 other riders.
For those who just want to watch, the Criterium course offers a number of vendor tents and areas to jockey for a viewing position along the course. You can also treat yourself to a VIP ticket, which scores you a catered dinner, two drink tickets and the best seat in the event at the start/finish line for a mere $60.
New this year will be a Jumbotron as well as online streaming to make viewing easier. Friday night also promises to be bigger this year, with more space for people to move around while enjoying the atmosphere of events, vendors and a free concert with The B-53s and Easter Island opening for Modern Skirts.
"Cycling is a global sport, and Athens Twilight is a vortex that draws them in from all over,†says Foster.
"I think it's cool that something that big is in Athens,†says Morgan.
And it's this weekend. For free.
Like what you just read? Support Flagpole by making a donation today. Every dollar you give helps fund our ongoing mission to provide Athens with quality, independent journalism.