The Lyndon House Arts Center opened its 45th Juried Exhibition in early March with an impressive collection of portraiture, landscapes, innovative fiber pieces, multimedia works and photography. Soon after the show's opening, however, the U.S. began testing for and monitoring the growth of the coronavirus. As cities strove to prevent the spread of the virus, a sweep of closures and cancellations for businesses, organizations, shows and events followed. The language of mass media and local news quickly shifted, reflecting a new, widespread concern with viral cell structures and an uncertain economic future.
In the midst of a global conversation about infectious agents and herd mentality, many are consuming more works of visual art, literature, music and performance art than they had been privy to before the coronavirus. Museums and gallery spaces are utilizing online forums and streaming services to help folks during this time of isolation and fear. The Lyndon House quickly created two hashtags to maintain the visibility and educational function of its programming—#45JuriedShowOnLine and #ArtsCenterOnLine—which will appear on Instagram, Facebook and accgov.com/lyndonhouse.
According to a press release, #ArtsCenterOnLine focuses on "arts education projects for families sequestered in their homes, virtual tours and other art related activities designed for this time." The first installment was an interview with painter Megan Sparks, who was an artist-in-residence at the Lyndon House just before social isolation ordinances hit. #45JuriedShowOnLine is a virtual art exhibition through which "the artists in our 45th Juried Show will appear daily in the morning hours…Each day a new artist is featured with a short interview reflecting on their inspiration, what their favorite things are and what they love about our town of Athens, GA."
The online presence of Lyndon House's 45th Juried Exhibition during the time of COVID-19 maintains a focus on U.S. history and the Athens community as a space that is more than just a college town that shuts down when the students leave. This year's juror, Larry Ossei-Mensah, a Ghanaian-American curator and cultural critic, took an intuitive approach to curating. Intuition is a way of moving through a set of visual works with a learned background and skillful foresight. Through Ossei-Mensah's curatorial intuition, the various works in the show collectively generate a portrait of the contemporary Southeast, spurring contemplation of popular brands, intersectionality, political narratives, personal psychology, beauty and sensuality. Given Ossei-Mensah's background, including his 2019 curation of "Coffee, Rhum, Sugar, Gold: A Postcolonial Paradox" for the Museum of African Diaspora in San Francisco and his forthcoming exhibitions of the work of Glenn Kaino and Tiona Nekkia McClodden later this spring for the Brooklyn Academy of Music's Rudin Family Gallery, it is not surprising that Ossei-Mensah was able to weave powerful through lines of racial visibility and historical justice from the 700-plus works submitted by 278 artists this year.
In "Pride and Joy" by Broderick Flanigan, a young child with hair proudly braided, wearing a saturated red jacket, places a crown atop his mother's afro. She looks at the child with a gaze that is determined, somber, powerful. This piece is in dialogue with Broderick's other work in the exhibition, "Joy of a Brown Boy," in which a young boy beams atop the shoulders of his father, each of their torsos and legs bare to the sun: a beautiful celebration of kinship and embodiment. Other two-dimensional media include "Sarah's Gift" by Mary Ann Cox, in which a young femme wearing braids and a sun dress holds a paper chain delicately in her fingers. Her skin is made of soft, careful layers of reds, browns, blues and umbers; she looks at us softly, confidently.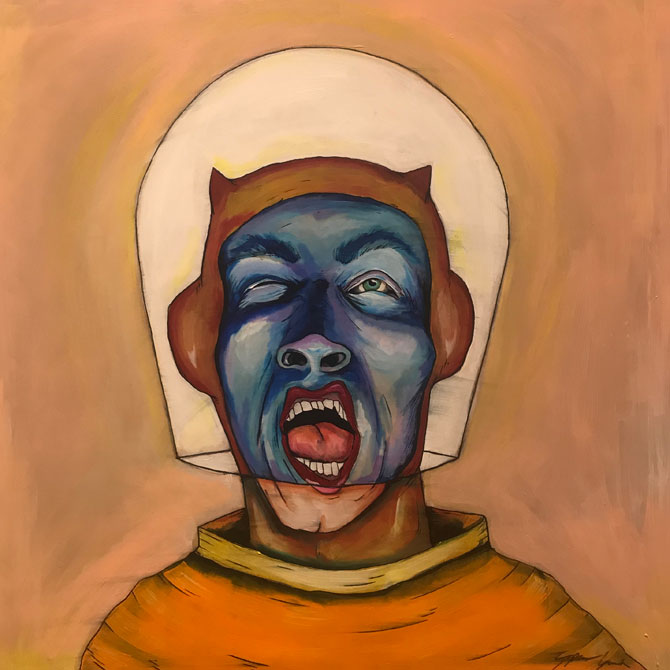 Photo Credit: Spencer Lusk
Jason Machen presents viewers with a photograph of a man wearing overalls, arms crossed, leaning against the brick wall of a community facility. The title "Descendant of Slaves" evokes a long history of U.S. racial systems, persons and politics, while the work itself emphasizes the individual human figure. This photograph is one of many included in the show that demonstrates the broad possibilities of photographic techniques and forms. The photos move from crisp digital images, such as Beth Richardson's "White Dogwood Corolla," to evocative portraits of doorways, chairs, and tangled vines; they range from color compositions to black and white presentations. The photography anchors the show in its incredible versatility. In the soft, thoughtful hues of works like Chris Greer's "Sunset Graze" or the vibrant, saturated tones of his "Sunrise on Blood Mountain," viewers can see how the artist manipulated the color saturation of sunsets and skyscapes to show us the earth's prismatic qualities. Viewers can see the compositional sensitivity and emotionality of black and white photography in works like "John" by Trent Sellers, which depicts a man with tousled dreads leaning with a pensive expression, backgrounded by foliage and organic patterns.
Fiber works and other pieces that were originally confined to the realm of "craft" abound in the show. Space is thus given to works which, though traditionally excluded from fine art proper, are acquiring increasing attention in the contemporary art world. This show posits craft as relevant and imaginative. The strongest narrative is woven through works like "400 Years in America" by Beatrice Brown, who portrays a white-washed symbol of the Confederate flag hovering above triangular patchwork that trickles down into rich, dark blacks and patterned pieces. Quilted into the bottom of the piece are African masks. Another work titled "Herstory," sewn from clunky, fabric shapes of varying hues, patchworks the names of prominent women and femme individuals from history on one side and the quote "Well-behaved women rarely make history" on the other side, reclaiming the space of the handmade as one where radical ill-behavior is expressed and history is made.
Paula Runyon's "Soft World II (Memories of Meeting the World)" is an exploration of beauty and sensuality in the form of string, thread, yarns and multimedia integrations. She melds floral elements with clusters of overhanging threads, as if inviting us into the emotional space of a memory that, while not ours, can be shared. Anne Marie Vencill's "Stella Maris" is a large, quilted portrait demonstrating the ability of sewn works to create beautifully patterned conjurations of time and history.
The 45th Juried Exhibition has been extended through July 25 in order to allow for in-person viewing experiences in the future.
Like what you just read? Support Flagpole by making a donation today. Every dollar you give helps fund our ongoing mission to provide Athens with quality, independent journalism.