Athens-based band Wanderwild, composed of Matt Martin, Wes Gregory, Taylor Cotton, Alec Stanley and Reagan Byrd, released its third LP, Music in an Emergency, on May 28. Flagpole talked with the members of the indie rock band about the art of producing music, the pandemic and creating a new album in an emergency.
Flagpole: What was the inspiration behind the name of the album, Music in an Emergency?
Matt Martin: The title Music in an Emergency examines the role of music in times of crisis. It's not exclusively a pandemic record, but there's no doubt that many of these songs would look very different or not exist at all had it not been for our experiences this past year. British writer Olivia Laing published a collection of essays in early 2020 called Funny Weather. Our album title is a riff on that book's subtitle, Art in an Emergency. The book asks the same questions about art in general that we asked ourselves about music—how can something so seemingly unnecessary become essential to moving through a crisis?
FP: The pandemic hit the music industry hard. How were you all affected individually and as a group going into 2020?
MM: First and foremost, we had to cancel any and all touring plans which was a huge bummer. Thankfully though, this band thrives on writing and being in the studio, so we adjusted our priorities and focused on finishing our new record. The pandemic certainly challenged us all individually and as a collective, but ultimately I think we're stronger for it. A cliché, perhaps, but certainly true for us.
FP: What was it like songwriting in quarantine?
MM: I found myself writing songs by myself for the first time in years, which in some ways was liberating and needed. I got to rediscover and reaffirm my voice as a songwriter. It was amazing, though, to shift back into collaborating together which happened pretty quickly for us. It's how we work best. I'd much rather be surprised by how a song takes shape than know exactly what I'm getting myself into, which typically relies on working with each other.
FP: What was behind the decision of having "Stranger," "Do the Work" and "I'll be Right There" as the leading singles?
Reagan Byrd: We felt like these three captured the spirit of the record, offering glimpses into the diverse worlds that make up MIAE as a whole. We trusted our gut!
FP: What's the process like of producing, engineering, and mixing/mastering your own work?
RB: Doing all of the production in-house has been an integral component of the functionality of the band. Having access to Gift Horse (Martin and Stanley's studio) affords the band the ability to capture inspiration as it strikes, blending the writing and recording processes together. We wouldn't have it any other way.
FP: What does it feel like hearing your music come together and knowing you're the ones who produced it?
MM: It adds an extra layer of satisfaction and accomplishment when hearing the finished product. It sometimes creates added challenges along the way, but ultimately allows us to display our vision as clearly as possible.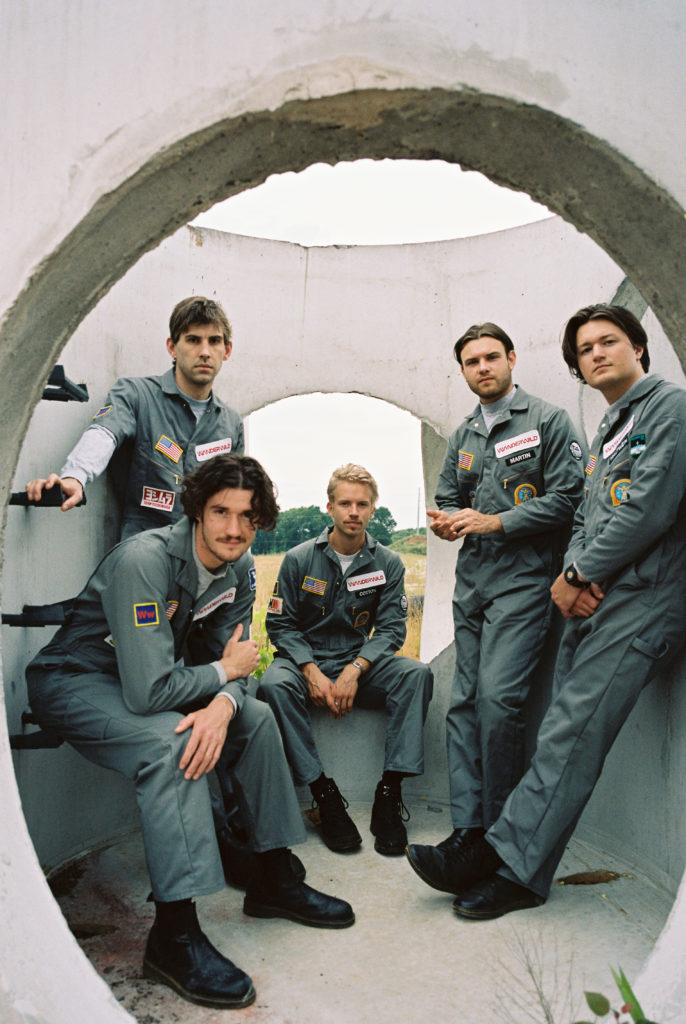 FP: What's your favorite song on the album and why? 
RB: "Lullaby." I love the way it closes the record, encompassing its conflicting yet coinciding emotions, triumphant synth tones, chaotic brushstrokes on the drums and subtle and steady guitar harmonies all on the canvas at once.
Taylor Cotton: Right now it's got to be "On a Dime." That song was super collaborative for us. I think you can really hear all of us doing our thing on that track and it coming together like we're at our best. My girlfriend Emily also thinks the outro sounds like King Gizzard so it's the one she'll let me play in the car.
FP: When planning out your music videos and aesthetics, what's something you always try to reflect to your audience?
RB: We always try to reinvent the image of Wanderwild while holding to its aesthetic roots. And most importantly, we try to have a little fun with it.
MM: Visuals can completely shape how a song/record/band is perceived, so I love giving them the attention they deserve. It becomes a secondary creative outlet for us. Most of us shoot film photos, and Reagan and I both do graphic design. Yet another way we like to keep things in-house.
FP: What's it like working with other Athens-based bands like Lo Talker, Monsoon and Heffner? Is there a kind of community in being indie bands in a place that contributed to the evolution of rock music?
MM: We're all good friends! I'm thankful to have peers that make such great music and inspire us every time we hear a new song or see a show. There's definitely a great community here, and it's always fun to think that we might be contributing to the larger story of Athens music.
FP: Along with being Wanderwild's drummer, you're also the head chef at 5&10. What came first, and how did the other gig come about? Does either job blend into the other or is it more of a chef by day, drummer by night kind of thing? What is it like being so involved in the Athens community?
Wes Gregory: Drumming and playing in bands around Athens came first for me. I initially worked as a server in quite a few different restaurants around town as a way to make ends meet while playing music. Through proximity to food, and some unlikely circumstances, I fell in love with cooking and began to pursue it with the same fervor I have for music. Unfortunately, in my experience, both jobs are pretty incongruent with one another. Whenever I'm not in the kitchen, I'm playing music, and whenever I'm not playing music, I'm in the kitchen. It's go-go-go all the time, leaving few moments for rest. Interestingly, a lot of times it feels like I'm not "involved in the Athens community" at all. I'm either with the rest of the guys in Wanderwild working and practicing or with the team at 5&10 cooking. Luckily there's nothing else I'd rather be doing.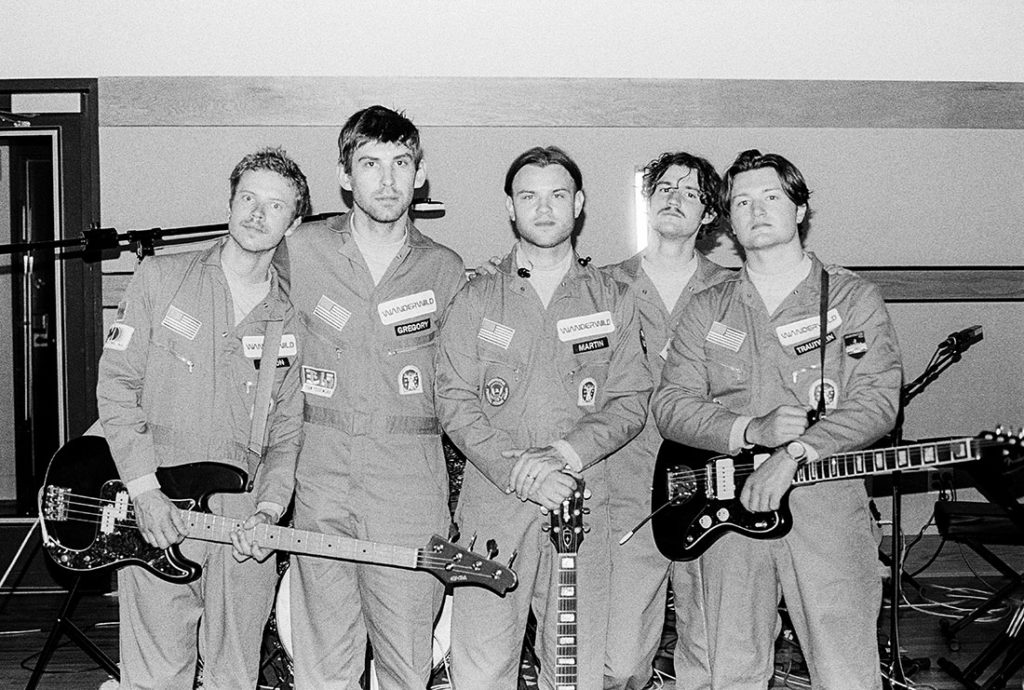 FP: What was it like working with Faye Webster on her hit single, "Kingston"?
TC: I still love this song so much. Faye is one of my favorite songwriters. Matt and I were the Kingston rhythm section, and we just recorded everything super quick one night in his bedroom in the house on Vine street we used to live in. I've actually never spoken to Faye specifically about playing bass on this song; it was recorded super piecemeal. Very glad it stuck!
FP: How did producing/engineering for Faye Webster's self-titled album come about? Did producing that album help you with/teach you anything about producing for Wanderwild?
MM: I've known Faye for years! Our families were friends growing up, so I've played in bands with her brother and gotten to see Faye's whole journey as an artist. Recording together came about very naturally, mostly due to proximity. I was already playing drums with her live at the time, and she had just come back to Atlanta after living in Nashville for a year. She approached me about recording her album and away we went. It's still one of my favorite things I've gotten to work on. Faye is an amazing person and artist. Every project I work on informs Wanderwild, and Wanderwild informs every other project I work on, so yes! It's all related and connected.
FP: What's it like being a part of two bands, COIN and Wanderwild, especially considering you sing for one and are the touring bassist for the other?
MM: I've always juggled multiple projects, so it's fairly natural to me. It certainly can come with challenges, especially when choosing how to prioritize your time and your life. But like I just mentioned in regards to Faye, it's all part of the same thing for me. Different branches off of the same tree. It just requires constant attention and balancing.
FP: Are there any plans for touring this year? What part are you most excited about when you all get back on the road?
MM: We're thrilled at even the prospect of playing shows again! We're working on scheduling for the fall, and it's looking promising. We can't wait to play new songs for people and connect with friends new and old. The feeling in the room will be electric, no doubt.
FP: If there's one thing you hope your fans take away from this album, what is it?
MM: Make what you want to make. Do it your way and do it for you. Believe in yourself! You are your greatest vehicle to success, and you get to define what success means to you.
Like what you just read? Support Flagpole by making a donation today. Every dollar you give helps fund our ongoing mission to provide Athens with quality, independent journalism.