Athens and Atlanta residents gathered on the steps of the Arch in Downtown Athens on Saturday afternoon for a demonstration to commemorate the lives of the victims of the metro Atlanta spa shootings on Mar. 16. The Athens Anti-Discimation Movement hosted the event in response to the rise of anti-Asian violence across the country.
Mokah-Jasmine Johnson, the president and co-founder of AADM, led the two-hour demonstration titled "Unite Against Asian Hate." She said the idea for the event was sparked by discourse she saw online after the mass shooting.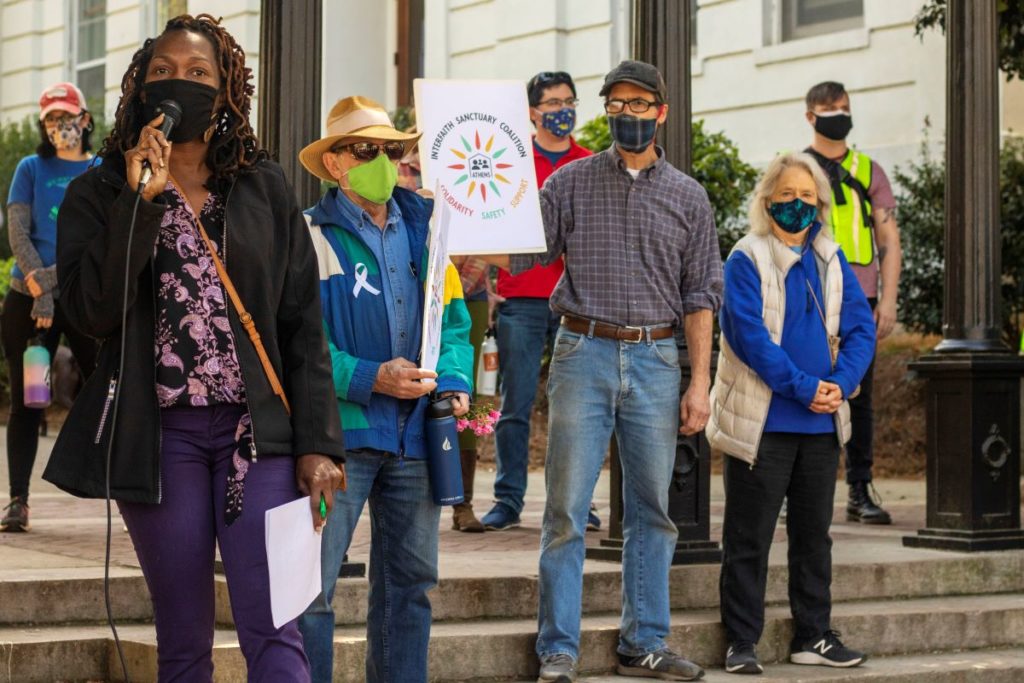 "I saw some people communicating online, and some people said, 'Oh, why should we stand with the Asian community? They never stood with the Black community.' And it was just like, we're human beings," Johnson said. "If we know what it feels like to be mistreated and be harmed because of our race, this is a time where we need to unite. We need to stand up and show support."
Stop AAPI Hate, a nonprofit organization that launched in response to xenophobia resulting from the COVID-19 pandemic, stated that it received 3,795 reports of anti-Asian hate incidents from March 2020 through February 2021 in the U.S., and that women report hate incidents 2.3 times more often than men. Six of the eight victims police say were killed by white 21-year-old Robert Long were women of Asian descent.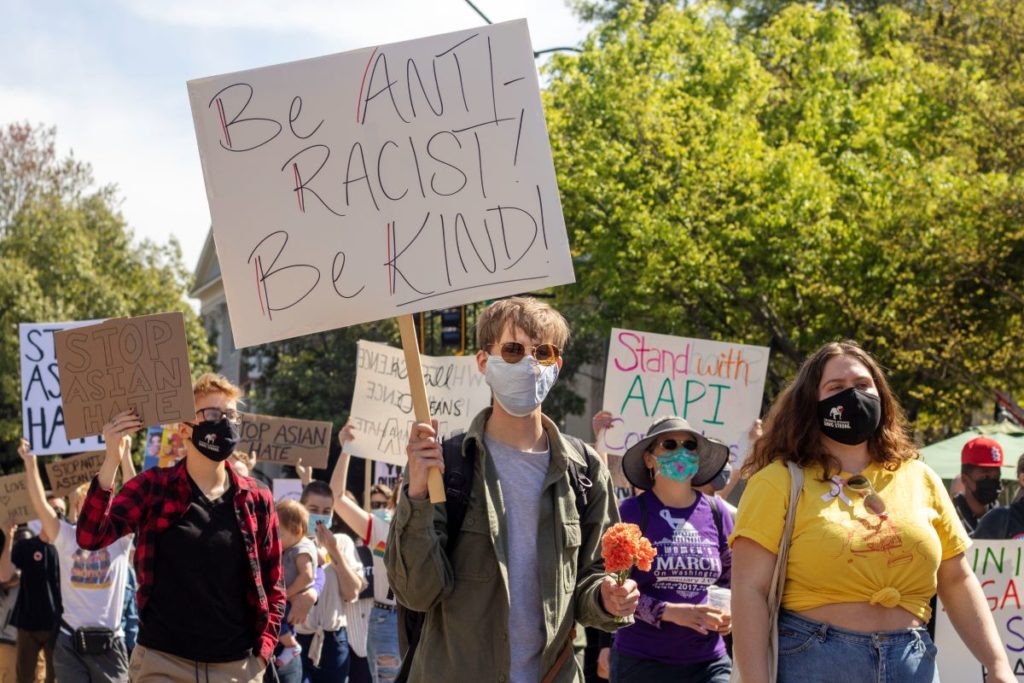 Natacha Namphengsone, a graduate student at the University of Georgia who attended the event, said the day she heard of the mass shootings was rough for her.
"At first when I heard the news, I kind of disassociated myself, because I just didn't want to think about that," Namphengsone said. "But then throughout the day, I was just angry, but then sad because my mom actually lives in Acworth," the town northeast of Atlanta where the shooting spree began. "And so it was just like, 'Oh, that could have been her.' Yeah, it was a lot of emotions."
The AADM was joined by the Economic Justice Coalition, the Athens Immigrant Rights Coalition, Moms Demand Action, Justice for Black Lives Academy and a diverse crowd of supporters who carried various signs calling for an end to racism.
At the start of the rally, supporters were given white ribbons and stickers that read "Stop Asian Hate." Shortly after, the Rev. Daryl Bloodshaw, senior pastor of Ebenezer Baptist Church West, led a moment of silence for the lives lost.
The event included community organizers who spoke both at the Arch and at City Hall. Michelle Kang, the Korean-American constituency director of the Asian American Action Fund of Georgia, said she was never concerned about her first daughter's safety on UGA's campus, but is very concerned about the safety of her second daughter.
"Will she be safe in 2021?" Kang said. "They say the murder was not motivated by Asian hate. It is. So we call for justice for the victims."
Shreena Pradhan, a graduate student at UGA who attended the event with Namphengsone, shared the same sentiment. She still feels anger about the shootings because it's not being called a hate crime even though everything points toward it, Pradhan said.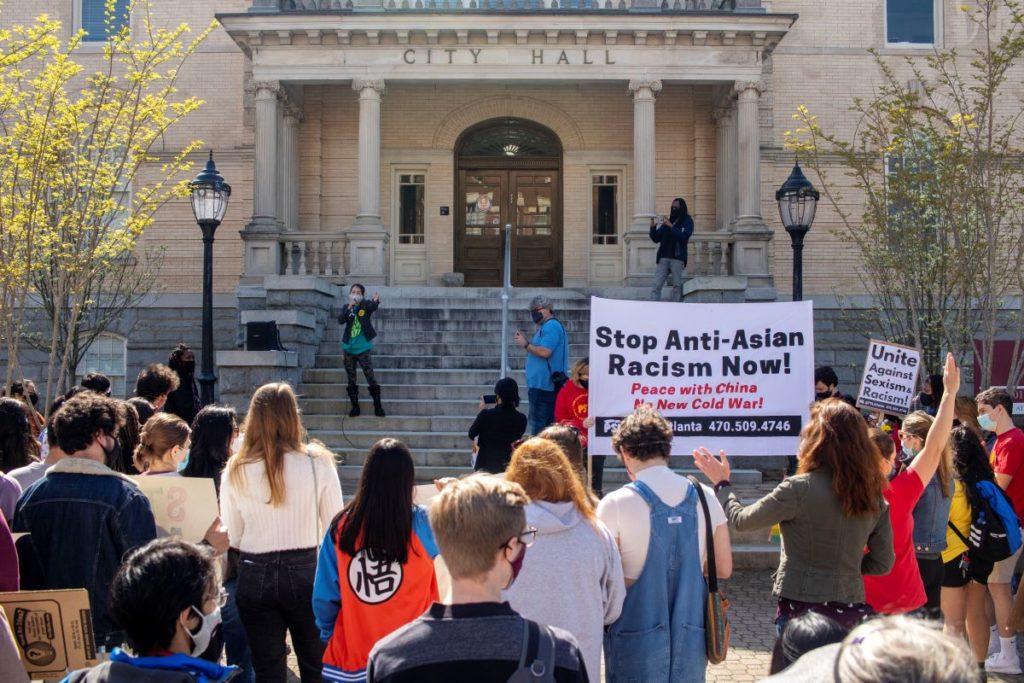 Supporters marched from the Arch to City Hall chanting, "The people united will never be defeated" and "Hey, hey, ho, ho, white supremacy has got to go." At City Hall, supporters listened to more speeches from community organizers who spoke out about gun violence, white supremacy and the fetishization of Asian women.
Anne Belocura, a member of the Party for Socialism and Liberation, recited the names of the eight lives lost in the mass shooting: Hyun Jung Grant, Suncha Kim, Paul Andre Michels, Soon Chung Park, Xiaojie Tan, Delaina Ashley Yaun, Daoyou Feng and Yong Ae Yue. Belocura said that even though her pronunciation was probably not perfect, she found it imperative to learn their names.
"They had dreams and goals and plans for the future. They were one of us," Belocura said. "We will not let the victims of this murderous crime die in vain. We will continue to organize against racist and sexist bigotry."
The event ended with a march back to the Arch, where Johnson encouraged the supporters to "pass the torch."
"What I'm trying to do is cultivate future leaders," Johnson said. "I want other people to learn how to organize. I want other people to learn how to lead, and speak up and be supportive."
Like what you just read? Support Flagpole by making a donation today. Every dollar you give helps fund our ongoing mission to provide Athens with quality, independent journalism.