I had lunch the other day with Marc Hammes, the artistic director of On Stage, the community theater in Monroe, just 20 minutes or so from Athens. I wanted to know how he managed to keep a 90-seat venue alive in a town of 15,000 after the pandemic shut the doors.
I owe a kind of debt to Hammes and On Stage—the good kind of debt—for bringing me back to life four years ago when I was in a brain-fog stupor, slowly recovering from septic shock, major depression and a fifth fractured vertebra, causing me to squeeze like an accordion and lose four inches in height. My son, a Philadelphia lawyer, peered down at me and said, "Dad! You're becoming a Hobbit!"
In 2017, I auditioned for One Flew Over the Cuckoo's Nest at On Stage. My daughter, Caroline Monroe Boyd, won the role of Nurse Ratched. Marc cast me as Mr. Martini, one of the loons.
I got the lunacy down so well that neither Caroline nor Russell Pope Sr., a Jackson lawyer who played Randle McMurphy and is one of the recurring stars of the troupe, could look at me on stage for fear of inappropriate laughter. The play was a hit. After one performance, I heard a lady in the audience compliment Caroline. "She's meaner than the nurse in the movie," she said.
"Lady, you have no idea!" I said. I was alive again. And Caroline is a sweet mommy now.
My next role was the judge in To Kill a Mockingbird, and I volunteered to help out in publicity and other matters. I had become part of a community. They let me do my R-rated stand-up comedy act about the horrors of aging during several cabarets at the Wayfarer Music Hall. I even appeared with them at the Morton Theatre in Athens—my biggest venue ever—doing a clean bit for Christmas. Next month, I'm taking my grandson to an On Stage acting workshop for kids.
Marc and I talked over our "Mother Clucker" sandwiches at LR Burger about the past year. He moved to Monroe about 10 years ago after teaching middle school English and drama to at-risk kids in Cedar Rapids, IA. He got a job with On Stage, which is heading into its 50th anniversary season, and moved up to artistic director in 2016.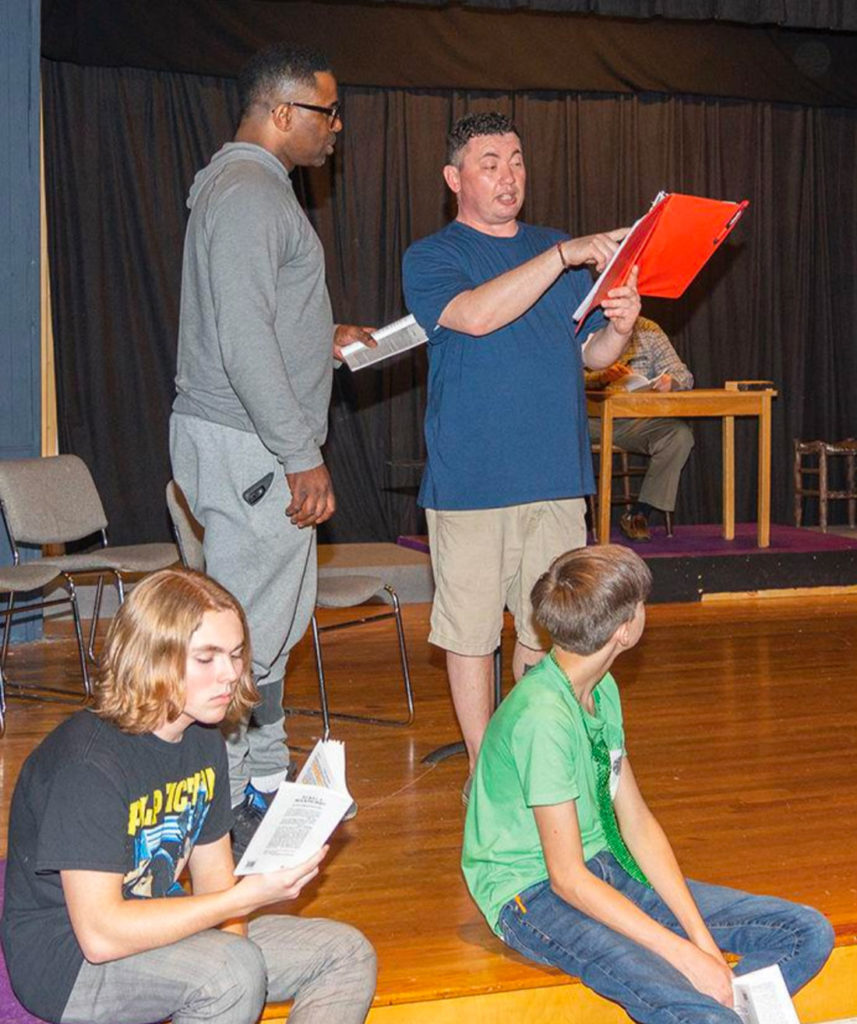 Doug Monroe: How do you run a community theater when no one can come to the shows?
Marc Hammes: If they can't come to you, you have to go to them.
DM: Like wandering minstrels?
MH: No. Social media. YouTube. Facebook. Our web page. We did our cabaret shows on Facebook. We won a state grant for my monthly kid's show on YouTube, "Mr. Marc's Neighborhood." We've interviewed Monroe Mayor John Howard and other interesting local people. On each show, we read a popular kid's book about the theme of the show.
DM: What did the pandemic do to the budget you had projected for 2020?
MH: It cost us about one-fourth of our entire budget.
DM: What happened to the plays you had to cancel?
MH: We postponed Driving Miss Daisy and our summer musical, Matilda, several times. Now we hope to present them in our 2021-2022 season. We're also planning a youth talent show this summer.
DM: You started bringing in socially distanced audiences for your Christmas show, taking temps at the door and requiring masks. When will you relax that for upcoming plays?
MH: We have strictly followed all CDC guidelines, but now they're relaxing a bit, so we are too. For our next show, we won't check temperatures at the door. Masks will be optional and we'll still have socially distanced seating and careful cleaning and sanitation routines.
DM: What's the next play?
MH: It's a first—an original comedy/drama about the pandemic titled Distantly Social—and written by three members of our community: Paula Gerhardt, Amanda Rempe and Laura Griffin. They wrote it while they were socially distanced, which was a challenge, but they had a ball doing it, and it came together nicely. Tickets are on sale now, and the show opens June 4. It's a real plus for us, because we don't have to pay expensive royalties for an existing play.
DM: It strikes me that you're creating a brave new world for community theaters by presenting original plays. Right?
MH: Yes. It's exciting. The pandemic has changed community theaters in a big way. Some may have gone out of business, but others, like us, fought to survive and found creative ways to bring in money.
DM: Do you know of other small-town theatres coming out of hibernation, too?
MH: Oh, yes. Now that the pandemic restrictions are easing, community theater is popping back to life all over the country. It's springtime! Encore Productions at the Elbert Theatre in Elberton is presenting the popular 'Til Beth Do Us Part, starting June 4. And in the fall, the Winder-Barrow Community Theater will stage a comedy—The Miss Magnolia Senior Citizen Beauty Pageant—written by Winder's own Leslie Kimbell.
DM: Do people come to see your plays from beyond Monroe and Walton County?
MH: They're starting to—because of the pandemic, ironically. Some new people from out of town came to our Christmas play, which we pieced together from old radio scripts, and they said they heard about it and were excited to see any local theater anywhere. It showed us how much people want to see live community theater no matter how conservative a town they're in.
DM: But you're still not able to fill all 90 seats in your renovated old church because of social distancing?
MH: Right. But we will videotape the shows and, after the run, we'll put them on YouTube. And it's pay-per-view, baby!
DM: Say, I've got this great idea for a one-man play. It's about this sick guy who has five compression fractures …
MH: Check, please!
For more local theater information, check out onstagewalton.org, winderbarrowtheatre.org, elberttheatre.org and townandgownplayers.org.
Like what you just read? Support Flagpole by making a donation today. Every dollar you give helps fund our ongoing mission to provide Athens with quality, independent journalism.