My friend Chris Fowells vividly remembers the time he saw Col. Bruce Hampton drive slowly past him near Five Points in Athens. Fowells had seen Hampton play at the Georgia Theatre and at AthFest and was certain the driver of the vintage pickup was the enigmatic musician and bandleader.
The problem is that Fowells says he saw Hampton about six weeks ago. Col. Bruce Hampton died early on May 2, 2017, after collapsing onstage at the Fox Theatre in Atlanta during his 70th birthday concert in front of 4,600 people.
Athens musician and artist Wilma, who was Hampton's friend for 27 years, watched a man at a recent small gathering who closely resembled Hampton.
"I pulled a friend aside and said, 'If he taps his right hand on his right knee rapidly, and then the left knee with the left hand slowly, like Bruce would do when he was nervous, then I'll take it as a sign from Bruce.' Within a few minutes of mentioning this, the man did the same actions! His hands were shaped like Bruce's, also. It turns out his middle name is Hampton, as well."
It was a sign from Bruce, she said, but it was not Bruce.
Fowells, however, is convinced the man he saw was Hampton. "I have no reason to believe it was not Col. Bruce Hampton," he says. "He was a trickster as a way of life. A magical, mysterious, miraculous way of life. It would surprise me not at all that he has risen from the dead."
Fowells mentioned Hampton's eerie relationship with synchronicity and said, "As soon as I saw him and turned onto Lumpkin, I saw a kid with a T-shirt that said something like, 'It's me.'"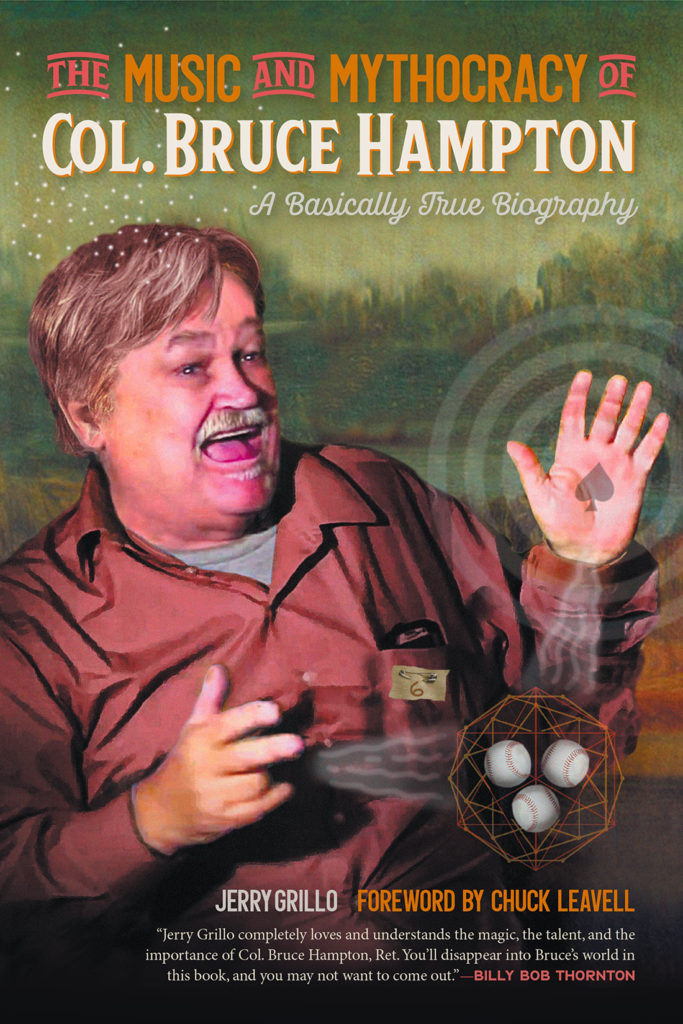 After launching my own investigation, I think there are three possible explanations to this mystery:
• There's a guy in Athens who looks an awful lot like the late Bruce Hampton, maybe even kin. It's the easiest and most plausible explanation for the sightings. However, anyone with basic knowledge of the mystical prankster who was Bruce Hampton might suggest that a simple explanation like this is simply preposterous.
• Hampton faked his death and has come out of hiding in Athens, a place he loved and where he was loved. We'll look at this possibility later through the lens of "Elvis is Alive" conspiracy theories and scams, operating under the assumption that Elvis is NOT alive, and neither is JFK, Jr. We won't even mention Ted Williams' head.
• This is a tawdry publicity stunt to pump sales of the new biography, The Music and Mythocracy of Col. Bruce Hampton: A Basically True Biography, by Georgia author Jerry Grillo and published on—get this!—April Fool's Day by—and get this!—the University of Georgia Press.
Coincidence? I think not. As soon as I developed this theory, I called Grillo at his home in the wilds of North Georgia. We both had just returned from "handyman" trips to Lowe's. Did I mention synchronicity?
"Grillo," I said, "did you or did you not hire an imposter to hang around Athens looking like Col Bruce Hampton in a cynical ploy to boost sales of your book?"
"I deny it, you scoundrel!" he said, adding in a fake Southern accent (Grillo is from New York). "If we were standing in the same room and I had a glove, I would slap you and demand justice."
I should probably acknowledge that Jerry Grillo is a friend I admire for many reasons, not the least of which is this fantastic book he has written. It made me laugh and cry—sometimes on the same page. It is hilarious, historical and heartbreaking. It took Grillo eight years to write, wading through Hampton's mythocracy about countless bands, from the Hampton Grease Band to the Aquarium Rescue Unit. Hampton told him that 80% of what he said was mythography and only 20% was true.
"This is a very Bruce sort of thing to happen," Grillo said about the Athens sightings. "My friend, the late Bill Cochran, told me he was walking down a street in Athens after Bruce died when he heard Bruce's voice, saying, 'Cochran, Leo.'"
Hampton had an uncanny knack for identifying a person's astrological sign and birthdate within seconds of meeting them. "Bill looked in the direction of the voice and saw a lion—Leo—on a door knocker. He memorized the address and immediately bought a Lotto ticket with the numbers and won $50," Grillo said.
Grillo also said Joe Zambie—Hampton started a religion called "Zambi" in his honor—has claimed that Bruce's ghost lives in his basement.
But if indeed Hampton faked his death and has been in hiding, "He would definitely come back to Georgia, and he would probably come back to Athens," Grillo said. "He was basically frightened, and if he came out of hiding, he would go where he was loved."
Back to that Elvis is Alive thing: I'm sorry to say I may have had a hand in stirring that up long ago with coverage of a Cobb County woman who wrote this novel about a guy named Orion—obviously Elvis—that got people going nuts about Elvis faking his death. Now, of course, there are so many Elvis impersonators we could never tell the real one.
I think I've got a solution. We should track down and identify this Hampton doppelgänger, if we can, and invite him to a Grillo book-signing at Avid Bookshop or the 40 Watt or Nuçi's Space or some other place in Athens and let Grillo grill him to determine if the guy is real or fake. Remember the old TV show, "To Tell the Truth"? That sort of thing. We could all vote.
It would bring joy into the room, which was always the good Colonel's goal.
Doug Monroe lives in Athens and recently celebrated the 50th anniversary of his hiring as a United Press International reporter in Charlotte. He still writes, when he can remember to.
Like what you just read? Support Flagpole by making a donation today. Every dollar you give helps fund our ongoing mission to provide Athens with quality, independent journalism.