Up-and-coming alternative R&B artist Camilla Sims, who performs under the stage name Convict Julie, has spent the past year shifting her efforts from music to activism and back again. Her songs are soulful and exhibit a deep range lyrically, physically and emotionally—even when occasionally injured or weary or heartbroken, the mood remains empathetic. Finding music to be an effective tool of communication as well as a coping mechanism for processing the trauma and emotional labor that often follows in activism's shadow, she's used her platform as a performer to raise awareness against racism and police brutality.
Sims graduated from the University of Georgia in December 2020 with a degree in entertainment and media studies and a certificate in music business, an academic focus set to prepare her for navigating the industry. After only a few months, however, the COVID-19 pandemic spread across the country, leaving canceled tours, unemployed musicians and shuttered venues in its wake. As the Black Lives Matter movement's urgency then began to snowball, Sims decided to place her musical pursuits on the back burner to dedicate herself more fully to advocating for racial equity and justice. 
"It didn't feel wrong to stop making music and to stand up for what I believed in," says Sims. "For me, it felt more wrong to be in my house making music about something that I wasn't actually doing anything about… The effort would've been nothing without the community, which is something I'm so grateful for. We all came together and made the work actually work." 
After being tear-gassed by Athens-Clarke County police following the March for a World Without Cops event on May 31, Sims spent 100 days continuing to peacefully protest. Her experience is shared through "A Story That Mattered," a narrated video that was selected by The Morton Theatre Corporation to receive a $500 Defiance Project Award. As the film moves through photographs and live footage from rallies and community service projects, she delivers an uncensored account of her true frustrations, fears and mental health, then ends with a heartfelt and emotional song called "Riot." 
Visuals from "A Story That Mattered" are revisited through the music video for Sims' recent single, "Drive Bys on Tractors." A sonic departure from her warm R&B style, the track is a spit-in-your-face punk anthem that is jarringly abrasive, but rightfully so—after publicly keeping her composure for so long as a safety measure, her anger has finally reached its boiling point. The video ends with a portrait from the same shoot that appears on this week's cover of Flagpole: Sims stands proud, raised fist in solidarity, at the location where a Confederate memorial was protested and removed. 
In support of Black Lives Matter, the nonprofit Athens Area Arts Council launched a Black Emerging Artists Mentorship (BEAM) award program last summer. Open to Black artists of all disciplines, the program offers a $1,000 grant and six-month mentorship with an established professional in the recipient's field. As the inaugural artist, Sims was paired with Melody Johnson, the owner of a public relations firm in Atlanta, and Yamma Brown, president of the James Brown Family Foundation and daughter of legendary musician James Brown. Their mentorship provided significant guidance in planning the release of Sims' upcoming album, which will follow the two EPs and handful of singles she's released since debuting in 2019.
"This program is extremely important because Athens has a large pool of incredibly talented Black artists who care deeply for this community, put everything into this community and want to be embraced by the community," says Sims. "The program is a great start to building the community and creating space for representation with and for Black artists in Athens."
Unlike the majority of musicians whose careers were more or less derailed by the pandemic, Sims found that hers actually began to take off. She credits much of her success to Finley Light Factory, a coworking space for marginalized people in creative fields that she helped co-found last August.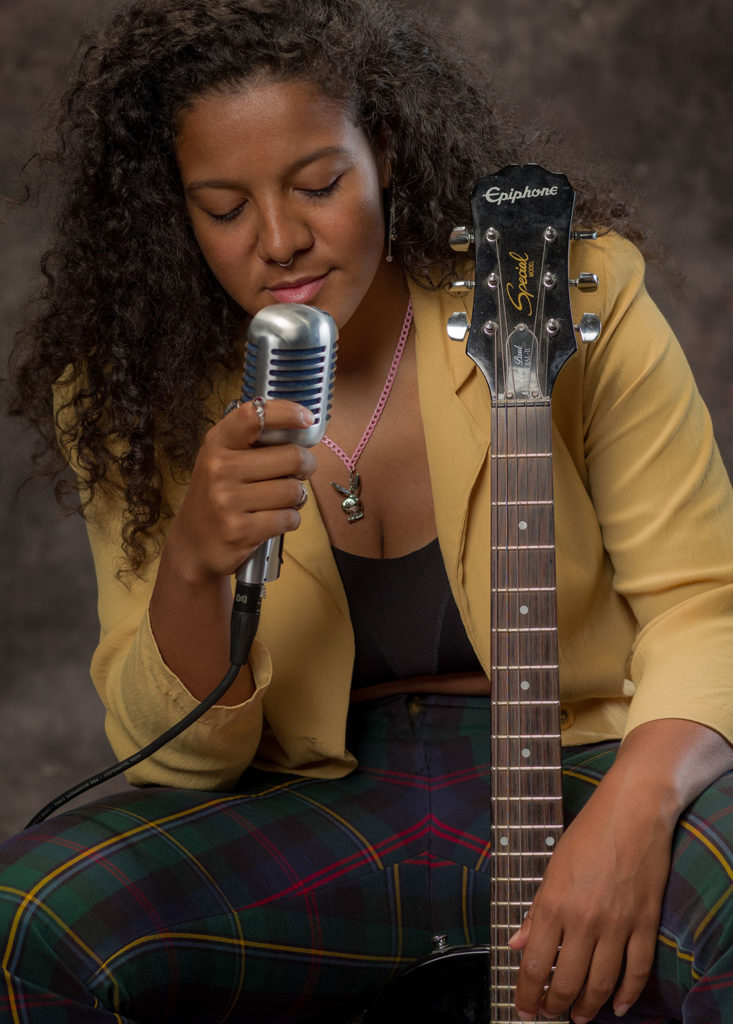 "What's incredible about Finley is that we are a group of artists who are dedicated to giving other local artists—who may not have the opportunity—the space or a chance to start somewhere," says Sims. "Throughout the pandemic, we've been hosting artist market events where artists who are either just starting out, cannot meet the financial demands of participating in other events or do not feel represented in other spaces are embraced and celebrated here. We care more about equity, representation and community in our space than anything else."
Outdoor artist markets and other socially distanced gatherings at Finley Light Factory provided rare opportunities to perform while keeping inclusion and community-building at the forefront. The frequency of rallies may have slowed down, but that energy was pivoted into meaningful actions such as organizing donation drives for Bigger Vision and Athens Alliance Coalition. 
Largely self-taught, Sims is a multi-instrumentalist who gravitated towards music at a very young age. She began engineering and producing in high school after landing an apprenticeship in Atlanta, and by the age of 15, was already making music in a DIY studio in her parents' basement, which led to Sims House of Sound (SHOS). Officially an LLC as of last year, the publishing and record label allows Sims to remain independent.
The acronym S.H. represents three different meanings: Sims House, sisterhood and self-help. The most obvious, Sims House, takes its inspiration from how she has always managed to build a studio in every house she's lived in. Recognizing how few women, especially women of color, hold leadership positions in the music industry—let alone as producers or engineers—she hopes to help close the gender gap and promote sisterhood, rather than competition, between women. And lastly, the S.H. stands for self-help, acknowledging how music can be a healthy coping mechanism.
"Music has been a way that I have authentically expressed myself and how I've created connectivity with the world, as well as how I have coped with mental health struggles," says Sims. "Where I turned to things that made my life worse, music helped me make my life better, and it helped me understand myself and be the best version of myself that I could be. Music isn't going to solve all my problems or the problems of those who choose to listen, but it helps me help myself."
Like what you just read? Support Flagpole by making a donation today. Every dollar you give helps fund our ongoing mission to provide Athens with quality, independent journalism.