Along with the majority of performance venues across the country, the historic Morton Theatre closed at the beginning of the pandemic and has yet to reopen to the public. Monroe Bowers "Pink" Morton built the theater, and it is one of the oldest surviving vaudeville theaters in the U.S. built, owned and operated by an African American. The Morton has been a staple of the Hot Corner community for the past 110 years.
Finding a new way to amplify the voices of local Black and African American-identifying artists, the nonprofit Morton Theatre Corporation established the Defiance Project Awards in response to the Black Lives Matter movement. Organized by programming committee chair Thomas Brazzle, an actor who also writes and directs with his production company Whet Ink, the Defiance Project Awards provided $500 grants to works that document or explore the Black Lives Matter movement or the everyday experiences of Black Americans. The 10 selected projects employ visual art, film, dance, spoken word and music to collectively narrate the current social and political climate.
Hip-hop artist Kxng Blanco's track "Scared" opens up a dialogue on police brutality and how it disproportionally affects the Black population. Inspired by a real-life experience in which he was approached by an officer while sitting in his car after a studio session, the music video encapsulates the feelings of fear, horror and anguish that so often flash through the minds of Black individuals as they are confronted by police.
Incorporating a 1950s-inspired beat and images from both the civil rights and Black Lives Matter movements, hip-hop artist Cassie Chantel builds a parallel between the generations in the song "Ms. America." Chantel, whose portrait appears on the cover of Flagpole this week, personifies the United States as a toxic lover to African Americans on the track. Metaphorically exploring the complex relationship, she illuminates patterns of inequality and injustice.
"'Ms. America' was written so that I wouldn't cry, essentially," says Chantel. "So much violence towards my community was happening back to back. At the time, I lived less than half a mile from the Wendy's where Rayshard Brooks was murdered. I literally heard the helicopters and police sirens through the night but didn't know what it was for until the next morning. I felt like I had to do something. This was my effort to raise awareness, and I'm happy that it's still gaining new legs."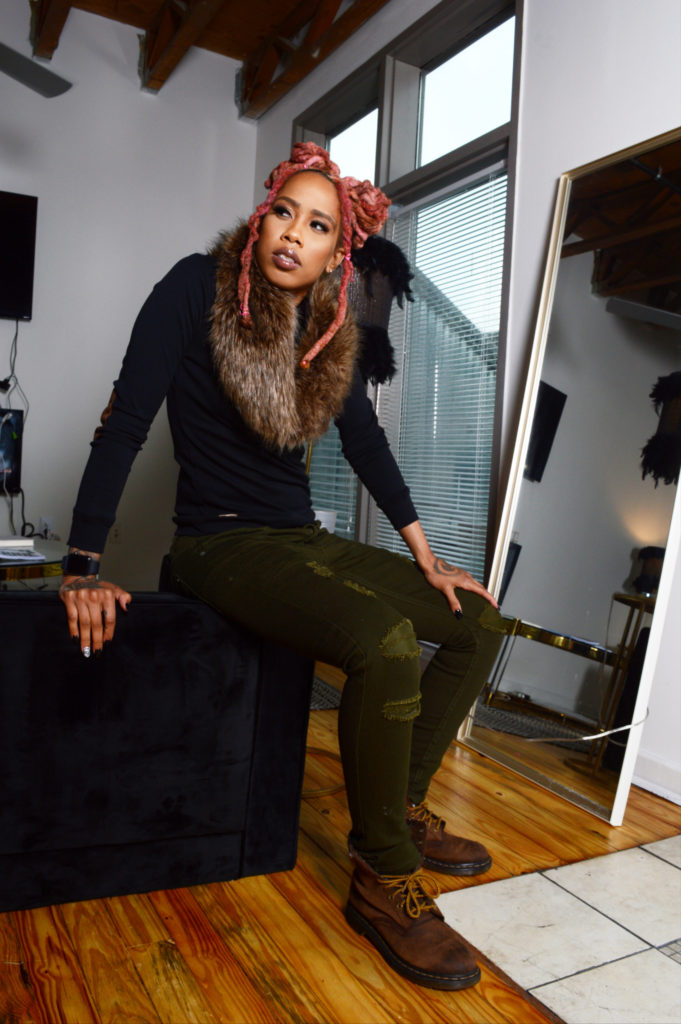 Similarly sequencing footage from demonstrations, "C.S. – A Story That Mattered" is a monologue and vocal performance by Camilla Sims, an R&B musician who performs under the moniker Convict Julie. Following the May 31 protest at which peaceful protesters were tear gassed by the Athens-Clarke County Police Department, Sims pivoted from performance to activism and continued demonstrating at the UGA Arch for the next 100 days.
In another video work called "Normal Adjacent," Jas Anderson reflects on how identity and everyday experiences can be shaped by language, media and the perception of others. With a slice-of-life documentary approach, Anderson and her sister candidly discuss how self-concept is challenged by the world around them.
Taking a critical look at the racial inequities of the justice system, Booker T. Mattison's short film "Bird" follows a college track star whose training for the Olympics is derailed by a false accusation and subsequent imprisonment. Mattison, an author, filmmaker and assistant professor of entertainment and media studies at UGA, uses his work to combat negative imagery that has come to define Black characterization in film; he instead places African-American protagonists at the center of complex stories.
Currently a faculty member at UGA's Department of Dance, Jason Aryeh is a dancer, choreographer and historian from the coastal area of Ghana. He shares his unique perspective and research through "The Journey Revisited," a dance performance that interprets the journey from Ghana's slave castles to America during the trans-Atlantic slave trade.
Actor Daisean Garrett's black-and-white video "How Could You" is an evocative compilation that grapples with the age-old question. As each person takes a turn to speak to the camera, racist, discriminatory, violent and complicit behaviors are called out one by one.
Turning to address the Black audience, Robby Myles presents "Krowned," a short film intended to reassure and motivate listeners to honor their ancestors and celebrate their cultural legacy. Merging his backgrounds in theater and music, the film combines spoken word narration with footage from the Atlanta Artist Solidarity March, which was organized by Black Leaders Advocating for Cultural Theater in June 2020.
Visual artists Noraa James and Broderick Flanigan both celebrate the beauty and vitality of Black culture through their projects. Partially inspired by Tarell Alvin McCraney's semi-autobiographical play In Moonlight Black Boys Look Blue, which was adapted for the 2016 film Moonlight, James' digitally drawn portrait, "Moonlit Stars Matter," depicts a group of Black men posed among planetary bodies, their skin subtly flecked with stars. Through the lens of Afrofuturism, the figures tap into an elemental sublimity that transcends time and space.
In Flanigan's painting, figures dance with outstretched arms while an upside-down American flag—a symbol of distress, danger or protest—hangs in the background. Whether through his business, Flanigan's Portrait Studio, or the mural arts program, HARPS (Helping Art Reach Public Spaces), Flanigan's work is guided by the beliefs that art is a vehicle to inspire change, art holds therapeutic power, and art empowers people.
Starting this month, the Defiance Projects can be viewed in their entirety through a digital showcase on mortontheatre.com/defiance-project-awardees. The visual artwork by Flanigan and James is also on view at the Lyndon House Arts Center to view in person. Supplementary interviews with grant recipients will reveal the ideas, experiences and goals behind each creative work. 
Like what you just read? Support Flagpole by making a donation today. Every dollar you give helps fund our ongoing mission to provide Athens with quality, independent journalism.