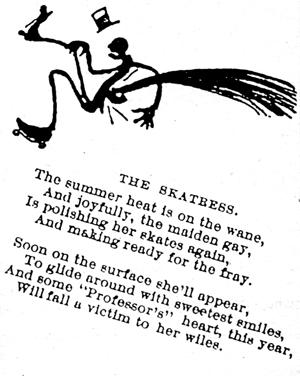 Orth Stein, 23 years old, returned to his hometown of Layfayette, Ind., in 1885, acquitted by a Kansas City jury for the killing of George Fredericks on grounds of self-defense. Stein's father died shortly after the trial, leaving Mrs. Stein only their home and an insurance policy from an estate greatly reduced by Orth's legal expenses.
Orth Stein had had about every job on a newspaper except that of owner, and he moved swiftly to remedy his lack of experience in that field. With his mother's small legacy he launched The Comet, a gossipy weekly with lots of artwork, scandal and poetry. Though widely acclaimed, The Comet was hard put to compete for advertising in a small city with several well-established papers. Stein kept the paper afloat for six months and in March of 1886 disappeared from Lafayette in the company of Blanche Browning, a well-known prostitute. His parting gift to his mother and sister was a sheaf of bad checks drawn on their bank account which left them penniless.
Stein and Blanche Browning made for St. Louis where he found work as a reporter for the Globe-Democrat. He presented Blanche as his wife, and she moved in fairly respectable society until exposed in a newspaper story. Shortly thereafter Stein hocked her jewelry and fur coat and left her stranded at a boarding house with a bill for $200.
1886 was a year of massive strikes and workers' revolts throughout the country. Capitalists were nervous about public sympathy for the workers and desperately sought mercenary journalists who would present capital's case in a favorable light. Orth Stein responded to the call, increasing his income by forging the signatures of his benefactors on stolen checks. He made his way from Memphis to San Jose, mixing legitimate newspaper work with business propaganda and forgery. Arrested in El Paso in May, he made bond and became co-editor of a local newspaper and narrowly missed involvement in a gun battle with a rival publisher. Stein's reputation was nationwide by now and he began to operate under several aliases. He found work in Louisville, Ky., but was forced to leave town after propositioning his landlady, stealing a co-worker's coat, and being arrested for public drunkenness in the public library.
Stein had managed to evade prosecution or skip bail on his many arrests, but he was brought to earth in Pittsburgh in May of 1888. He served four months for forgery. On release he went to Baltimore, where, as Walter A. McNulty, he wrote for the Sun. The great story of mid-1888 was London's Whitechapel murders, known today as the Jack the Ripper case. Stein published a series of articles on the murders which received widespread attention. Displaying broad medical knowledge, he argued that the murderer was a physician. A prominent Baltimore doctor was so fascinated with the articles that he sought out "McNulty" and invited him to his home to discuss his theories. Stein accepted the invitation, charmed the doctor, and had the gentleman drive him to his bank where he endorsed a bogus check of Stein's for $250.
Stein's whereabouts after this incident remain unknown, but apparently he made his way to Florida and was again arrested for forgery and jailed. He was released in early 1891 and made his way to Georgia where he may have worked briefly for a Savannah paper. He continued to forge checks and managed to stay ahead of the law. As "J.B. Raymond" he wrote for the Atlanta Constitution for a week or two, then moved on.
With a ruined reputation, several outstanding warrants and chronic headaches from his near-murder in Denver, Stein was a wretched fugitive in a strange place. As he sat composing a letter in a Rome, Ga., hotel on the night of Sept. 6, 1891, someone asked Orth Stein what day it was and set in motion a great change in his fortunes.
© 1994 John Ryan Seawright
Like what you just read? Support Flagpole by making a donation today. Every dollar you give helps fund our ongoing mission to provide Athens with quality, independent journalism.