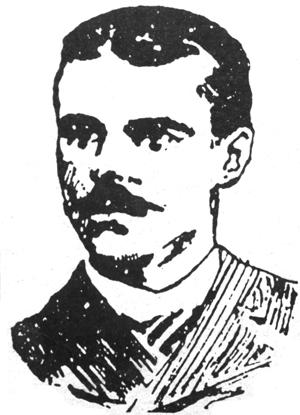 The world can be a very small place, especially for a well-traveled journalist with a reputation as a great writer and a lengthy criminal record. Orth Stein, recently released from a forgery sentence in a Florida prison, discovered this as he made his way through Georgia in the late summer of 1891. Stein had apparently found work under an alias at a Savannah newspaper, but was fired after his boss had been told of his criminal background by a private detective. Moving on to Atlanta, he took a job with the Constitution that lasted only a few days. Whether Stein's persecution was real or only the result of a paranoia that had begun when he was nearly killed by an attacker years before in Denver is unclear.
Near dark on Sept. 6, 1891, a tall thin man checked into the Armstrong hotel in Rome, Ga. He had no baggage and gave his name as John Norton of Savannah. He asked that the lamp in the writing room be lit and he began composing a letter. A guest from California entered the room and asked the thin man the day of the month. "John Norton" looked up and both men had a shock, for "John Norton" was Orth Harper Stein, and the Californian was Thomas E. Scantlin; they had begun their journalistic careers together as teenagers in the office of the Lafayette, Ind., Courier. They pretended not to recognize each other and Scantlin left the room. Later that evening, as he dined with a local reporter, Scantlin told of the encounter but refused to reveal the identity of "John Norton," saying only that he was one of the "most noted criminals" in the country and pointing him out to the reporter as he went by. Shortly afterwards, John L. Martin, editor of the Rome Tribune, entered the hotel. The reporter told him about the mysterious Norton and gave Martin his description. Martin exclaimed: "Why, it's Orth Stein, one of the greatest villains in the world. I used to work with him on the Kansas City Star."
Early the next morning Martin found Stein at the Rome train station. Stein admitted his identity and said that he had been waiting for someone from Atlanta who never showed up; he was now on his way to Chattanooga. As he told Martin his story of persecution and flight, the Chattanooga train left the station. Stein said he would go to Atlanta instead and return the following night. He did not return. He appeared in Calhoun, Ga., and was arrested for "suspicious behavior," but retained a lawyer and was released. Soon afterwards newspaper accounts of his discovery at Rome began to appear along with statements that there were $10,000 worth of rewards on his head.
Word went out that Stein was one of the men who had robbed a train outside of Savannah and that he had fled to Atlanta. A feverish manhunt began. Stein was indeed in Atlanta; in the Kimball House hotel he ran into another childhood friend from Indiana. After extricating himself from an awkward reunion he approached a police detective and told him that he knew something of the famous fugitive and would assist the detective in looking for him. The detective hired a cab and Stein spent a pleasant two hours riding round town looking for himself.
On the night of Sept. 12, J.X. Beauchamp was sitting in a hotel lobby in Stone Mountain reading the latest news of Orth Stein in the Constitution. He was interrupted by the entrance of a tall, thin man who asked for the proprietor. Beauchamp, went for the owner who assigned a room to Mr. W.F. Clark, fertilizer salesman. Beauchamp had no doubt that the stranger was Stein. He got the town marshal and the two of them pounded on the stranger's door till he awoke and let them in. Beauchamp and the marshal sheepishly admitted that they were looking for the $10,000 fugitive. The stranger denied that he was Stein for some time, but the two interlopers would not leave, and he finally broke down and admitted his identity, but denied that there were any rewards out on him.
They kept Stein up all night and sent for Atlanta detectives who brought along yet another figure from Stein's past, a man named Thornton from Kansas City who was a witness in Stein's second murder trial. Thornton came into the hotel room and identified the wrong man. Stein was formally arrested for carrying a concealed weapon and lodged in the DeKalb County jail. The jail was soon besieged by lawmen seeking their share their share of the rewards, including the sheriff who had turned Stein loose in Calhoun and the detective who had given him a pleasant carriage ride a few days before. Telegraphs were sent across the country concerning the bounties on Stein's head, but the replies confirmed that the rewards were only rumor. Stein had a steady stream of prominent visitors to his jail cell, including the journalist Julian Harris, son of the creator of Uncle Remus. The jailer's wife cooked special meals for Stein and his guests brought him cigars, newspapers and liquor, the last of which he declined.
From his jail cell, Georgia was beginning to look like a pretty decent place to Orth Stein.
© 1994 John Ryan Seawright
Like what you just read? Support Flagpole by making a donation today. Every dollar you give helps fund our ongoing mission to provide Athens with quality, independent journalism.